Lawcus - what is it?
Lawcus is smart and simple law firm management software. Lawcus enables lawyers to automate consistent processes to get more done with transparency and less effort. With Lawcus, attorneys can visualize their matters with Kanban boards, drag and drop them, add tasks, appointments, time, expenses, client receipts and documents to a digital file in the cloud so they can work from anywhere.

Other features include color-coded time tracking, invoicing, matter-based chat, task delegation, and automatic customer engagement. Kanban boards and drag-and-drop features allow legal teams to visually manage matters online. Lawcus allows law firms to accept online payments, which are supported by LawPay. This solution also integrates with QuickBooks, Zapier, DropBox, Box, G-Suite, and Outlook.

Lawcus pricing is based on a monthly subscription. Support is available via phone, email, and an online help center.
---
NOTE : Chat Agents also integrates with Lawcus Intake Forms. Let our chat agents handle your client intakes with your website chat visitors, using Lawcus Intake.
‌
---
How does Lawcus  works with Chat Agents
Upon completion of a chat on your site, a new chat lead is added by our Chat Agents with all contact information, a brief chat summary, and the chat transcript.

With this Lawcus  - Chat Agents integration, these lead details are automatically added as a new contact in your Lawcus account and notes are created for the summary and chat transcript.
When a chat visitor returns to your site and provides more information, a new chat summary is added along with the new chat transcript from Chat Agents. These lead details are also automatically updated in Lawcus.‌
---
‌How to integrate Lawcus CRM with Chat Agents
If you do not already have a Lawcus account, you can create one for free at https://lawcus.com/register
or log in at https://auth.lawcus.com/ if you are already a Lawcus user.
To integrate Lawcus with Chat Agents, first, log into the integration section of your Chat Agents account. ‌
‌‌
‌To do this, go to https://my.chatagents.com/ in your Chat Agents dashboard and go to "Integrations" which should open https://my.chatagents.com/integrations.‌
‌‌
‌Search for Lawcus CRM and enable the "Edit" button on the right hand side. ‌
‌‌
‌You will then see the Chat Agents - Lawcus Integration page. ‌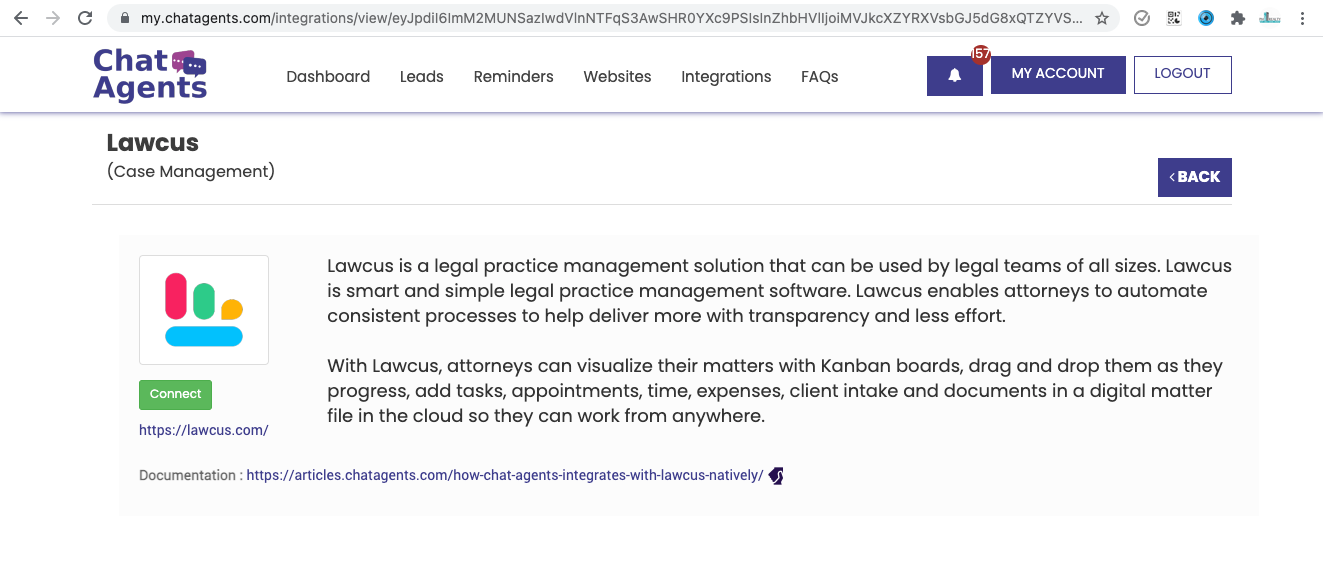 ‌‌
---
‌Click on "Connect", which will open a popup modal at Lawcus.‌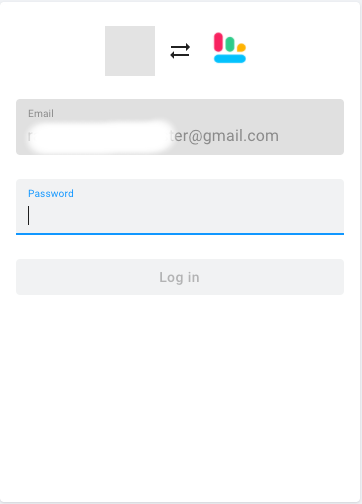 ‌‌
---
‌Once you enter your credentials, the following popup will appear where you should click ¨Allow¨, to give Chat Agents app permission to connect with your Lawcus Account.‌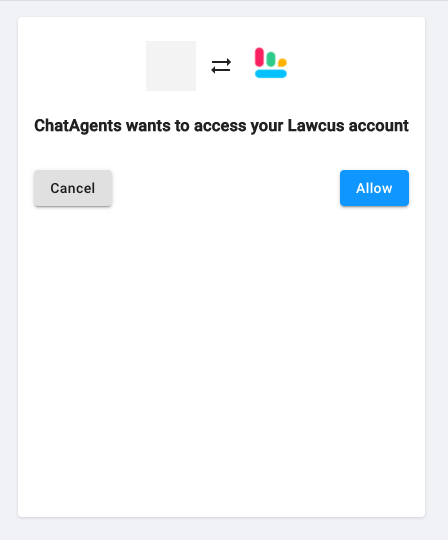 ‌
---
‌That's it. If everything is correct and no error message is displayed, your Chat Agents and Lawcus are integrated. ‌
---
‌Whenever our chat agents add new chat leads in our system, you will see it in our CRM and receive a notification via text, email and through our apps.‌
‌‌
‌With this integration, you will also see the same lead details with associated notes and chat transcripts automatically and instantly added to your Lawcus account.‌
‌‌
‌This saves you from manually re-entering all the chat lead details into your Lawcus account.‌
---
‌Lead details are added in your Chat Agents CRM.‌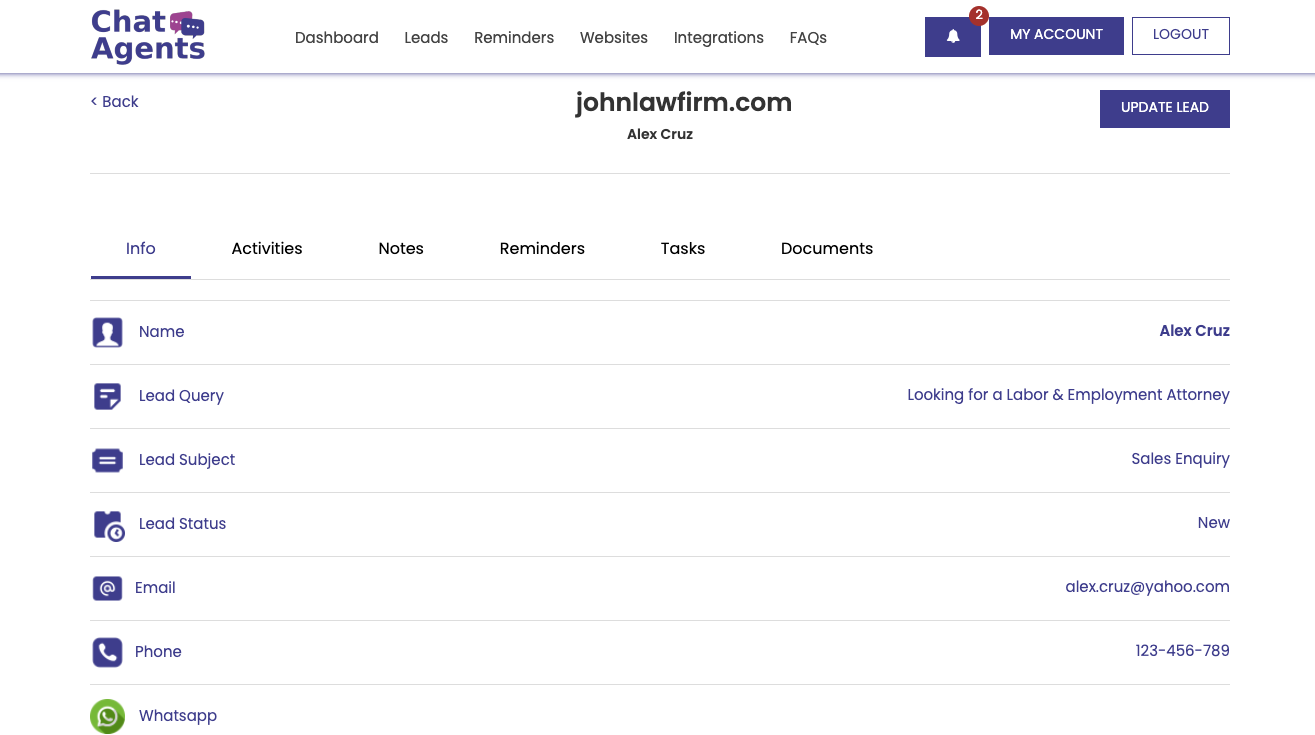 ‌‌
---
‌Chat transcripts are also added in your  Chat Agents CRM.‌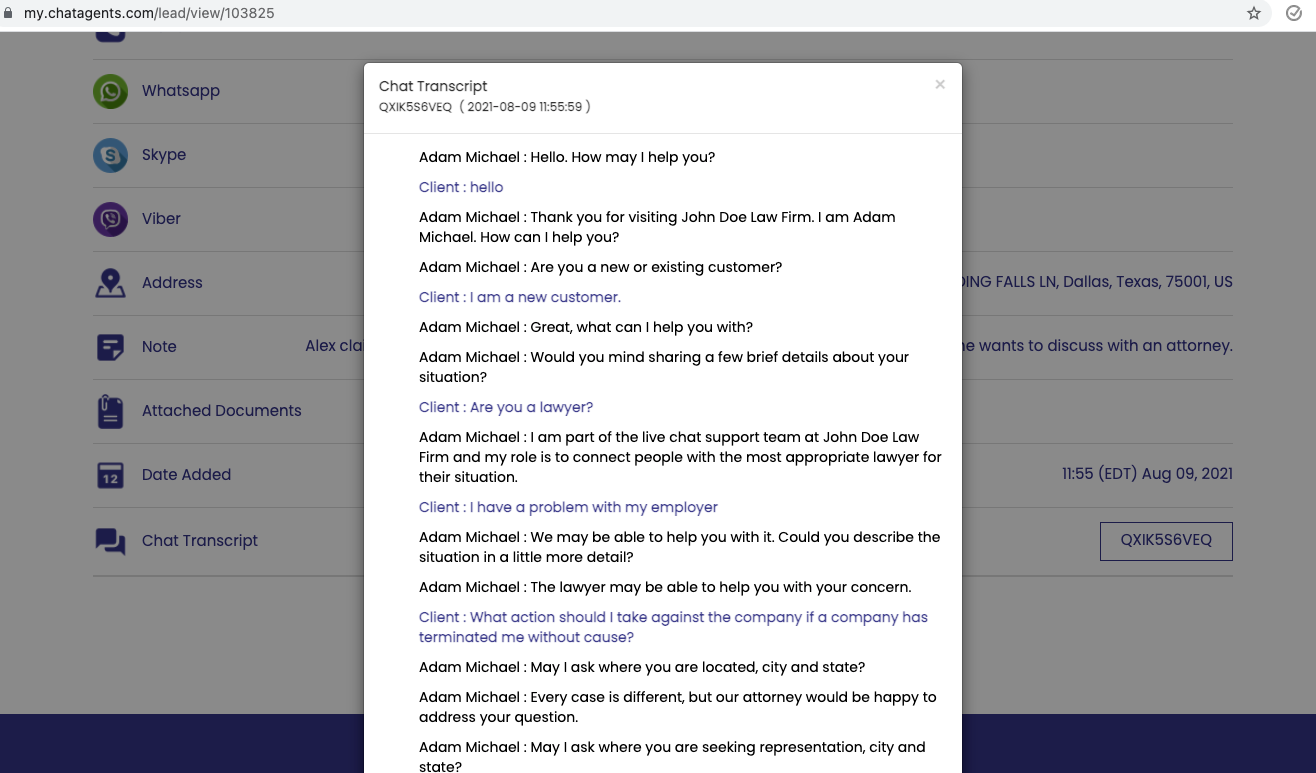 ‌‌
---
‌The same lead is also visible in your Lawcus account,‌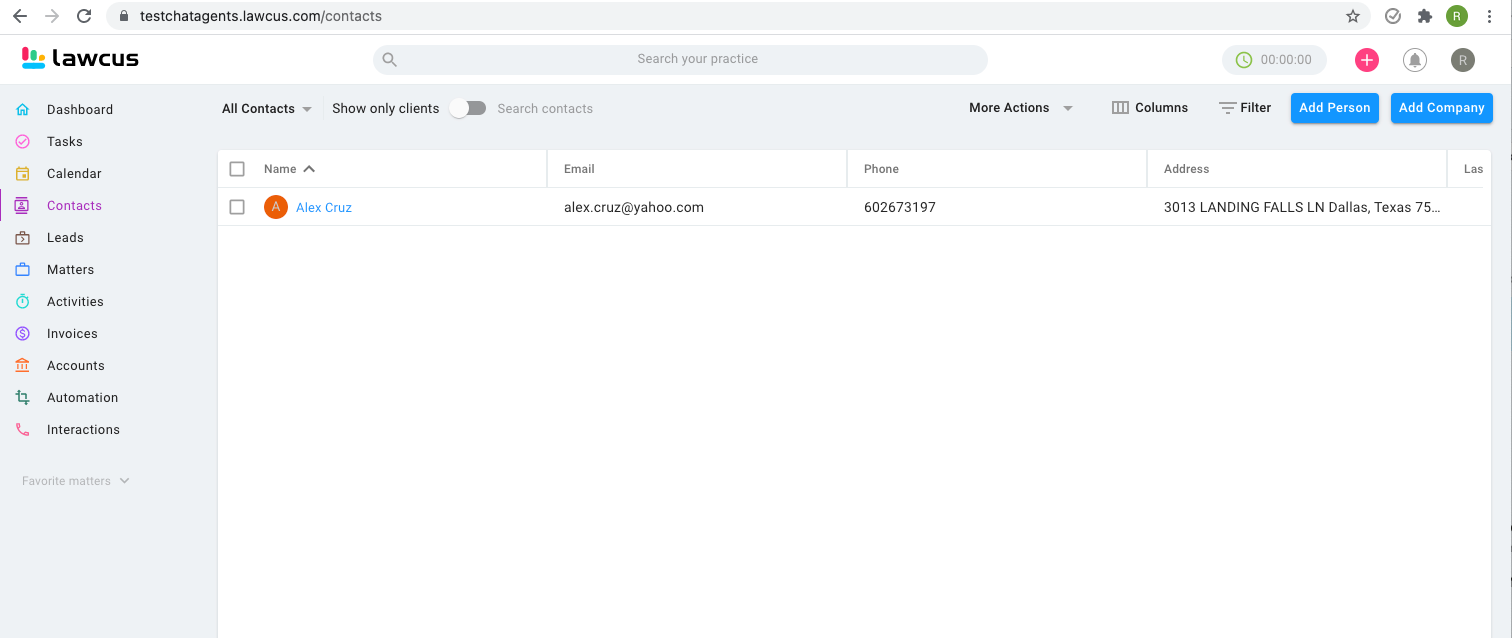 ‌‌
---
‌‌Along with the chat summary and chat transcript, both of which are added as notes to the contact in your Lawcus account.‌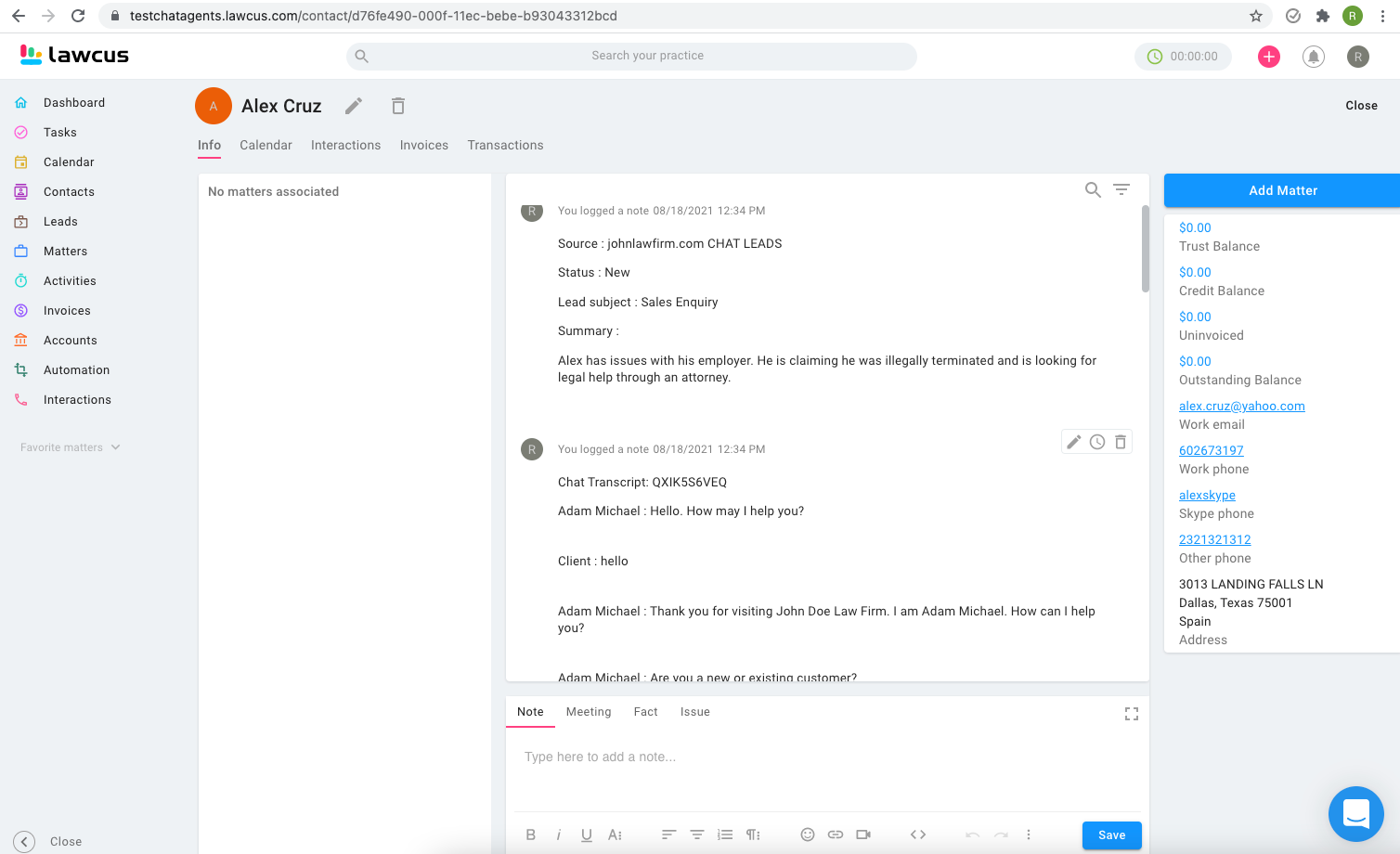 ‌‌

If you have any questions or need help integrating Lawcus or other apps with your Chat Agents account, please contact us through the help section on your Chat Agents dashboard - we will be happy to do it for you, at no additional cost.