Insightly - what is it?
Insightly is a SaaS-based CRM solution targeted at growing mid-market companies. More than 1.5 million users worldwide use Insightly to securely manage all their customer data in one place, build customer relationships, accelerate sales, and deliver projects on time, every time.

Insightly offers Gmail and Outlook plugins, as well as tools that make it easy to integrate with any other system. More specifically, companies use Insightly for relationship linking, contact management, email tracking, lead management, opportunity management, quote generation, workflow automation, project management, advanced reporting, call management, and sales and marketing alignment.

There is also a mobile CRM app available with business card scanner and audio notes to enable quick and easy updates while sales teams are in the field.
---
How does Insightly works with Chat Agents
Upon completion of a chat on your site, a new chat lead is added by our Chat Agents with all contact information, a brief chat summary, and the chat transcript.
With this Insightly - Chat Agents integration, these lead details are automatically added as a new contact in your Insightly account.
When a chat visitor returns to your site and provides more information, a new chat summary is added along with the new chat transcript from Chat Agents. These lead details are also automatically updated in Insightly.
---
How to integrate Insightly with Chat Agents
To integrate Insightly with Chat Agents, first, log into your Insightly account at https://login.insightly.com/User/Login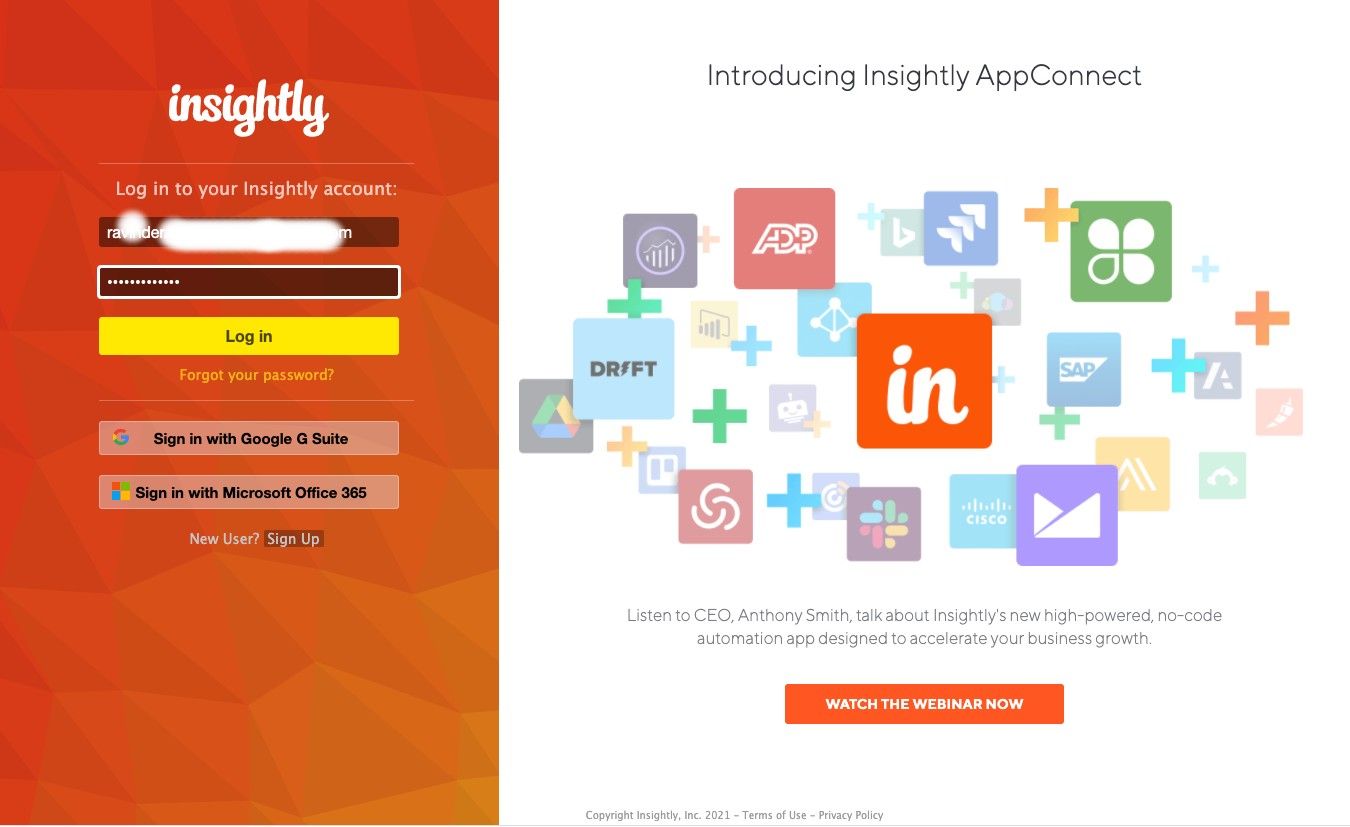 If you do not already have a Insightly account, you can create one at https://accounts.insightly.com/?plan=trial
---
Once you are logged in, click on your photo avatar in the upper right corner.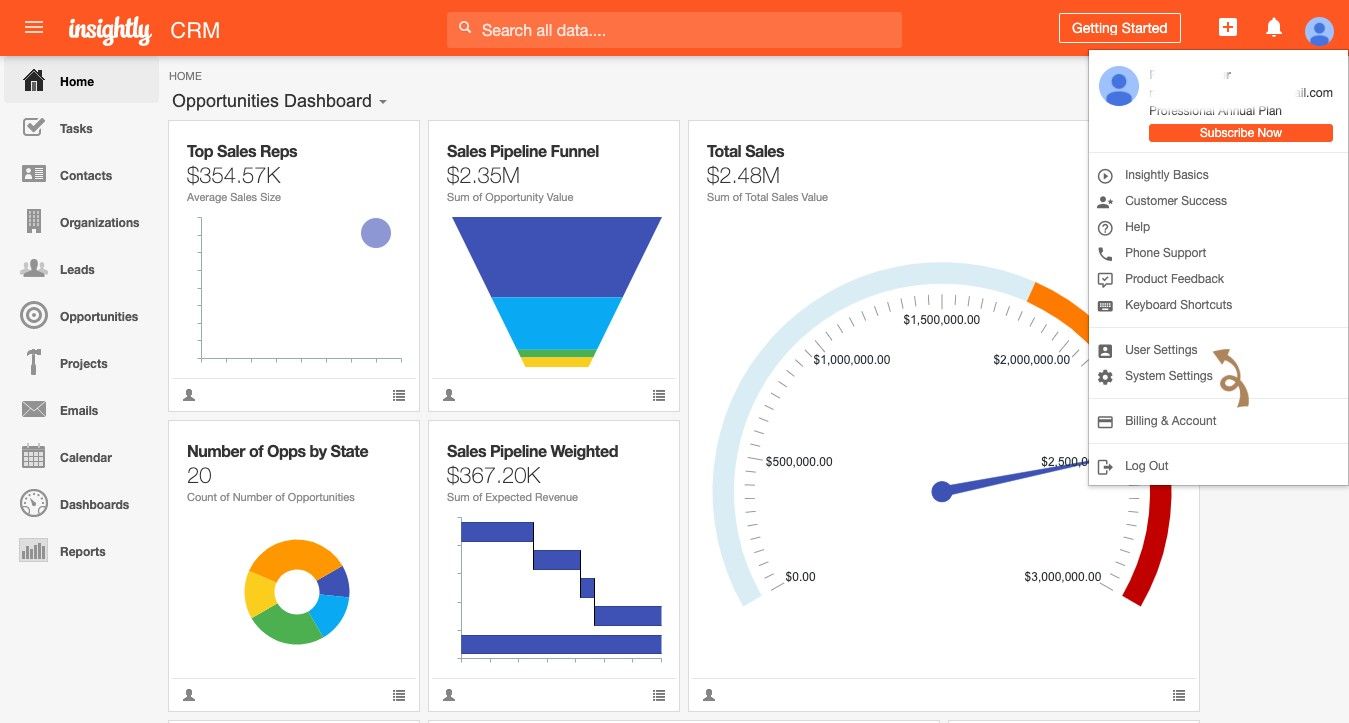 Then click "User Settings"
---
Now copy the API Key and API URL separately and save them in a notepad to use later.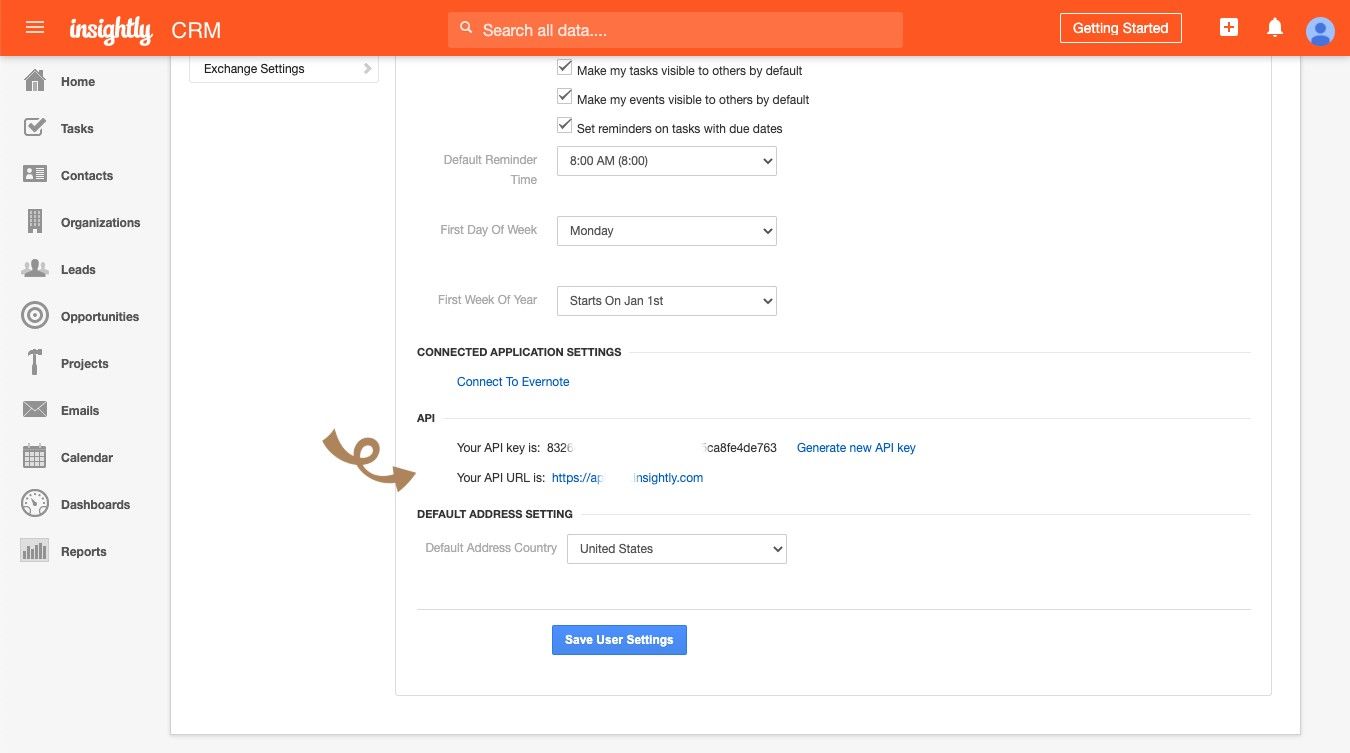 ---
Now log in to the integration page of your Chat Agents account.

To do this, go to https://my.chatagents.com/ in your Chat Agents dashboard and go to "Integrations" which should open https://my.chatagents.com/integrations.

Search for Insightly and enable the "Edit" button on the right hand side.

You will then see the Chat Agents - Insightly Integration page.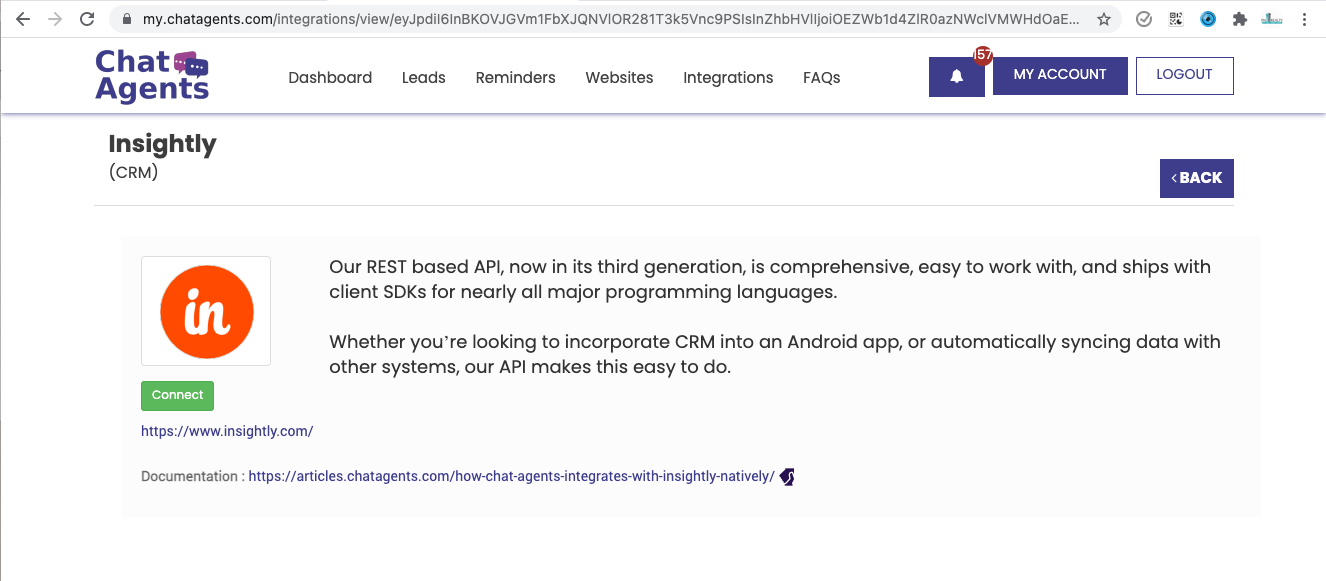 ---
Click on "Connect", which will open a popup modal.
Here paste your API Key and API URL that you copied earlier.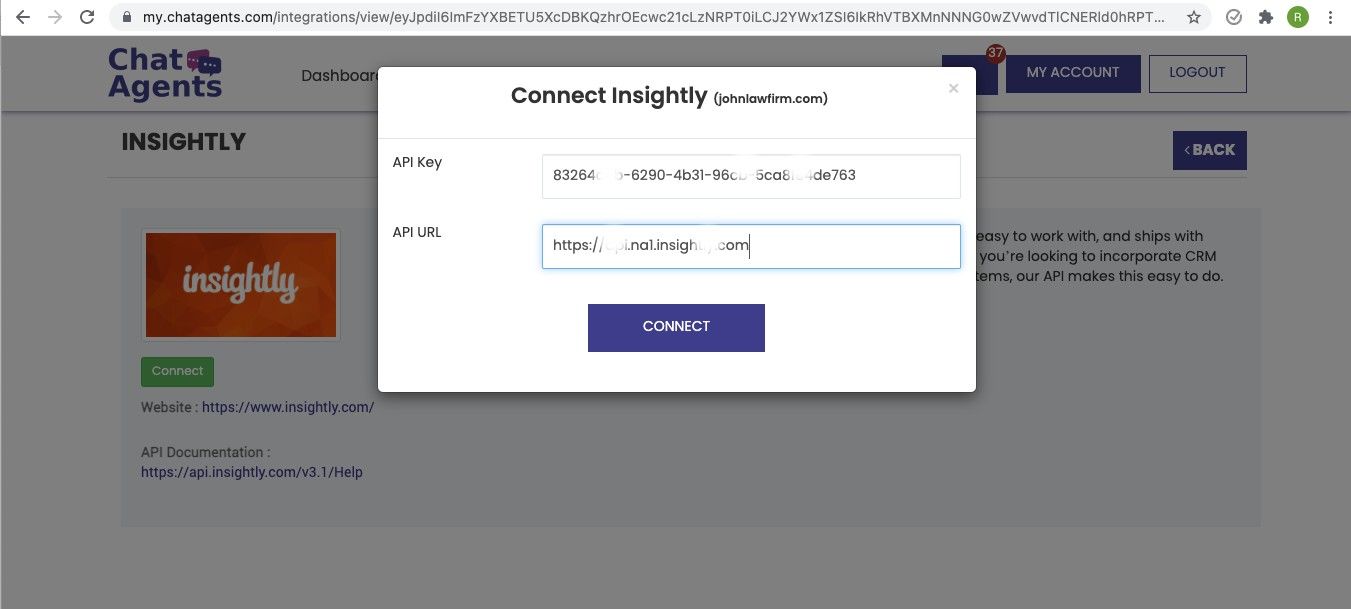 Click on "Connect"
That's it.

If everything is correct and no error message is displayed, your Chat Agents and Insightly are integrated.
---
Whenever our chat agents add new chat leads in our system, you will see it in our CRM and receive a notification via text, email and through our apps.

With this integration, you will also see the same lead details with associated notes and chat transcripts automatically and instantly added to your Insightly account.

This saves you from manually re-entering all the chat lead details into your Insightly account.
---
Lead details are added in your Chat Agents CRM.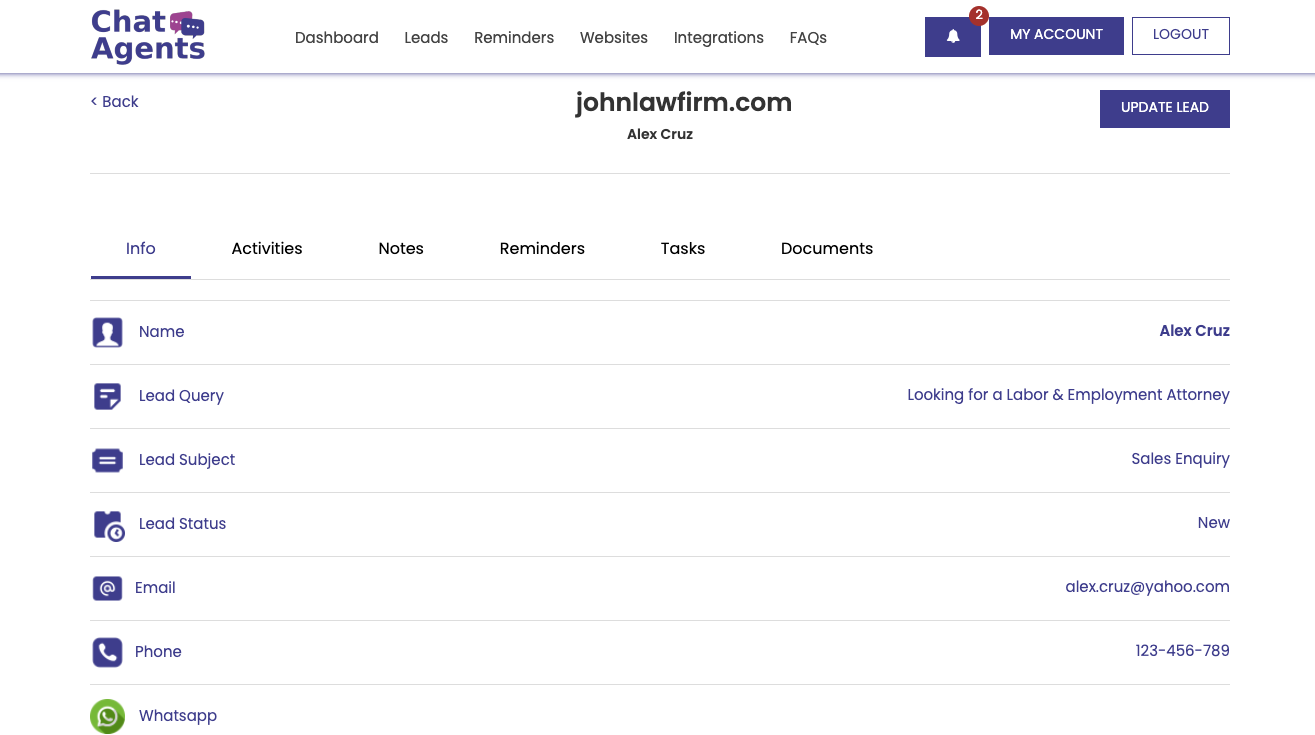 ---
Chat transcripts are also added in your  Chat Agents CRM.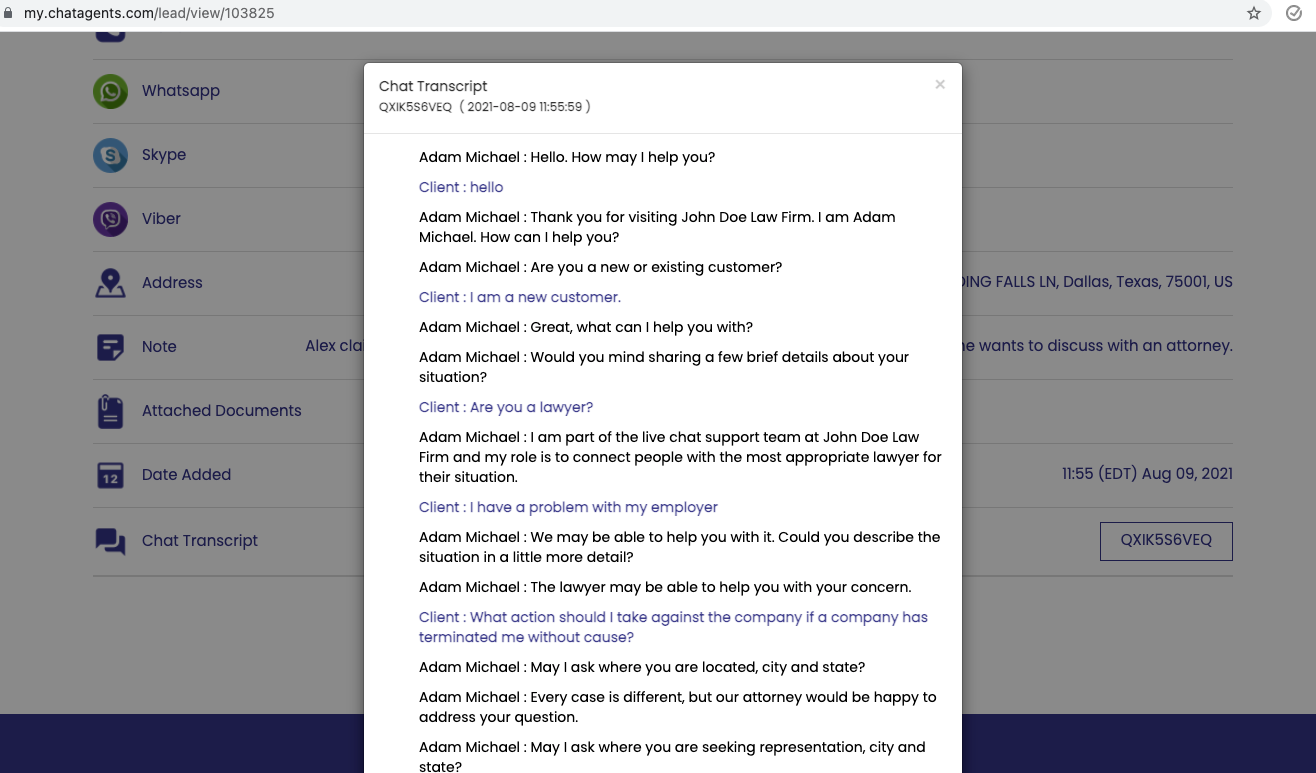 ---
The same lead is also visible in your Insightly account,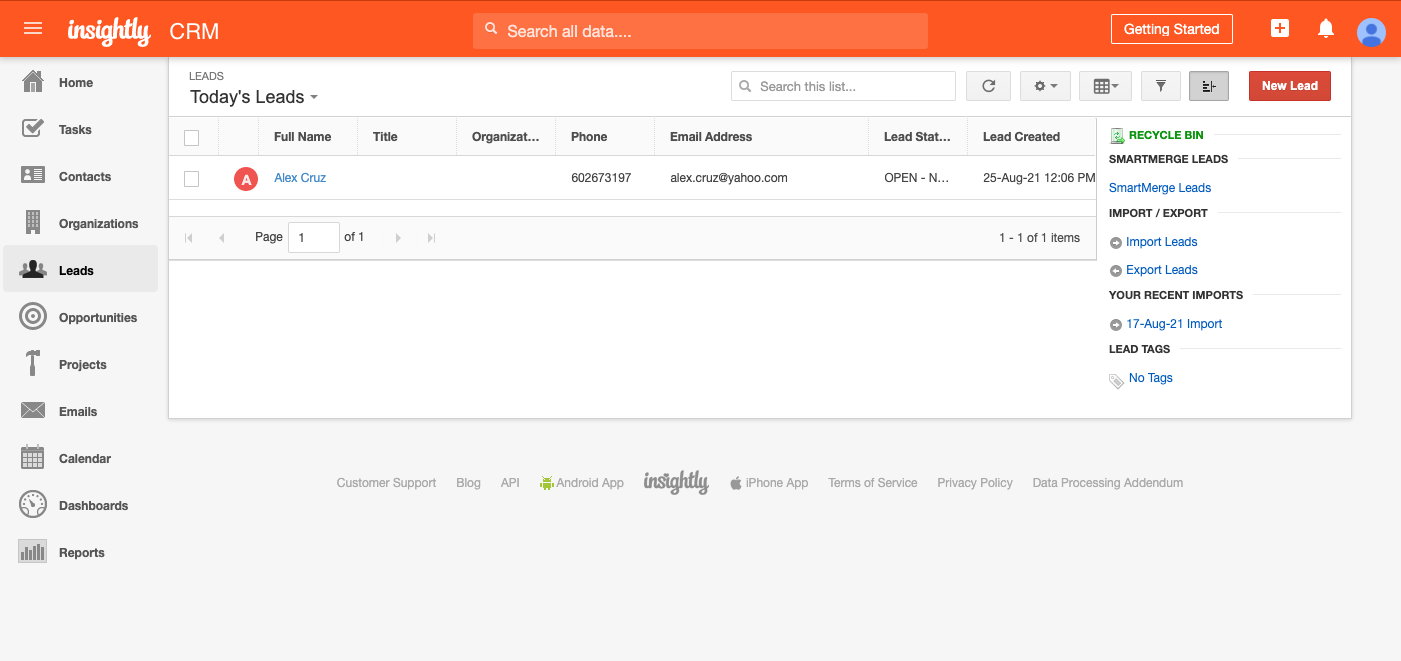 ---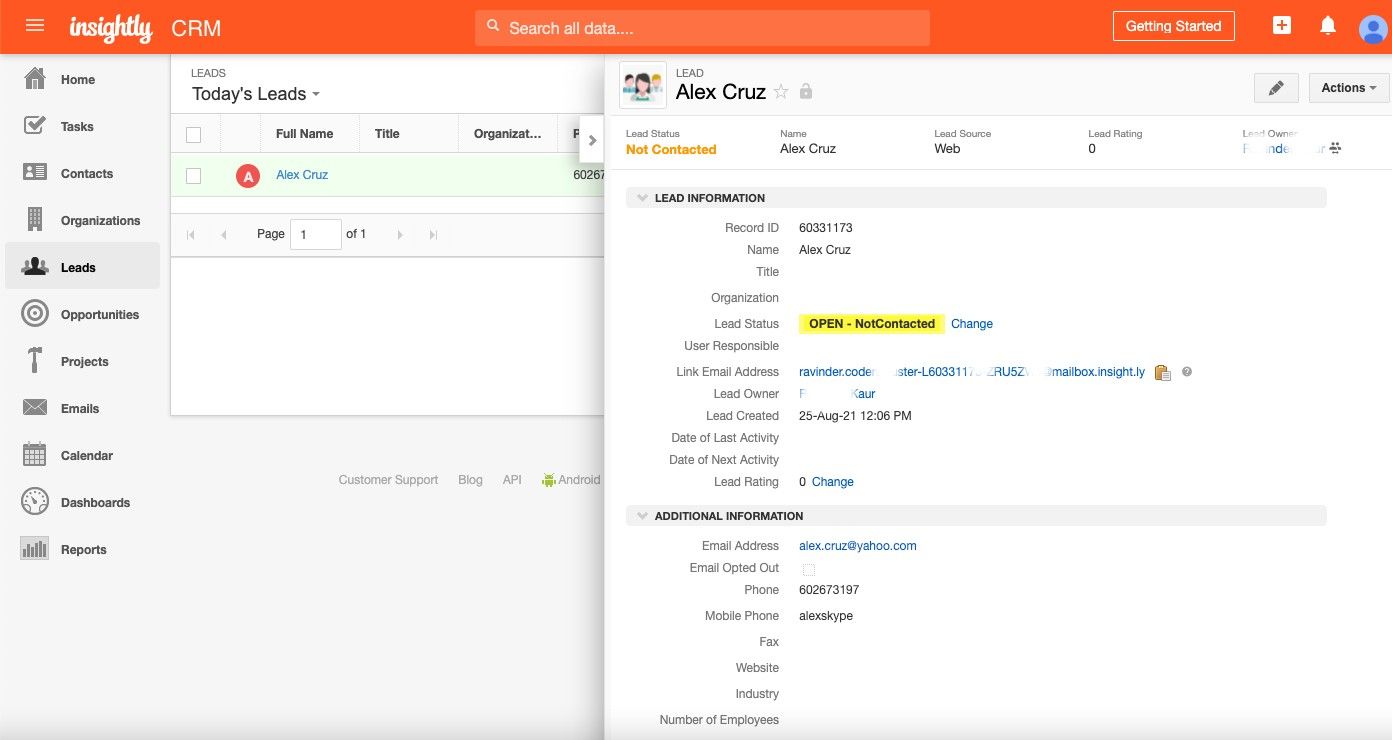 ---
Along with the chat summary and chat transcript, both of which are added as notes to the related lead in your Insightly account.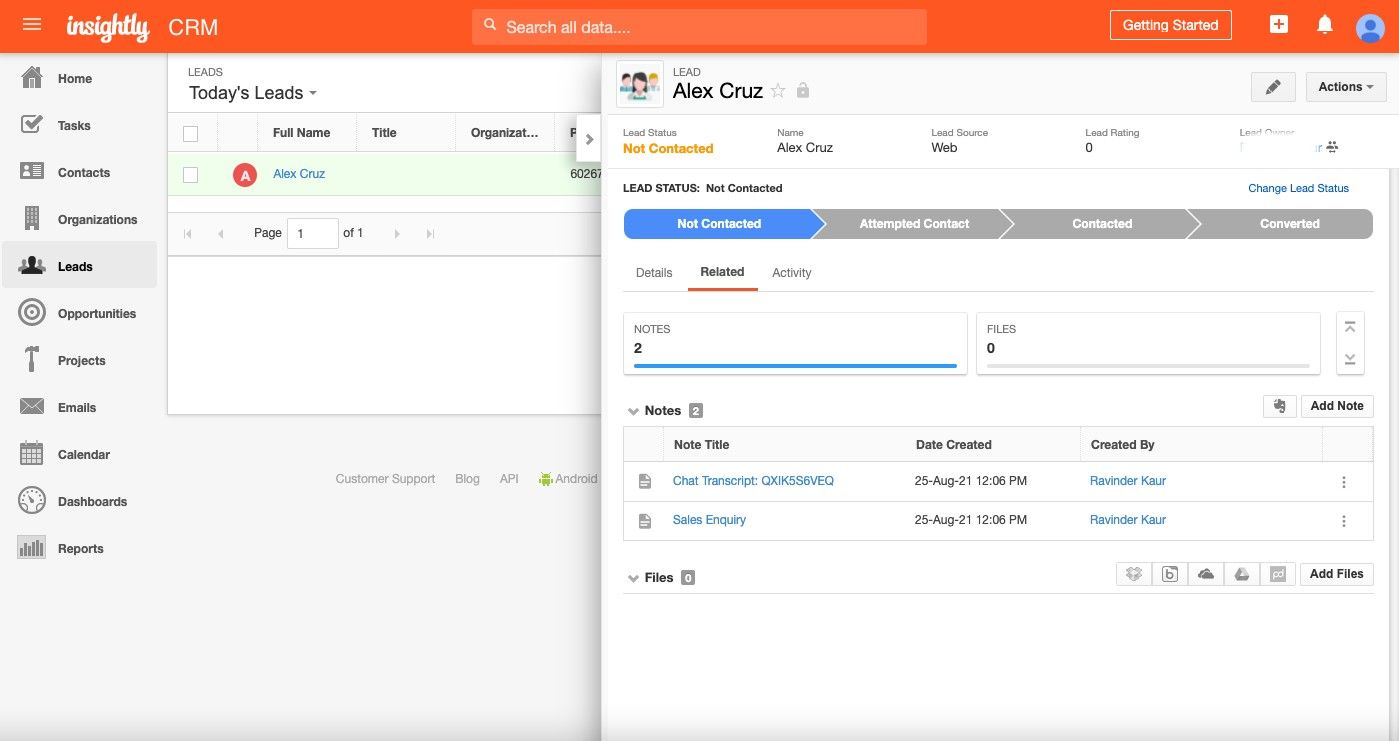 ---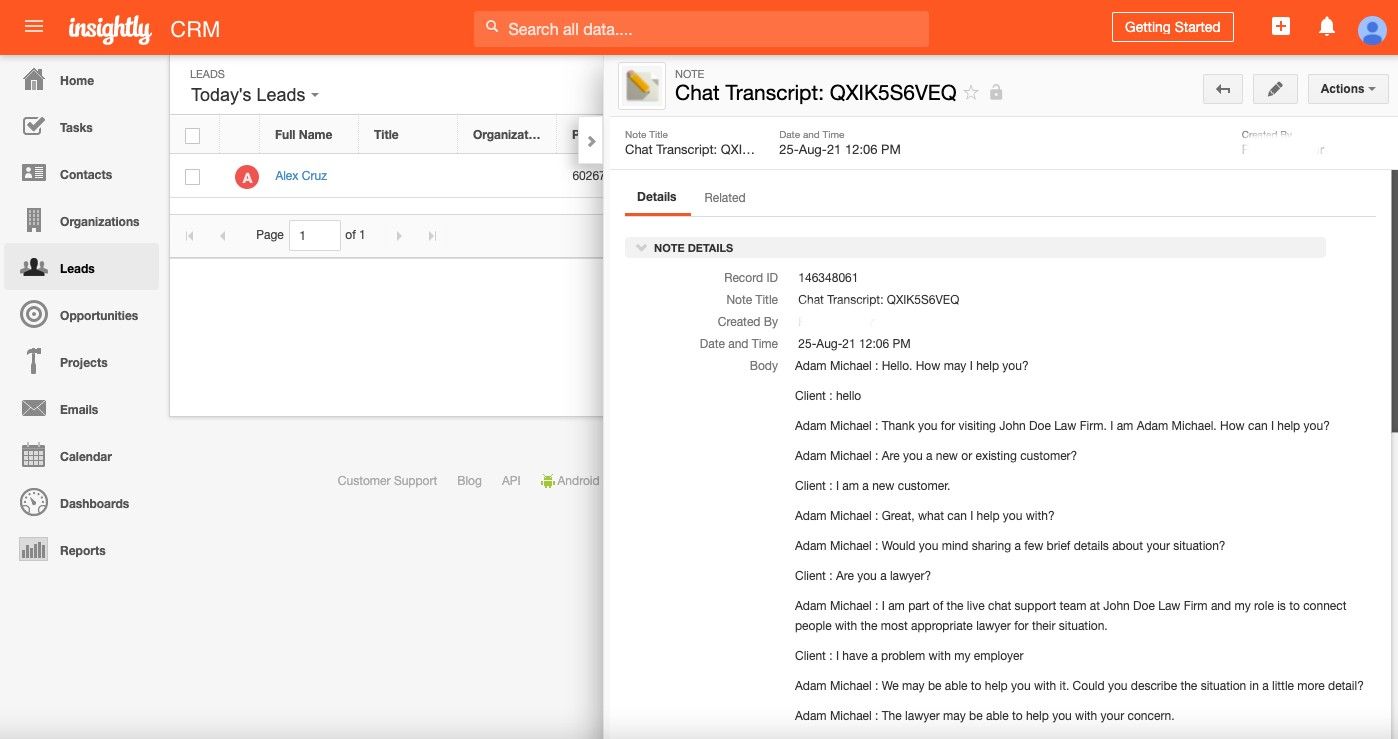 ---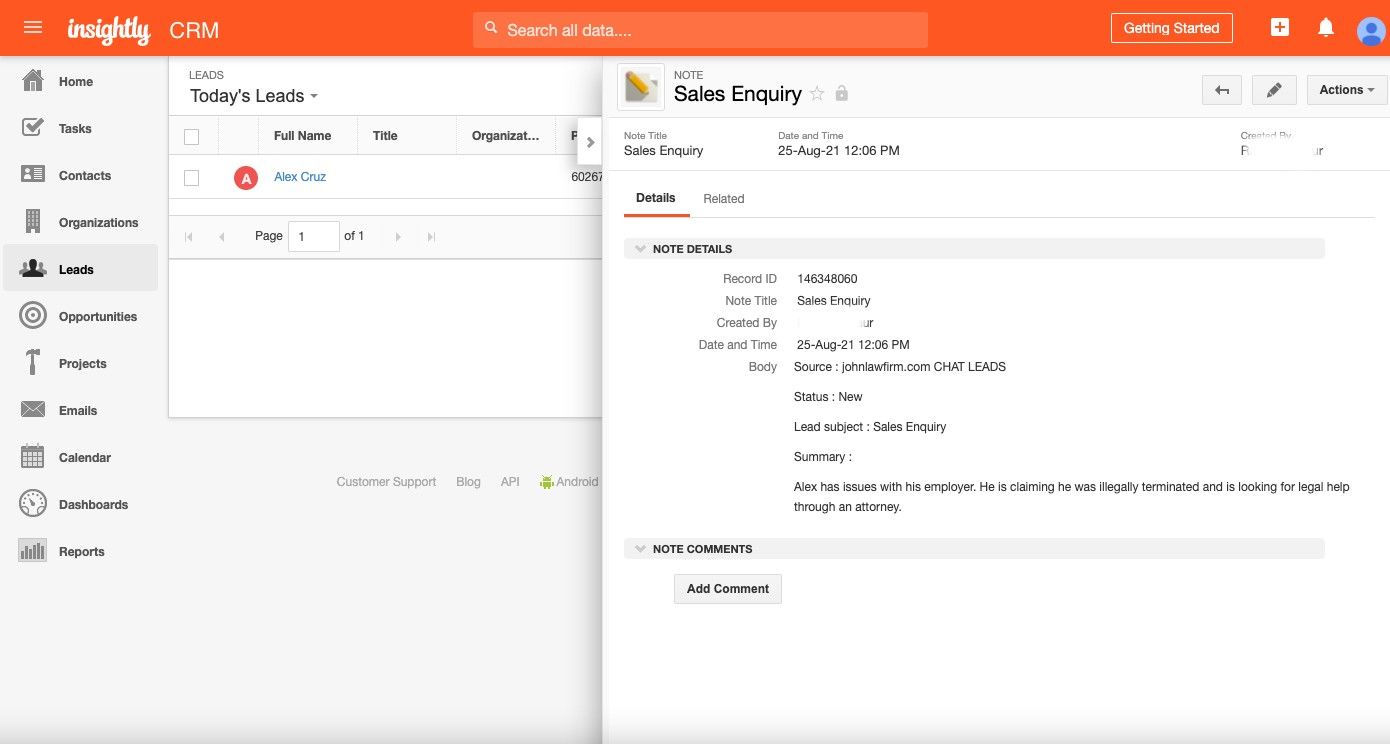 ---
If you have any questions or need help integrating Insightly or other apps with your Chat Agents account, please contact us through the help section on your Chat Agents dashboard - we will be happy to do it for you, at no additional cost.