ScheduleOnce- what is it?
ScheduleOnce is an online appointment scheduler that allows your prospects and customers to make appointments via booking pages placed on your website.

It can send automatic calendar invites and secure video links for Zoom, Microsoft Teams, Webex, Google Meet and others. It can also assign meetings to team members and distribute meetings evenly across your team.
---
How to get started with ScheduleOnce & Chatagents.com.
ChatAgents can schedule appointments for you if you use ScheduleOnce as your booking calendar.

If you do not already have a ScheduleOnce account, sign up at https://www.oncehub.com/scheduleonce by clicking the Start Now button.
Or sign up at https://account.oncehub.com/signin.

Once you have completed the sign-up process and made the basic profile settings, you should see the main dashboard.
---
The next few steps will take you through a series of screens where you can set your availability, connect one of your existing calendars like Google, Exchange/Outlook, Office365, or iCloud, and set up video conferencing through Google meets, zoom, Microsoft Teams, or others.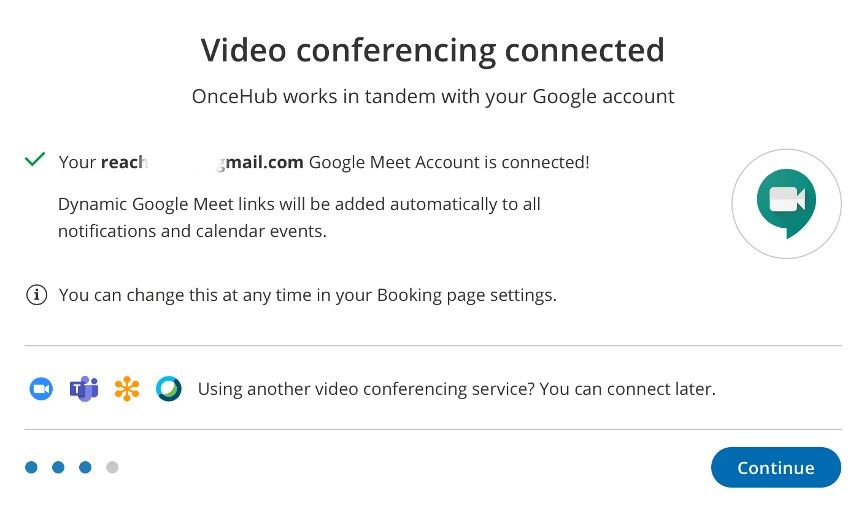 ---
Once you have gone through all the steps, you'll see a completion screen.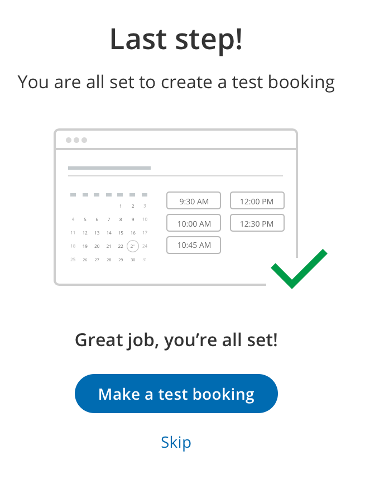 ---
How can I allow ChatAgents to schedule appointments on behalf of my clients using ScheduleOnce?
In order to schedule appointments on your behalf using ScheduleOnce, our agents will need access to your public ScheduleOnce booking link. All we need is the direct link to your booking calendar. The following steps will show you how to retrieve your direct calendar link and share it with us.

Log in to your ScheduleOnce account: https://account.oncehub.com/signin

From the Dashboard, click on Setup > ScheduleOnce setup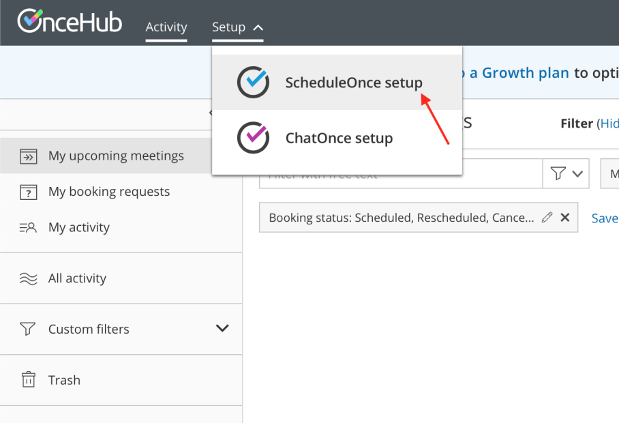 ---
Click on the 3 dots next to your booking calendar, and then click ¨Open Public Link¨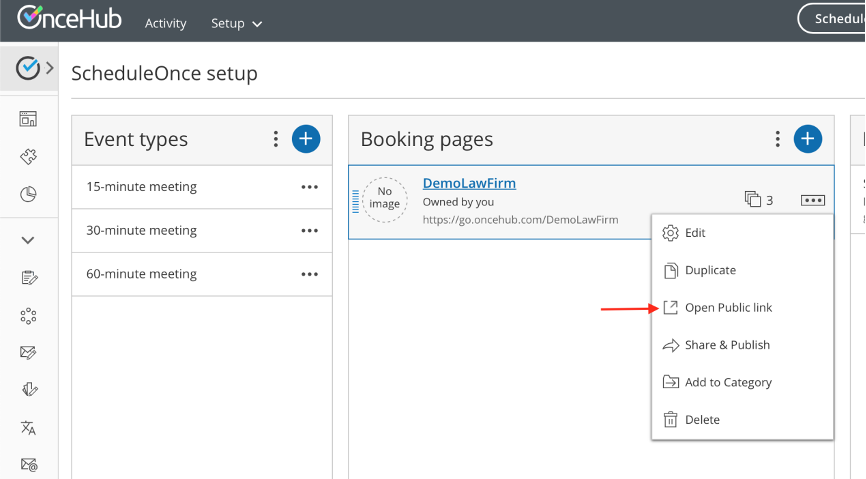 ---
The link will open in your new browser window. Copy the link.

If you have more than one booking calendar, follow the same steps and copy the links for all calendars.

Similarly, if you want to schedule meetings for your team, copy the booking link that appears under the Master Pages: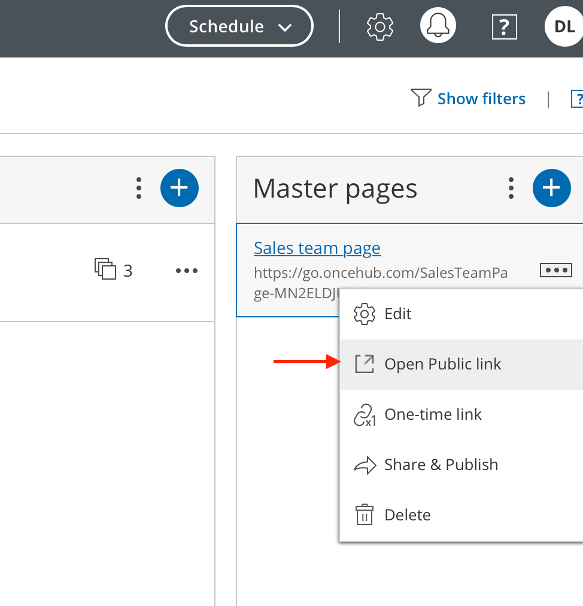 ---
How to send your booking links to Chatagents.com
Please share your booking calendar links by logging into the integration page of your Chat Agents account.

To do this, go to https://my.chatagents.com/ in your Chat Agents dashboard and go to "Integrations," which should open https://my.chatagents.com/integrations.

Look for ScheduleOnce and check the "Activate" box.

Then click on the "Help Icon" next to activate and a form should open.

Paste the links you copied from ScheduleOnce and any messages or special instructions you want to send to our chat agents into this form.

Once you do this, our support team will set it up, usually within 24 hours. Once set up, our chat agents can now start scheduling appointments, either by sharing the link with chat visitors so they can book an appointment with you, or by asking for the details and scheduling your appointment for them.



If you have any questions or need help integrating ScheduleOnce or other apps with your Chat Agents account, please contact us through the help section on your Chat Agents dashboard - we will be happy to do it for you, at no additional cost.