PracticePanther - what is it?
PracticePanther is a management solution for small to large law firms and practicing attorneys. Key features include case management, contact management, document management, calendar and docketing, time tracking, billing and invoicing, trust accounting, CRM and payment processing.
The solution provides users with access to task and event workflows, credit card processing, notifications and chats, and the client portal. The system integrates with calendars and email, Box, Dropbox, QuickBooks, PayPal and many others.
---
How to get started with PracticePanther & Chatagents.com.
If you are using PracticePanther as a CRM tool for your law firm, Chat Agents can help take care of some of the routine tasks like filling out web intake forms and scheduling appointments for you.

If you do not already have a PracticePanther account, sign up at https://www.practicepanther.com/, or log in at https://app.practicepanther.com/ if you are already a PracticePanther user.
---
NOTE : Chat Agents also integrates natively with PracticePanther CRM for chat leads, so you can automatically send information between Chat Agents and PracticePanther CRM - no code required.
---
How to Create a Lead Capture / Intake Form in PracticePanther?
To create a new Custom Intake form, go to your Dashboard >Automation > Intake Forms.  


Drag and drop the fields from the left to create your Intake Form.
---
In the next step, you can link your form fields to the CRM fields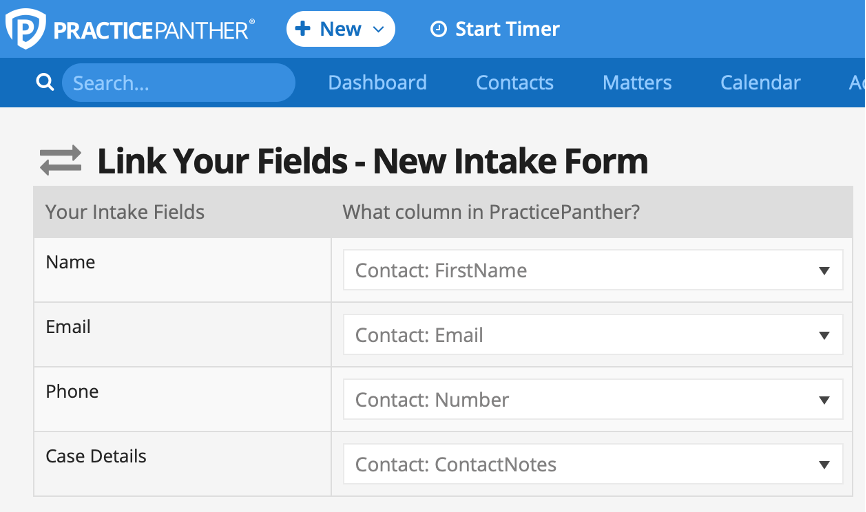 ---
You can also choose Advance options such as creating a new contact in your CRM or updating an existing contact when the form is submitted.

Click "Link Fields" when you are finished.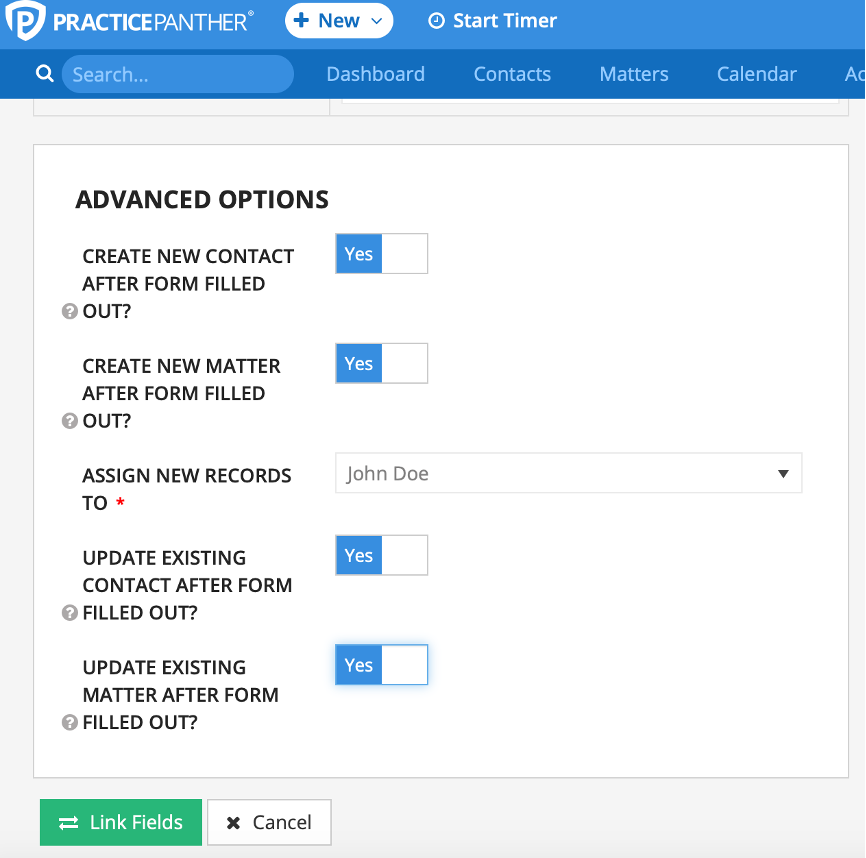 You should now see the intake form you just created.
---
Hover over the name of your form to see more menu options and click "INTAKE" below it.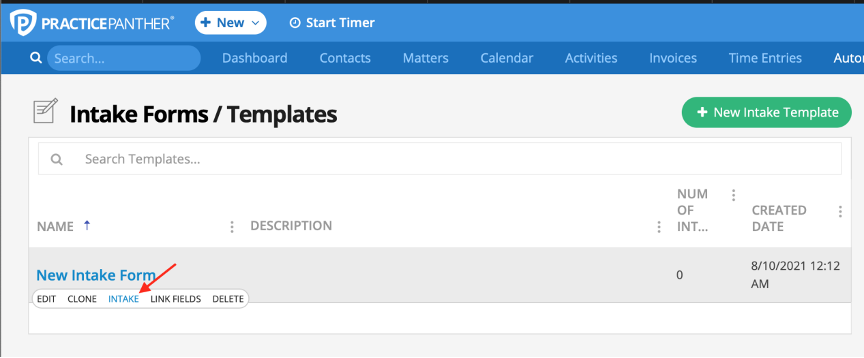 ---
A new pop-up window will appear with the link to your form.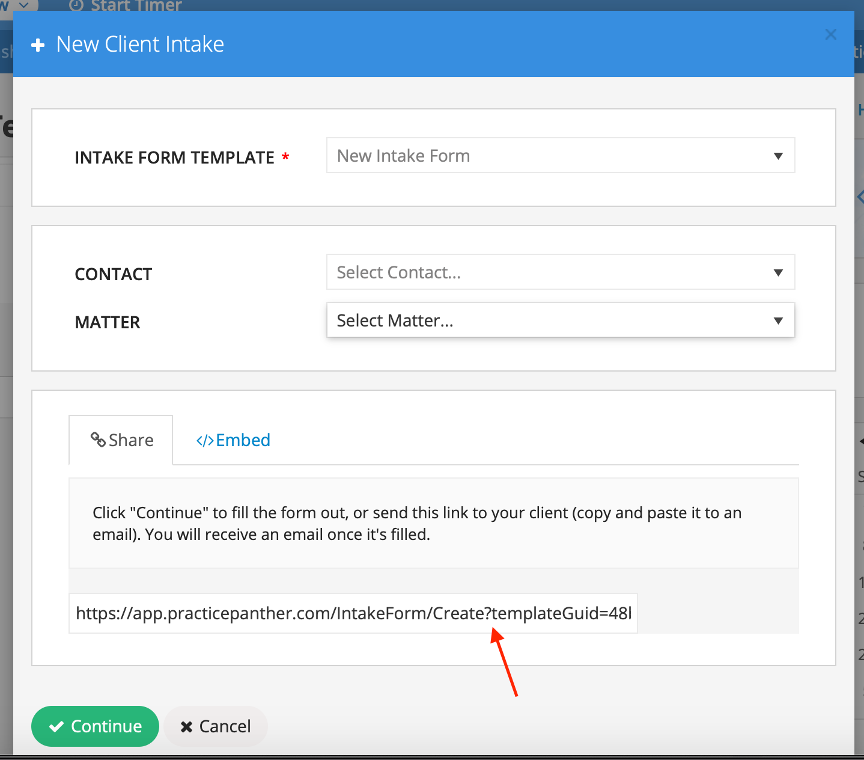 Copy the link.

You can also include specific instructions for our agents to complete the intake form to ensure they only add qualified leads.
---
How can I allow ChatAgents to schedule appointments with PracticePanther?
In order to schedule appointments with PracticePanther for you, our agents will need access to your PracticePanther calendar.
PracticePanther does not have a direct calendar link as it syncs with your existing calendars such as Google Calendar, Outlook, iPhone, iPad, Mac calendars, etc. which can be linked to Calendly, a very popular calendar program that syncs with all of these.
---
The following steps will show you how to set up and sync your calendar.

Set Up your calendar at PracticePanther

Log in to your PracticePanther account: https://app.practicepanther.com/

Go to Settings on the right hand side and then select Integrations > Calendar, Tasks & Contacts on the left hand side.

---
If you have signed up with a Google account, you'll notice that your Google Calendar is already linked, and you just need to activate and sync it.


For this guide, we will assume that you are using Google Calendar. You can also link other calendars like Microsoft Exchange, Outlook, and iPhone, iPad, and Mac calendars if you want.
---
Connect Google Calendar with Calendly
Sign in to your Calendly account and go to Calendar Connections.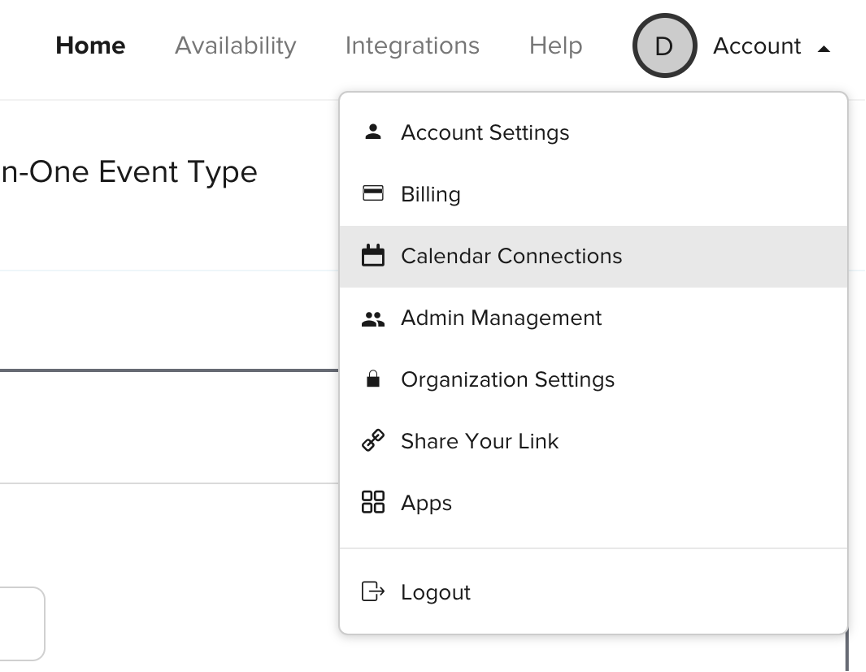 Click EDIT under "Add to Calendar".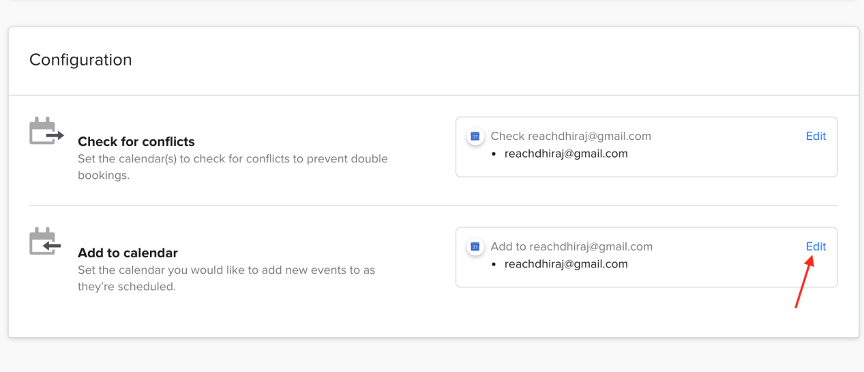 ---
Make sure the correct PracticePanther calendar is selected and click ¨Update¨.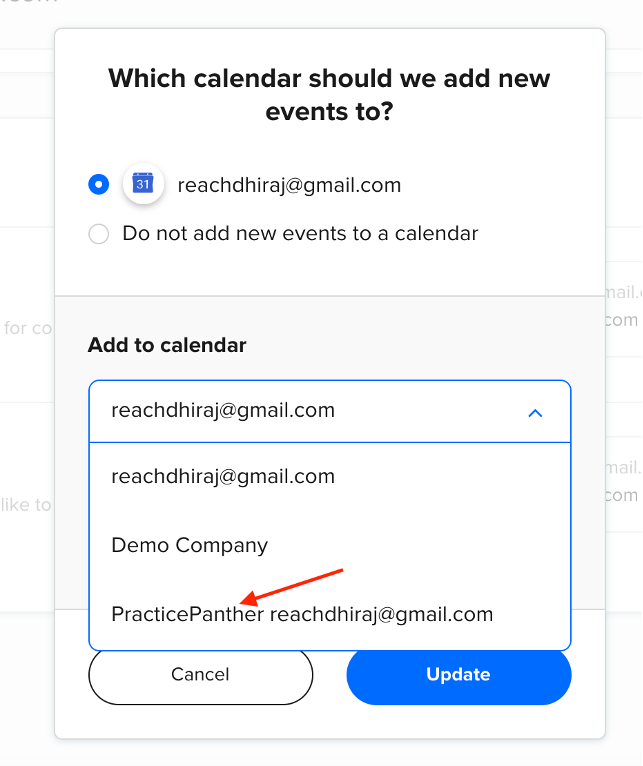 ---
Next, go to Account >Share your Link and copy your link.

How to send your booking links and intake form links to Chatagents.com
Please share your booking calendar and intake form links by logging into the integration page of your Chat Agents account.
To do this, go to https://my.chatagents.com/ in your Chat Agents dashboard and go to "Integrations", which should open https://my.chatagents.com/integrations.

Look for PracticePanther and check the "Activate" box.

Then click on the "Help Icon" next to activate and a form should open.
Paste the links you copied from PracticePanther and any messages or special instructions you want to send to our chat agents into this form.

Once you do this, our support team will set it up, usually within 24 hours. Once set up, our chat agents can now start scheduling appointments, either by sharing the link with chat visitors so they can book an appointment with you, or by asking for the details and scheduling your appointment for them.

If you have any questions or need help integrating PracticePanther or other apps with your Chat Agents account, please contact us through the help section on your Chat Agents dashboard - we will be happy to do it for you, at no additional cost.