Zendesk Sell - what is it?
Zendesk Sell is a sales CRM software tool that enhances productivity, processes, and pipeline visibility for sales teams. Eliminate friction and sell more.
When you invest in the right software for your salespeople, they can focus on what matters—winning over more customers and closing deals. Sell is the sales sidekick that keeps track of your conversations, alerts you when it's time to make a call, and is backed by a dedicated team of experts to provide support whenever it's needed.
---
How does Zendesk Sell works with Chat Agents
Upon completion of a chat on your site, a new chat lead is added by our Chat Agents with all contact information, a brief chat summary, and the chat transcript.

With this Zendesk Sell - Chat Agents integration, these lead details are automatically added as a new lead in your Zendesk Sell account.
When a chat visitor returns to your site and provides more information, a new chat summary is added along with the new chat transcript from Chat Agents. These lead details are also automatically updated in Zendesk Sell.
---
How to integrate Zendesk Sell with Chat Agents
To integrate Zendesk Sell with Chat Agents, first, log into your Zendesk Sell account at https://app.futuresimple.com/.
If you do not already have a Zendesk Sell account, you can create one at https://www.zendesk.com/sell/.
Once logged in, click on the settings icon in the bottom left menu and then click on "OAuth".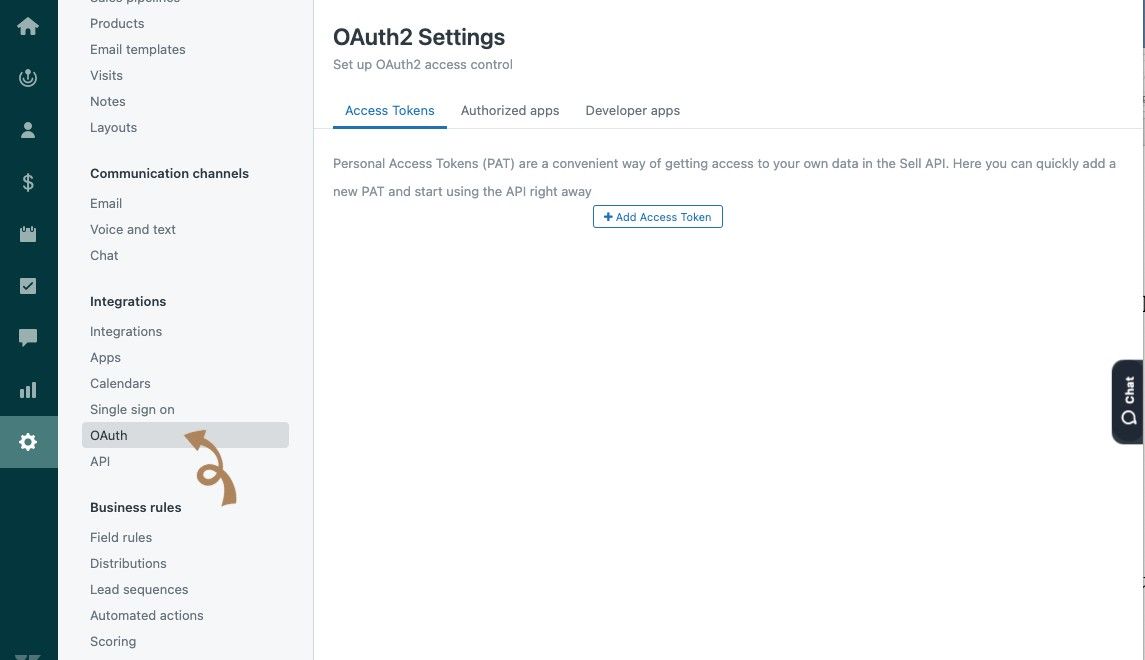 ---
Then create an access token, name it appropriately and click "Save".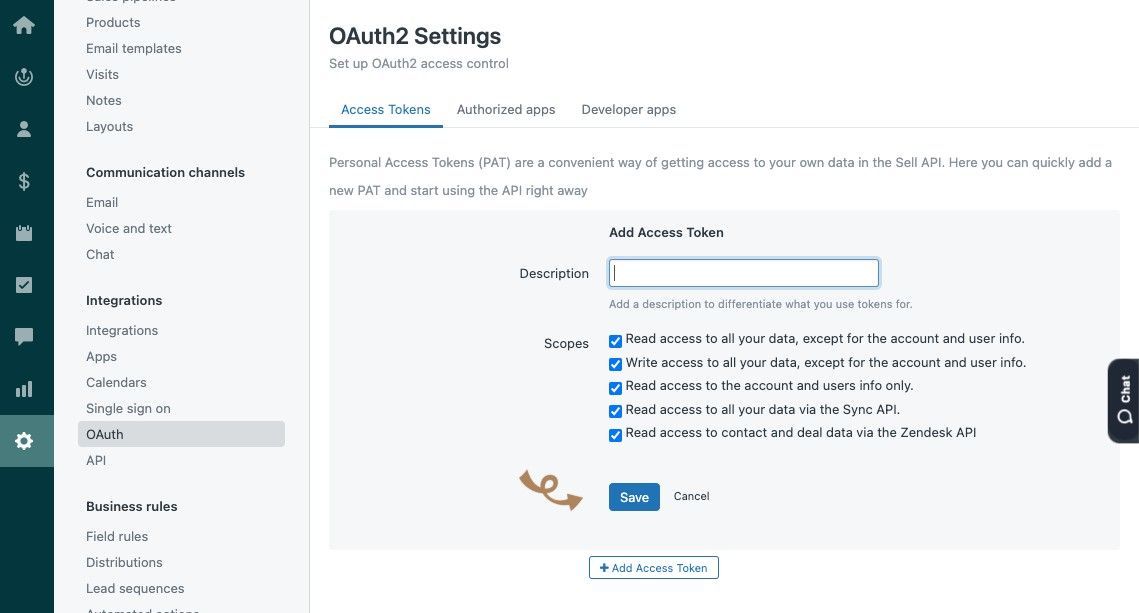 ---
Copy the token you created, as it will be used in the next step.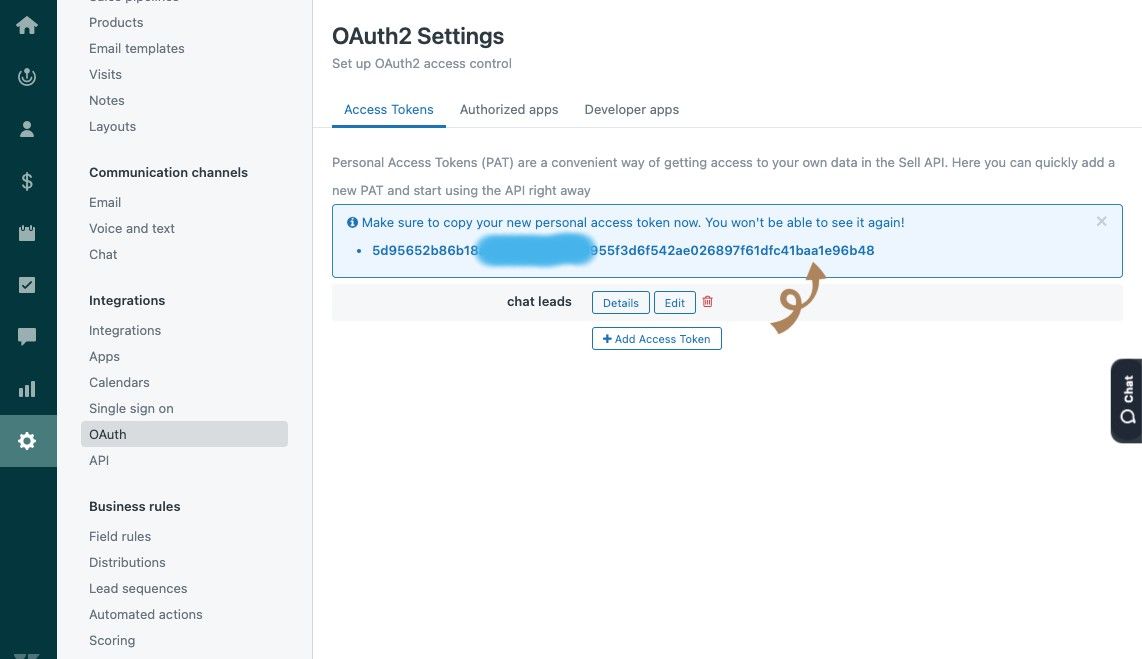 ---
Now log in to the integration page of your Chat Agents account. To do this, go to https://my.chatagents.com/ in your Chat Agents dashboard and go to "Integrations" which should open https://my.chatagents.com/integrations.

Search for Zendesk Sell and enable the "Edit" button on the right hand side.

You will then see the Chat Agents - Zendesk Sell Integration page.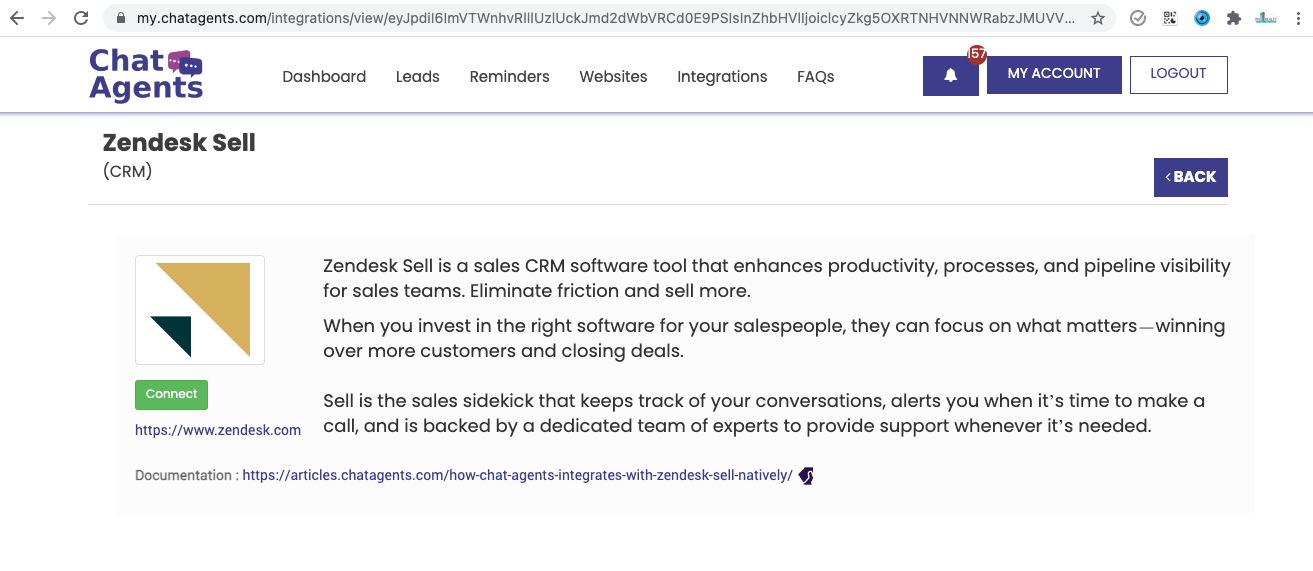 Click on "Connect", which will open a popup modal where you need to paste the API token you copied earlier.
---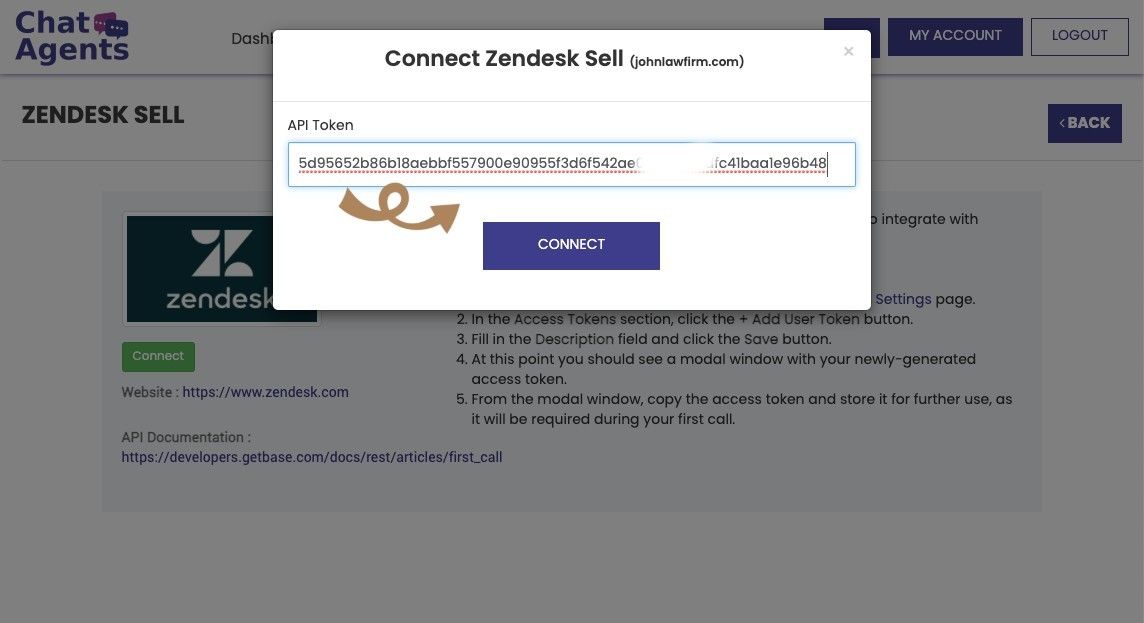 ---
That's it. If everything is correct and no error message is displayed, your Chat Agents and Zendesk Sell are integrated.
---
Whenever our chat agents add new chat leads in our system, you will see it in our CRM and receive a notification via text, email and through our apps.

With this integration, you will also see the same lead details with associated notes and chat transcripts automatically and instantly added to your Zendesk Sell account.

This saves you from manually re-entering all the chat lead details into your Zendesk Sell account.
---
Lead details are added in your Chat Agents CRM.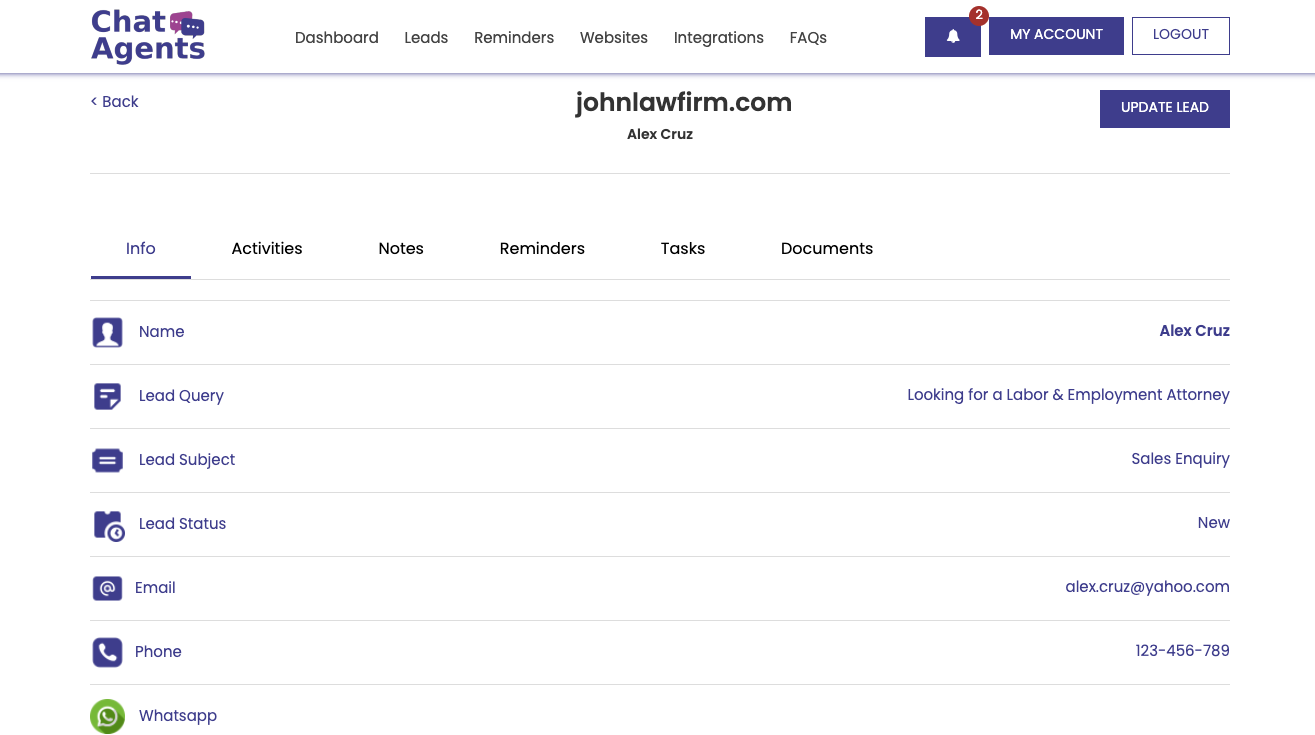 ---
Chat transcripts are also added in your  Chat Agents CRM.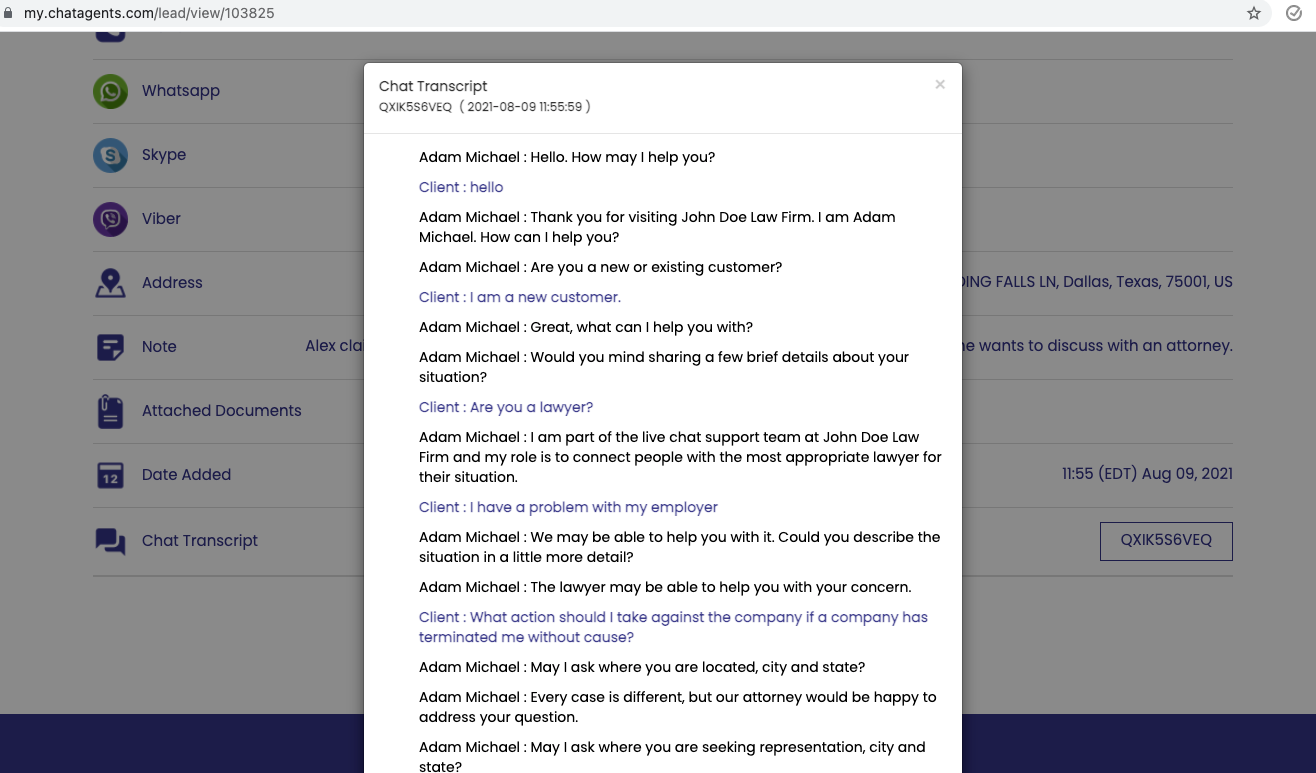 ---
The same lead is also visible in your Zendesk Sell account,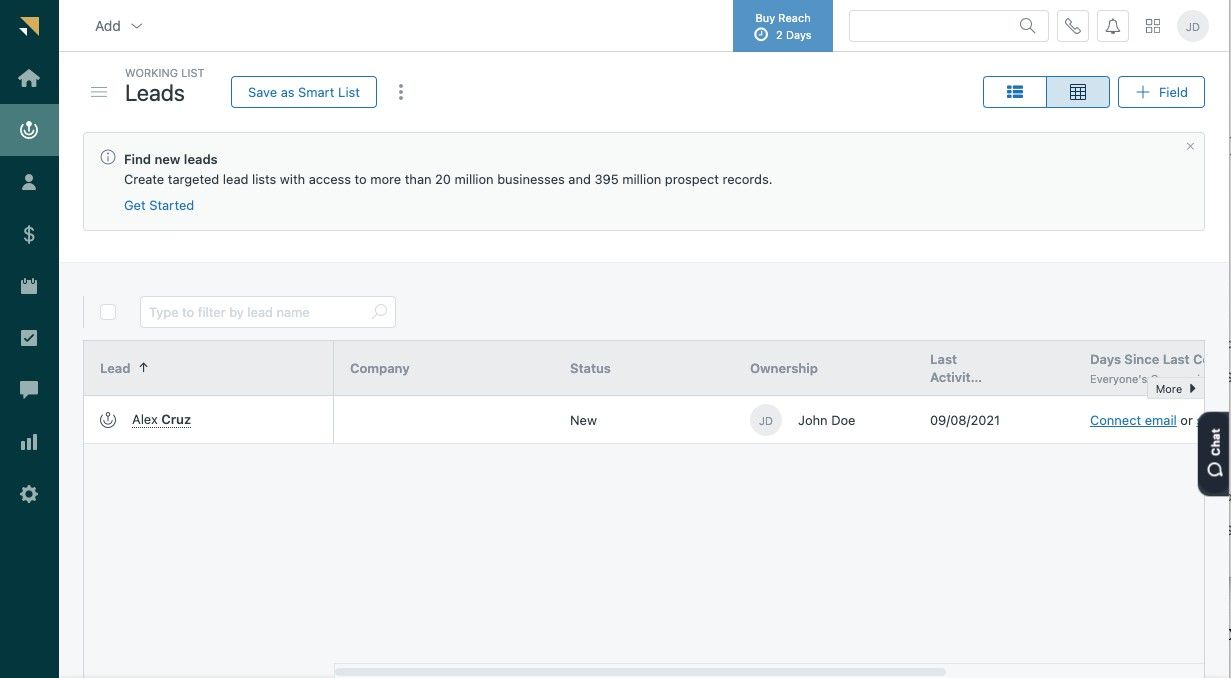 ---
Along with the chat summary and chat transcript, both of which are added as notes to the lead in your Zendesk Sell account.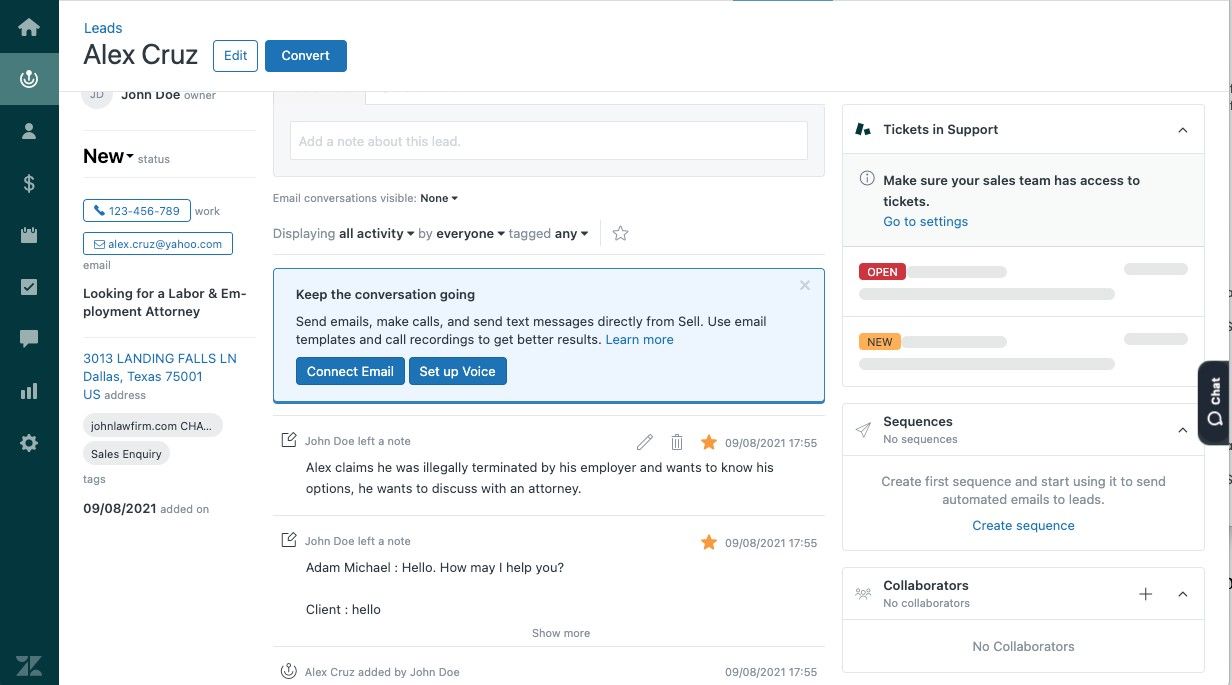 If you have any questions or need help integrating Zendesk Sell or other apps with your Chat Agents account, please contact us through the help section on your Chat Agents dashboard - we will be happy to do it for you, at no additional cost.