GlossGenius - what is it?
GlossGenius is an all-in-one booking, payment and marketing solution for teams and solopreneurs in the US. GlossGenius is the simplest and most intuitive platform for hairdressers and studios. It is easy to use for businesses and clients alike.
---
How to get started with GlossGenius & Chatagents.com.
If you do not already have a GlossGenius account, sign up at https://app.glossgenius.com/signup or log in at https://app.glossgenius.com/login.

Once you have completed the signup process and set up the basic profile, you should see the main dashboard.

---
How can I allow ChatAgents to schedule appointments with Glossgenius on behalf of my clients?
In order to schedule appointments with GlossGenius on behalf of your client, our agents will need access to your GlossGenius link. The following steps will show you how to retrieve your GlossGenius link and share it with us.

When you sign up for GlossGenius, your booking URL will automatically include your first and last name. However, you can change this to the name of your beauty business or something else memorable. Here is how you can do that:

Log in to your GlossGenius account: https://app.glossgenius.com/login

Go to Settings (gear in the top right corner) My Website Info Change My URL Save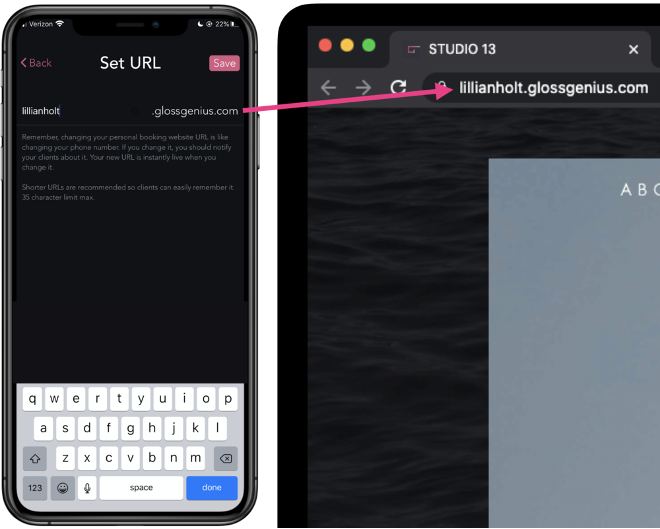 Click to copy the link.

Note: Please make sure that online booking is enabled, otherwise ChatAgents will not be able to book online appointments for you. The setting can be found under "Settings" "Booking Controls and Notifications" "Online Booking Settings" and "Disable Online Booking." Turn this feature "OFF" (to the left).


---
How to send your GlossGenius booking link to Chatagents.com
Please share your booking calendar link by logging into the integrations page of your Chat Agents account. To do this, go to https://my.chatagents.com/ in your Chat Agents dashboard and go to "Integrations," which should open https://my.chatagents.com/integrations.

Look for GlossGenius and check the "Enable" box.

Then click on the "Help Icon" next to "Enable" and a form should open.
Paste the links you copied from GlossGenius and any messages or special instructions you want to send to our chat agents into this form.

Once you have done this, our support team will set up the chat, usually within 24 hours. Once set up, our chat agents can now start scheduling appointments, either by sharing the link with chat visitors so they can book an appointment with you, or by asking for the details and scheduling your appointment for them.

If you have any questions or need help integrating GlossGenius or other apps with your Chat Agents account, please contact us through the help section on your Chat Agents dashboard - we will be happy to do so for you, at no additional cost.