If you use Google Calendar to manage online appointments, ChatAgents can schedule appointments for you.
Note: Google Calendar does not directly integrate with Chat Agents, but you can connect it to Calendly, which Chat Agents can then use to schedule your appointments.
---
How to get started with Google Calendar
You can use the Appointment Slots feature from Google Calendar to create appointments. This feature creates an additional view of your calendar that shows only the available appointment slots. Visitors can then click on a time slot to book it.
Once an appointment is booked, the time is filled in and is not available for others to book. Appointment slots can be distinguished from your other events by the grid symbol in the top left corner.



---
The following steps will show you how to create an appointment slot, and how to find the link to your public calendar.

Sign in to Google Calendar using https://calendar.google.com/calendar/

1. Make sure that you're in Week view or any Day view.

2. Click anywhere in the calendar. In the event box that pops up, click Appointment slots.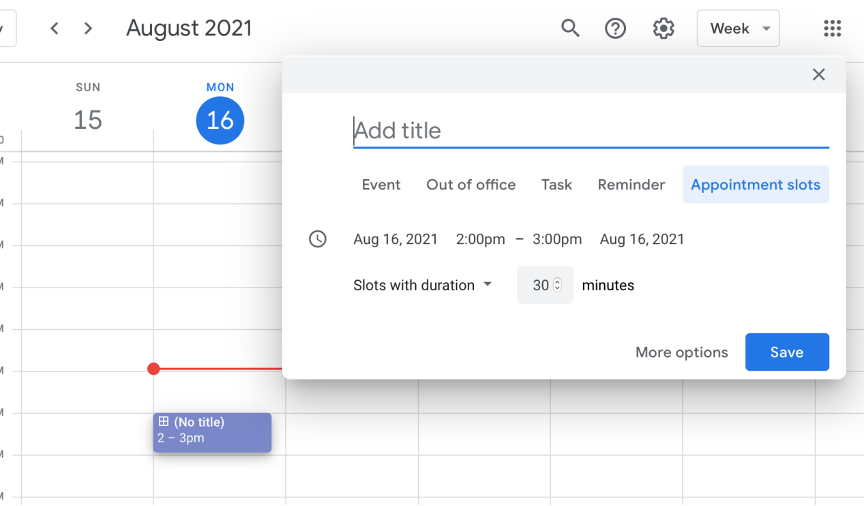 3. Enter the details, including a title, and pick the calendar where you want the event to show up.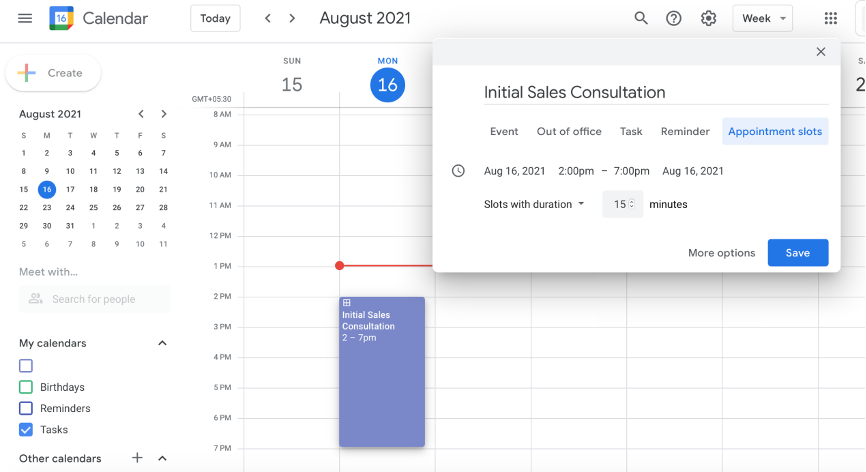 ---
To add more information, such as a location or description, click More options.

Click Save when you are done, and you should now see your appointment blocks in your calendar.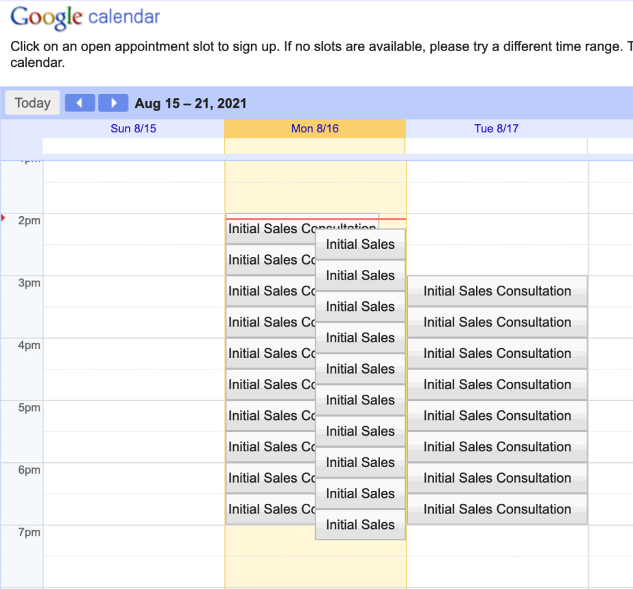 ---
How to invite others to book an appointment
After you have set up the appointment block, you can invite others to reserve an appointment with a link to your appointment page.

To do this, open your https://calendar.google.com/

Click on your appointment > Go to the appointment page for that calendar.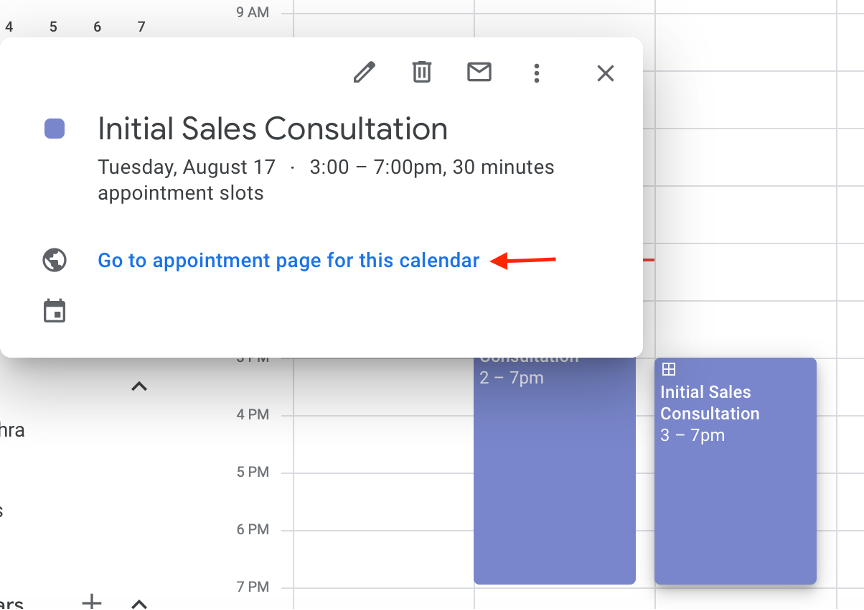 A new window will open with a link to your calendar.

Copy this link and send it to people who want to book an appointment slot.
---
How can I connect Google Calendar with Calendly

Note: Since Chat Agents cannot book appointments for you directly in your Google Calendar, you need to integrate your Google Calendar with Calendly and share the link to your Calendly booking page with Chat Agents.

The following steps show you how to link your Google Calendar with Calendly

Log in to your Calendly account at https://calendly.com

Click on your profile in the right corner and go to Calendar Connections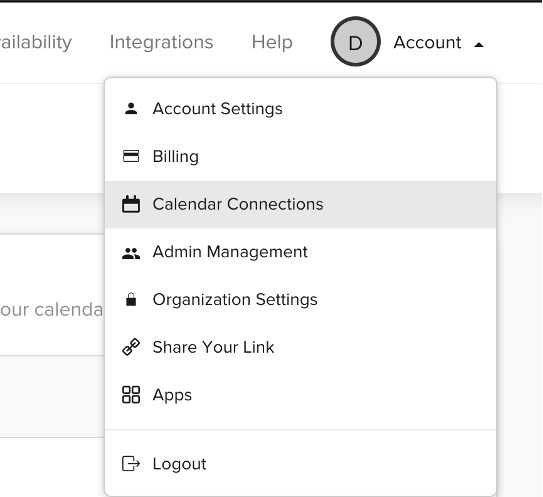 ---
Click on Connect next to Google Calendar

---
Sign in to your Google Account where you have your Google Calendar and allow access to Calendly when prompted.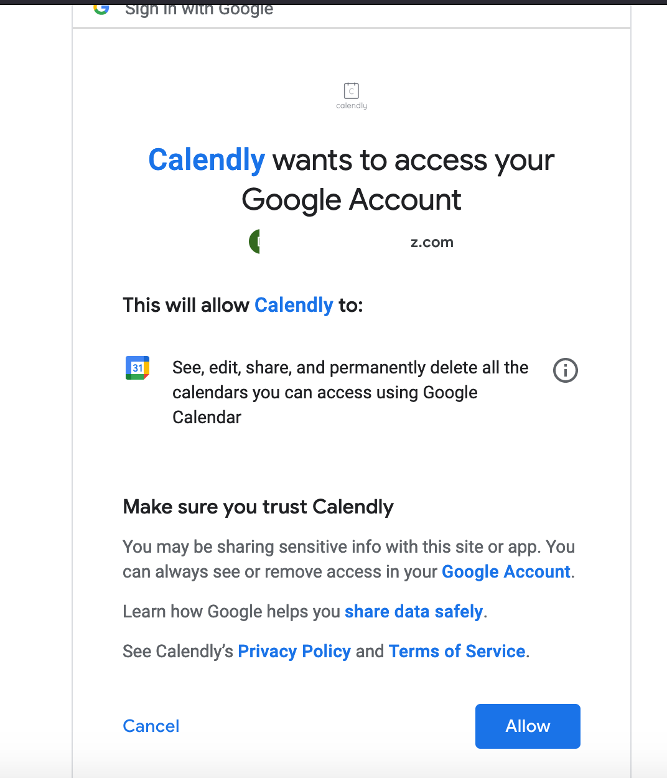 ---
Make sure your correct calendar is selected under Configuration > Check for conflicts and Add to calendar:

---
Now you can set up your availability in Calendly. When our agents book an appointment for you, it will be added to your Google Calendar, and it will also check for conflicts with your appointments that you created directly in your Google Calendar.

Note: When you create your Calendly account, your time zone is automatically detected and set for your account. To ensure that our agents schedule meetings in your correct time zone, please lock your Calendly time zone settings in your event types.

Example: If you are in New York and are available for a meeting at 11am, our chat agent who is in the Philippines will see event times in their local time zone in your calendar and could accidentally schedule a meeting for 11pm. So locking your time zone will ensure that they are booking events at the right time.

How to lock your timezone in Calendly

Go to calendly.com > Home > Event Types and click the settings gear in your Event Type: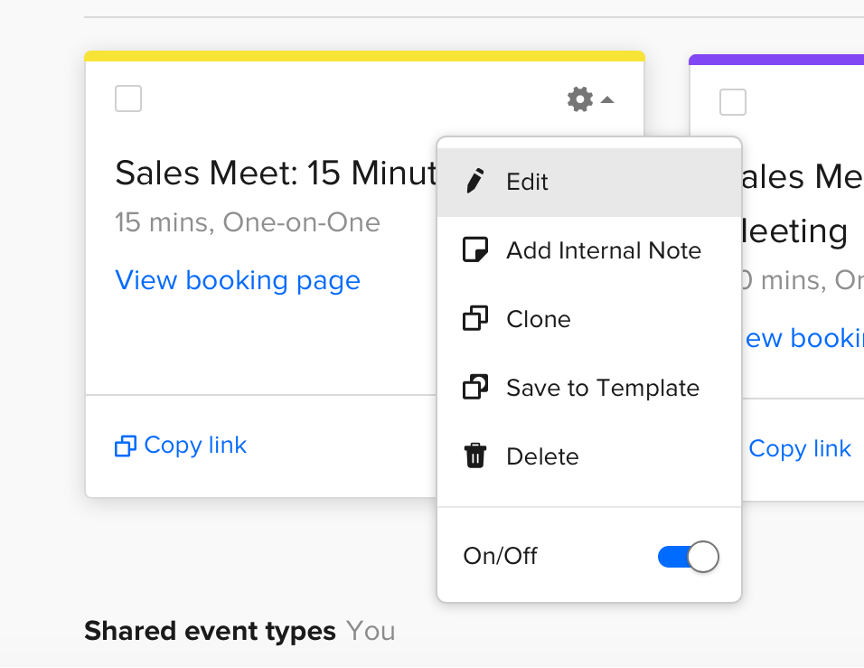 ---
Click on "When can people book this event?":

---
Scroll down and click on "Additional rules for your availability".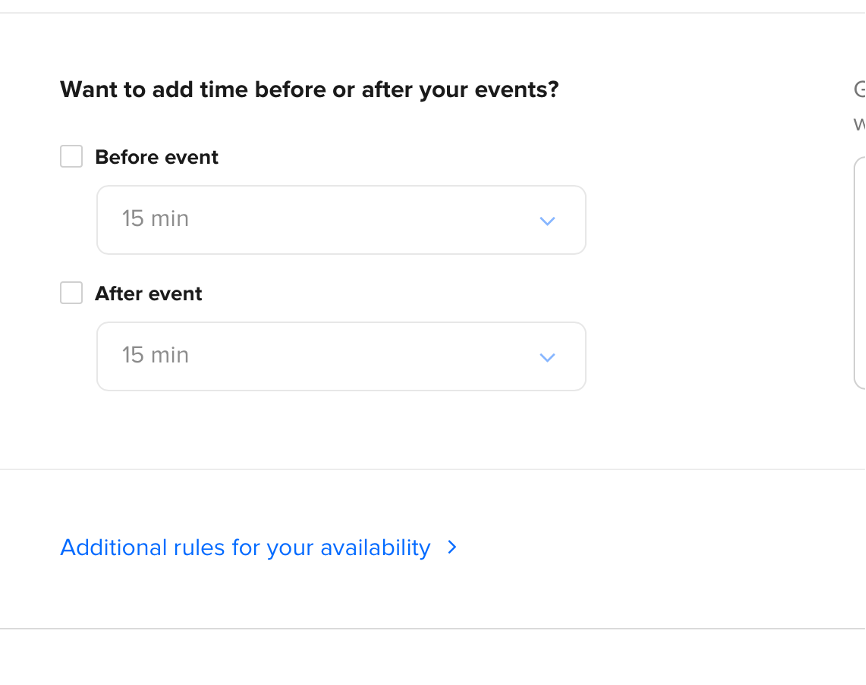 Select the radio button "Lock the timezone", save and close.




That's it. Now everyone who visits your calendar page will see the event times in your local timezone.

You will need to do this for all your event types.
---
How do you find your Calendly booking link

Click your profile on the right and click Share your link, which will open a new box with your links: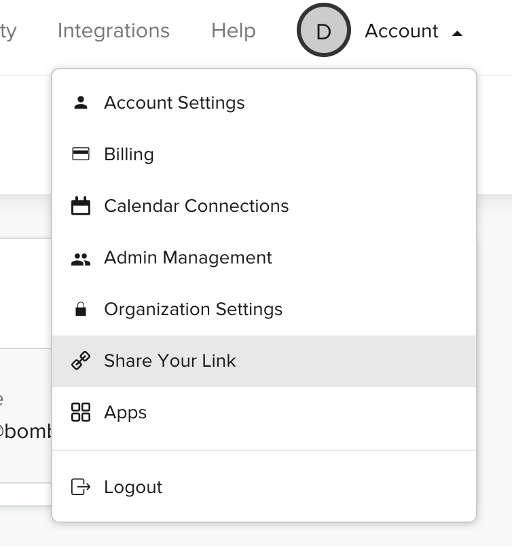 ---
Copy the link.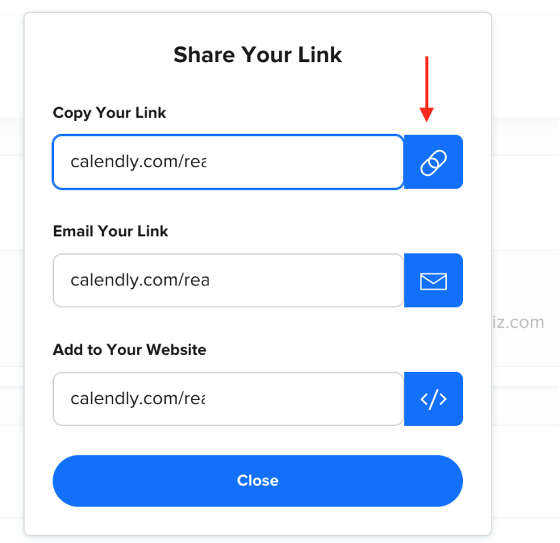 ---
How to send your booking links to Chatagents.com
Please share your booking calendar links by logging into the integration page of your Chat Agents account. To do this, go to https://my.chatagents.com/ in your Chat Agents dashboard and go to "Integrations" which should open https://my.chatagents.com/integrations.

Look for Google Calendar and check the "Activate" box.

Then click on the "Help Icon" next to activate and a form should open.
Paste the links you copied from Google Calendar and any messages or special instructions you want to send to our chat agents into this form.

Once you do this, our support team will set it up, usually within 24 hours. Once it is set up, our chat agents can begin scheduling appointments by either sharing the link with chat visitors so they can book an appointment with you, or by asking for the details and scheduling your appointment for them.
If you have any questions or need help integrating Google Calendar or other apps with your Chat Agents account, please contact us through the help section on your Chat Agents dashboard - we will be happy to do it for you, at no additional cost.