Rocket Matter - what is it?
Rocket Matter is a cloud-based billing and management solution for small and mid-sized law firms. It offers modules for time and invoice management, calendaring, document management, payments and collaboration.

Rocket Matter uses 'Bill As You Work' technology to help law firms track billable and non-billable time, create invoices, send invoices to clients and more. It also helps practices streamline their workflows by creating parameters for accepting cases, categorizing matters, and defining relationships within an active case.

The document management feature provides the ability to store important documents in categorized order in a single location. It includes drag-and-drop capabilities and integrates with Dropbox, Box, and other cloud storage systems. The system also has a document assembly module that allows practices to easily create frequently used forms and documents.

Users can access Rocket Matter from their Android and iOS smartphones by downloading apps from their respective app stores. The solution is available as a subscription per user per month, which also includes customer support via phone and email.
---
How does Rocket Matter  works with Chat Agents
Upon completion of a chat on your site, a new chat lead is added by our Chat Agents with all contact information, a brief chat summary, and the chat transcript.

With this Rocket Matter  - Chat Agents integration, these lead details are automatically added as a new contact in your Rocket Matter account and notes are created for the summary and chat transcript.
When a chat visitor returns to your site and provides more information, a new chat summary is added along with the new chat transcript from Chat Agents. These lead details are also automatically updated in Rocket Matter.‌
---
‌How to integrate Rocket Matter CRM with Chat Agents
If you do not already have a Rocket Matter account, you can create one for free at https://www.rocketmatter.com/sign-up-today/
or log in at https://www.rocketmatter.net/public/login/index.html if you are already a Rocket Matter user.
To integrate Rocket Matter with Chat Agents, first, log into the integration section of your Chat Agents account. ‌
‌‌
‌To do this, go to https://my.chatagents.com/ in your Chat Agents dashboard and go to "Integrations" which should open https://my.chatagents.com/integrations.‌
‌‌
‌Search for Rocket Matter CRM and enable the "Edit" button on the right hand side. ‌
‌‌
‌You will then see the Chat Agents -Rocket Matter Integration page. ‌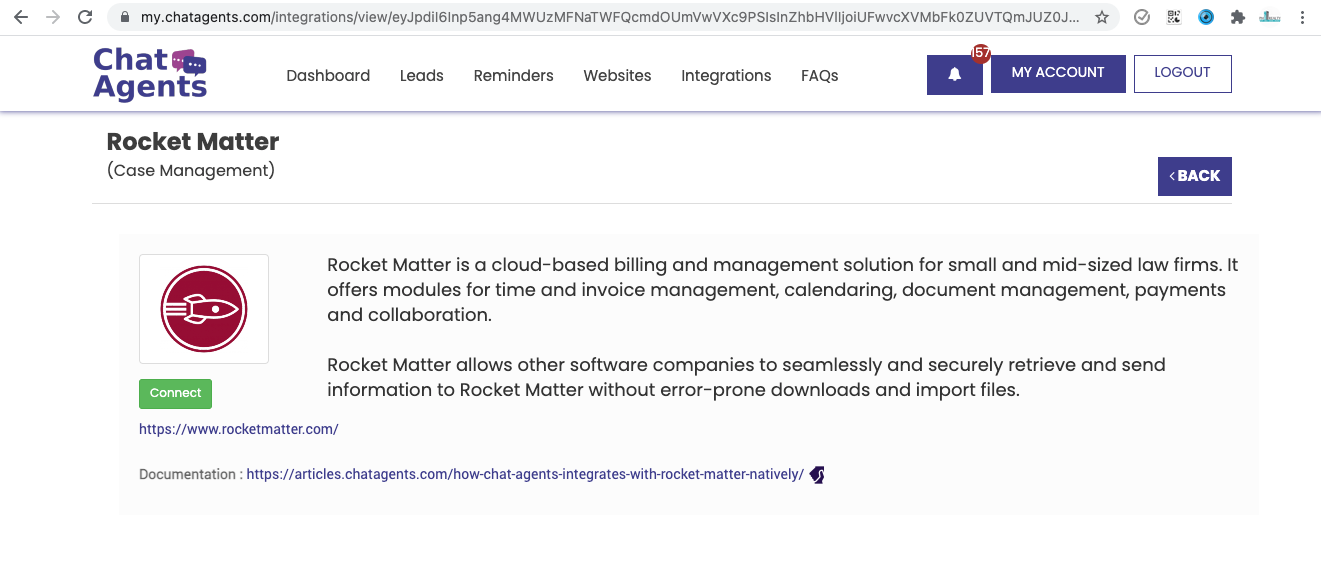 ‌‌
---
‌Click on "Connect", which will open Rocket Matter.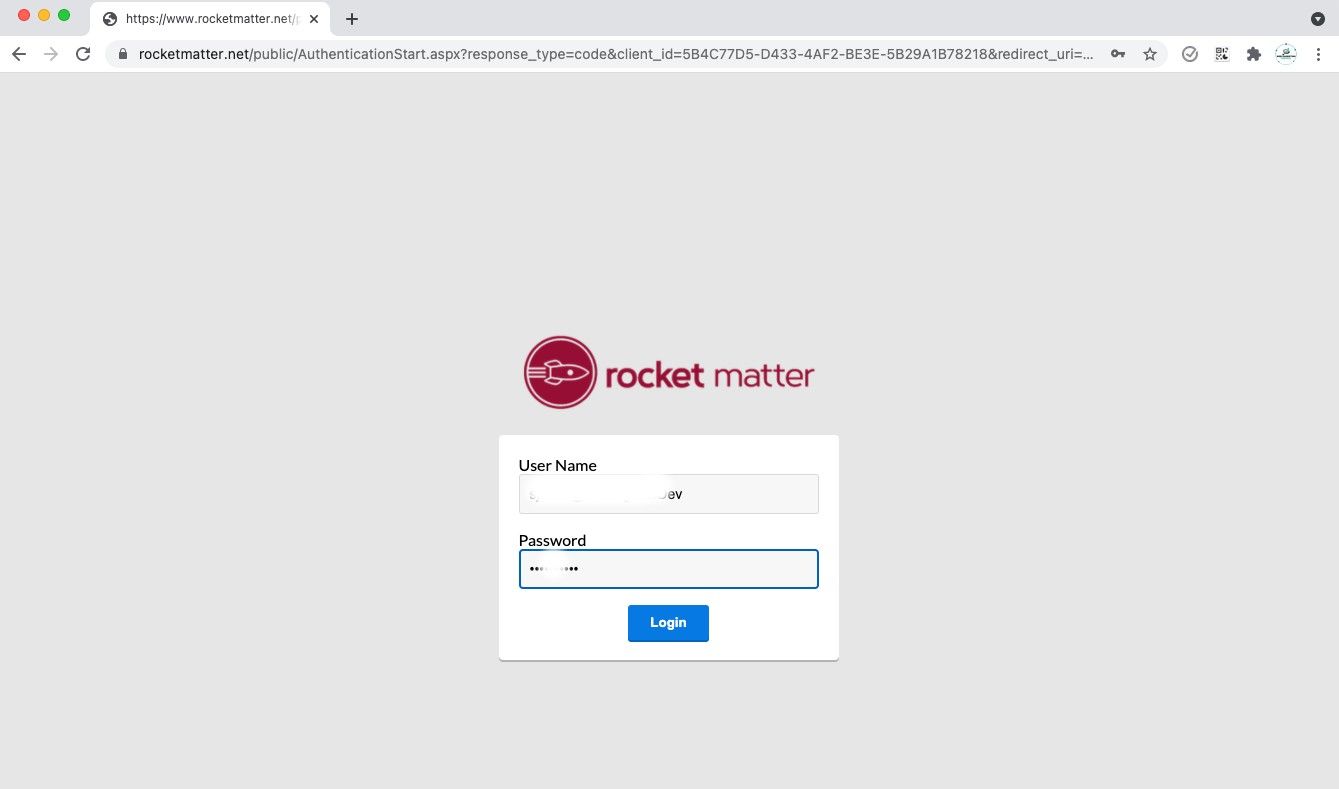 ‌‌
---
‌Once you enter your credentials, the following popup will appear where you should click ¨Allow¨, to give Chat Agents app permission to connect with your Rocket Matter Account.‌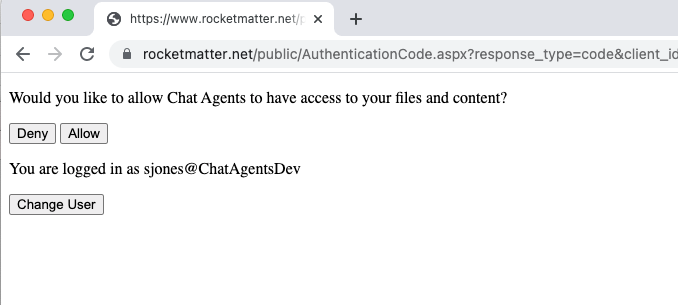 ‌
---
‌That's it. If everything is correct and no error message is displayed, your Chat Agents and Rocket Matter are integrated. ‌
---
‌Whenever our chat agents add new chat leads in our system, you will see it in our CRM and receive a notification via text, email and through our apps.‌
‌‌
‌With this integration, you will also see the same lead details with associated notes and chat transcripts automatically and instantly added to your Rocket Matter.‌
‌‌
‌This saves you from manually re-entering all the chat lead details into your Rocket Matter account.‌
---
‌Lead details are added in your Chat Agents CRM.‌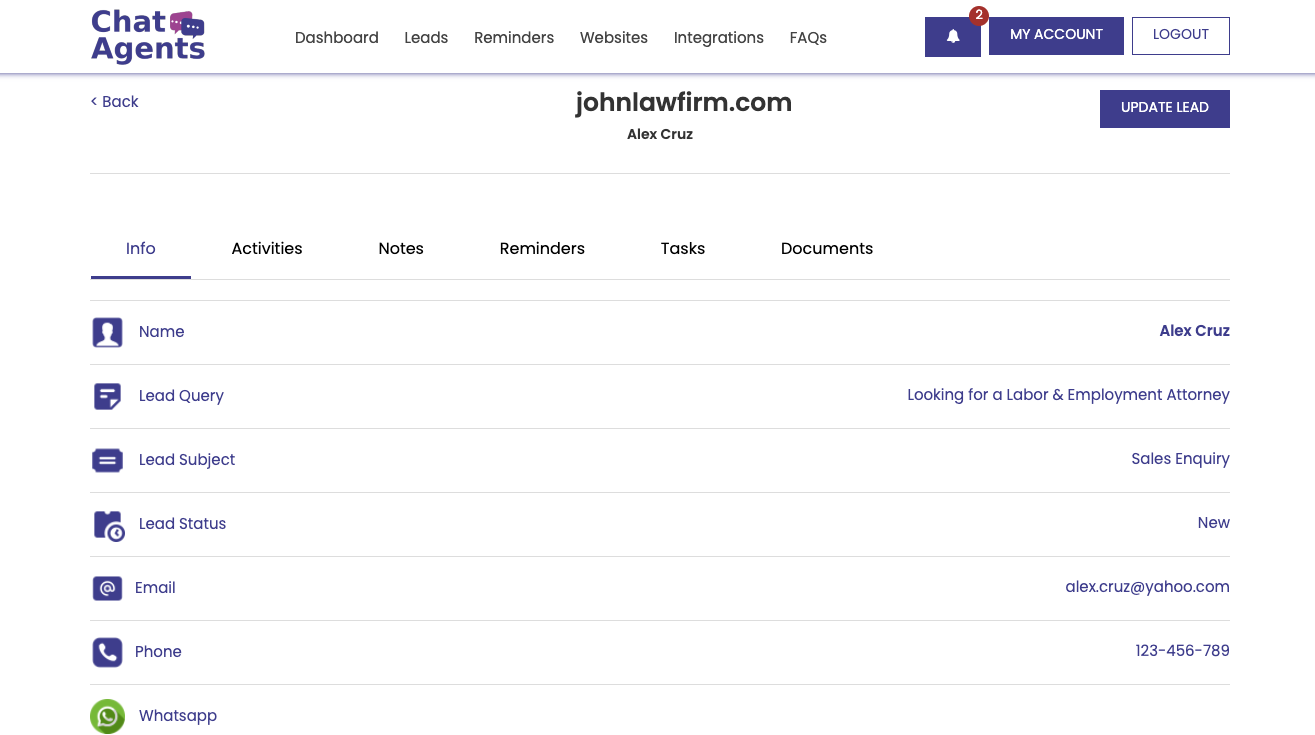 ‌‌
---
‌Chat transcripts are also added in your  Chat Agents CRM.‌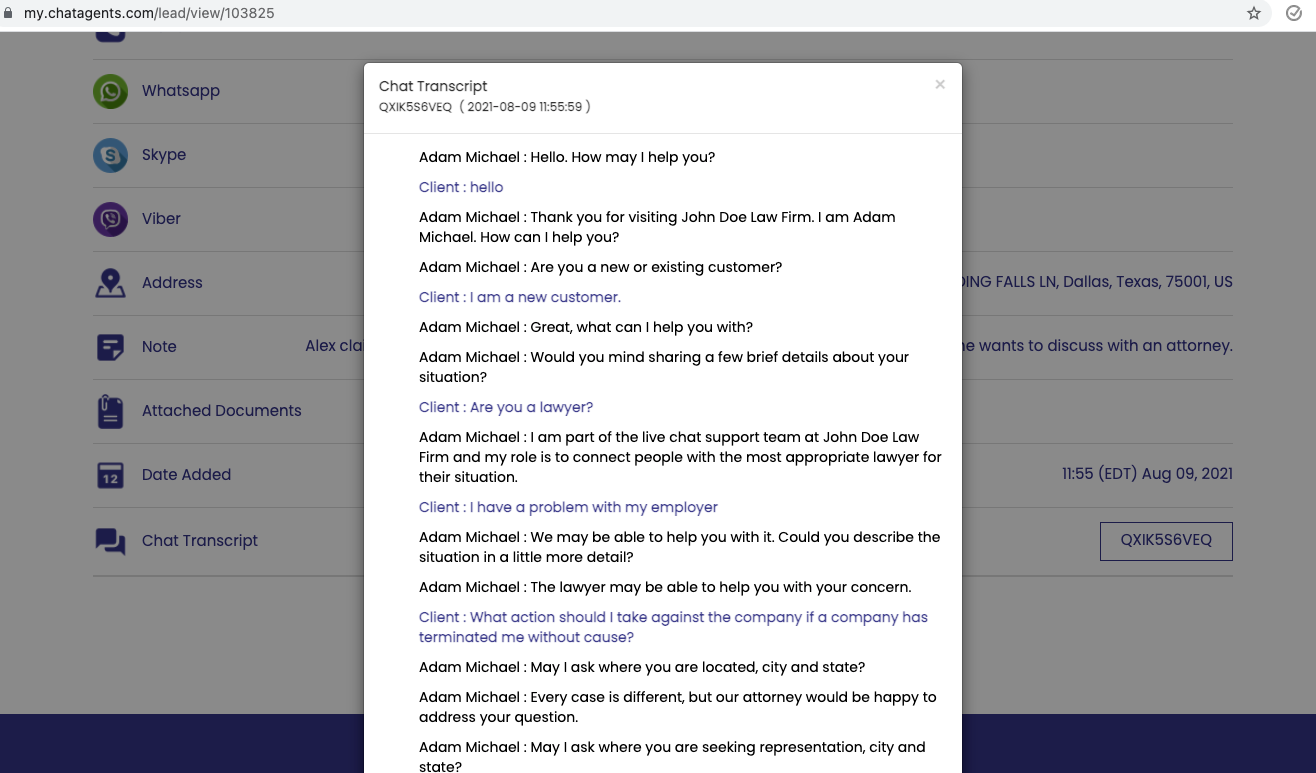 ‌‌
---
‌The same lead is also visible in your Rocket Matter account,‌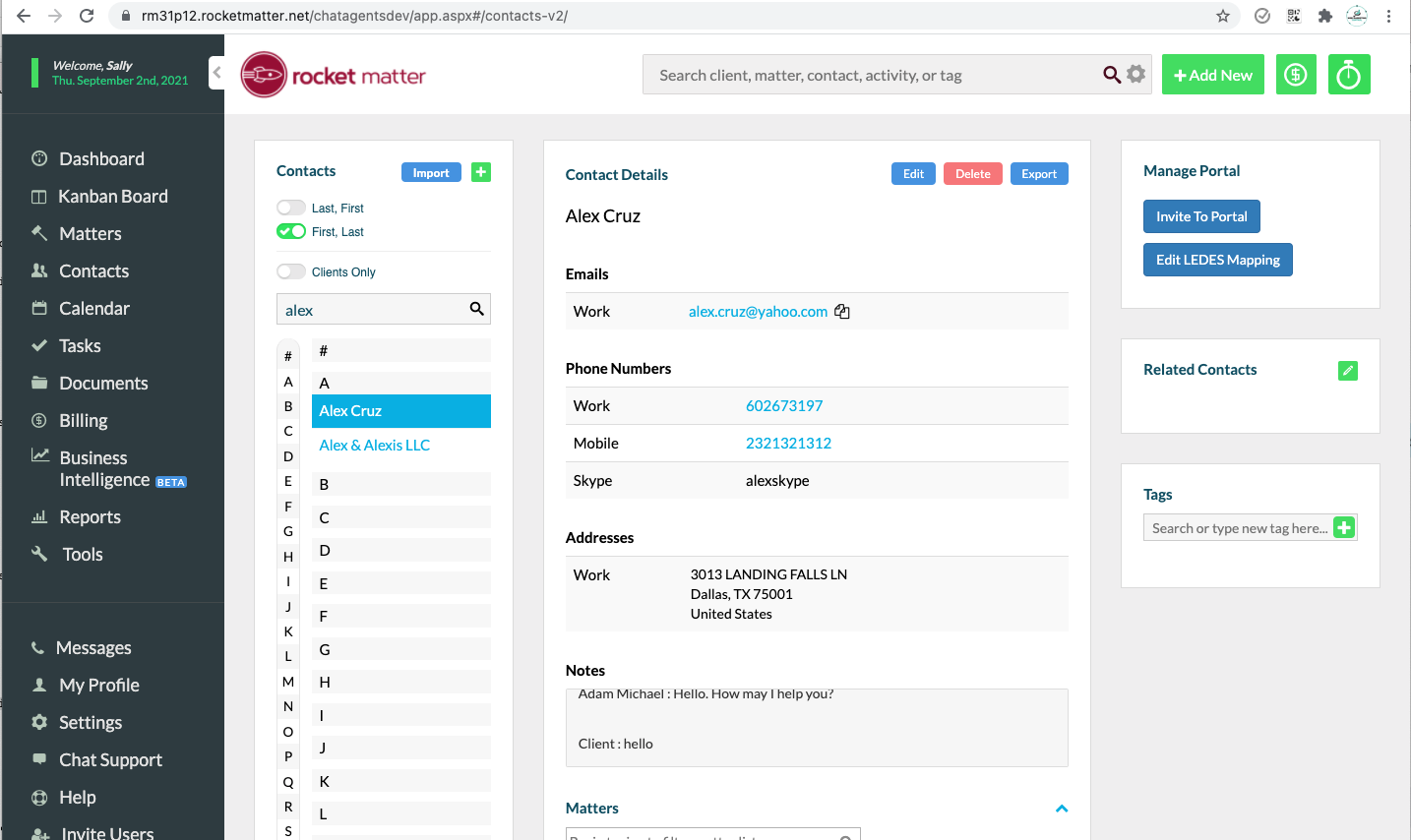 ‌‌
---
‌‌Along with the chat summary and chat transcript, both of which are added as notes to the contact in your Rocket Matter account.‌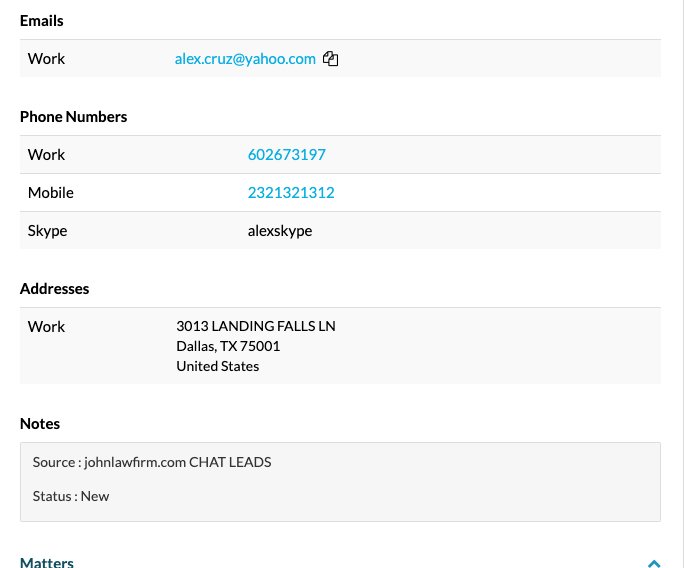 ---
‌‌

---
If you have any questions or need help integrating Rocket Matter or other apps with your Chat Agents account, please contact us through the help section on your Chat Agents dashboard - we will be happy to do it for you, at no additional cost.