Nutshell CRM - What is it?
Nutshell is an all-in-one CRM and email marketing platform that helps B2B organizations work together to do more business. Nutshell is simple enough for any user and sophisticated enough for any business. It's designed for teams that are tired of juggling separate sales and marketing tools and do not want to pay a full-time administrator to manage their software. Each Nutshell subscription includes unlimited CRM contacts and data stores, fully customizable reporting tools, free data migration assistance, and premium live support - all at an extremely affordable price.

Nutshell integrates with software small businesses already use, including Google Workspace /Gmail, Microsoft Office/Outlook, QuickBooks Online, Intercom, and Slack. Nutshell also offers native iPhone and Android apps that allow sales reps to create, search and edit contact information while on the go. Launched in 2010, Nutshell serves thousands of businesses around the world. Nutshell has been recognized as a top CRM for ease of use and affordability.
---
How does Nutshell CRM works with Chat Agents
Upon completion of a chat on your site, a new chat lead is added by our Chat Agents with all contact information, a brief chat summary, and the chat transcript.

With this Nutshell CRM - Chat Agents integration, these lead details are automatically added as a new lead in your Nutshell CRM account.
When a chat visitor returns to your site and provides more information, a new chat summary is added along with the new chat transcript from Chat Agents. These lead details are also automatically updated in Nutshell CRM account.
---
How to integrate Nutshell CRM with Chat Agents
To integrate Nutshell CRM with Chat Agents, first, log into your Nutshell CRM account at  https://app.nutshell.com/auth
If you do not already have a Nutshell CRM account, you can create one at https://www.nutshell.com

Once logged in, click on your avatar at the bottom (usually with your initials) in the left side menu.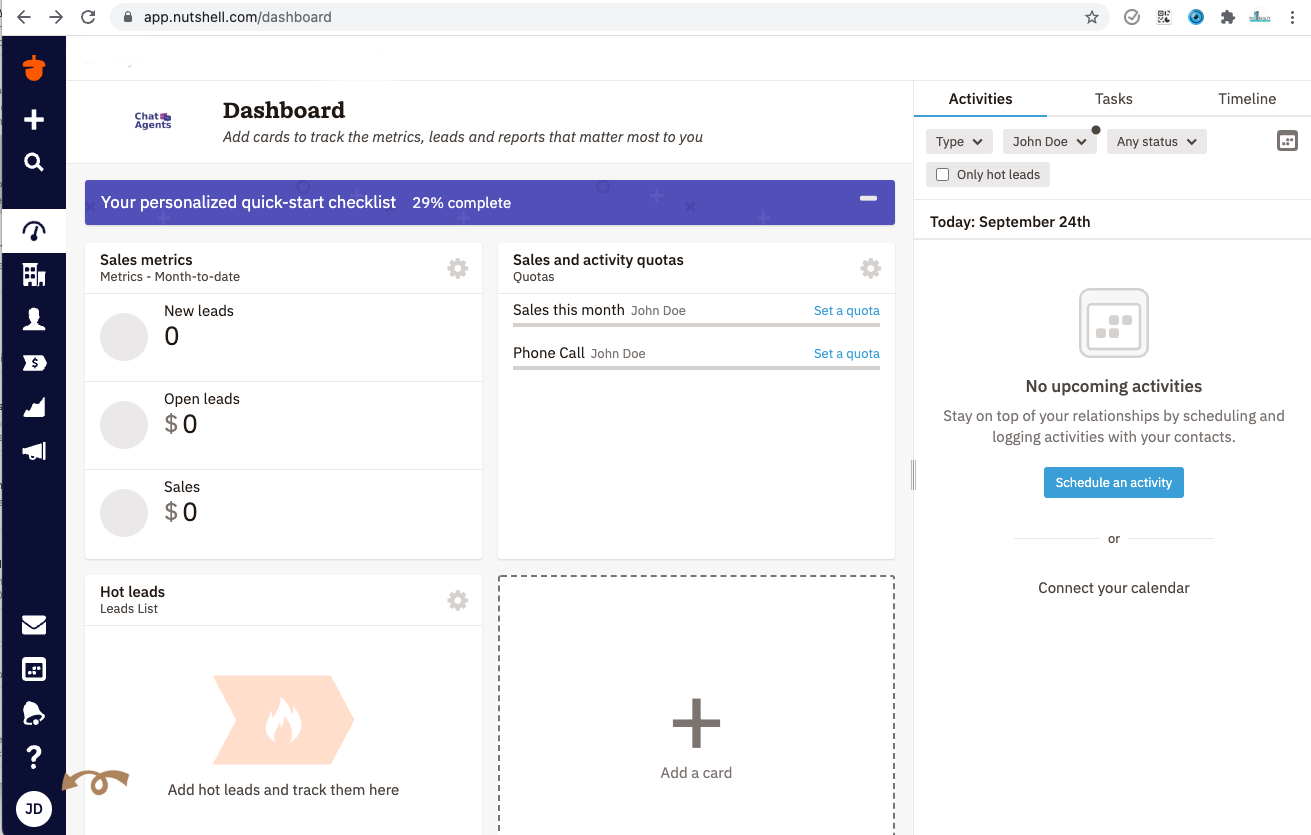 ---
and then "Company Settings"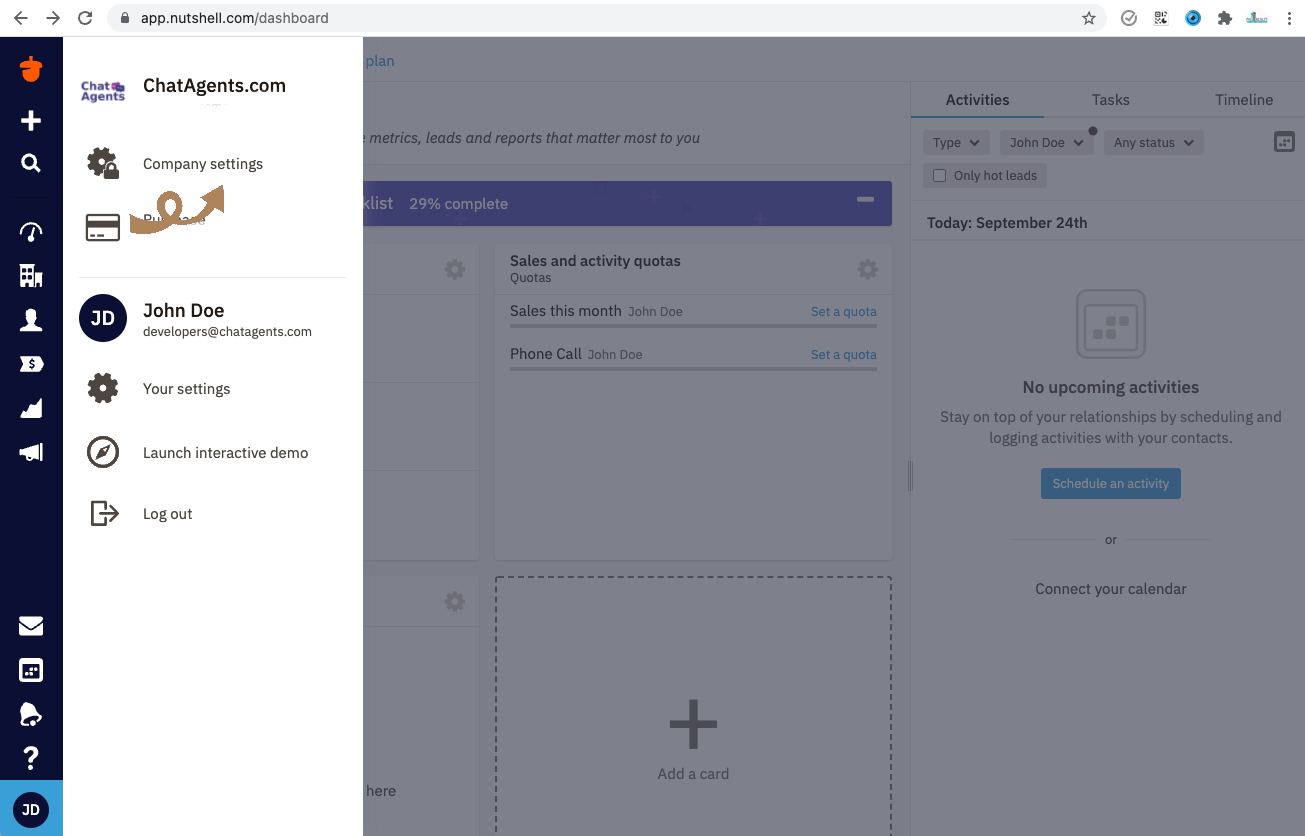 ---
Then scroll down and click on "API Keys".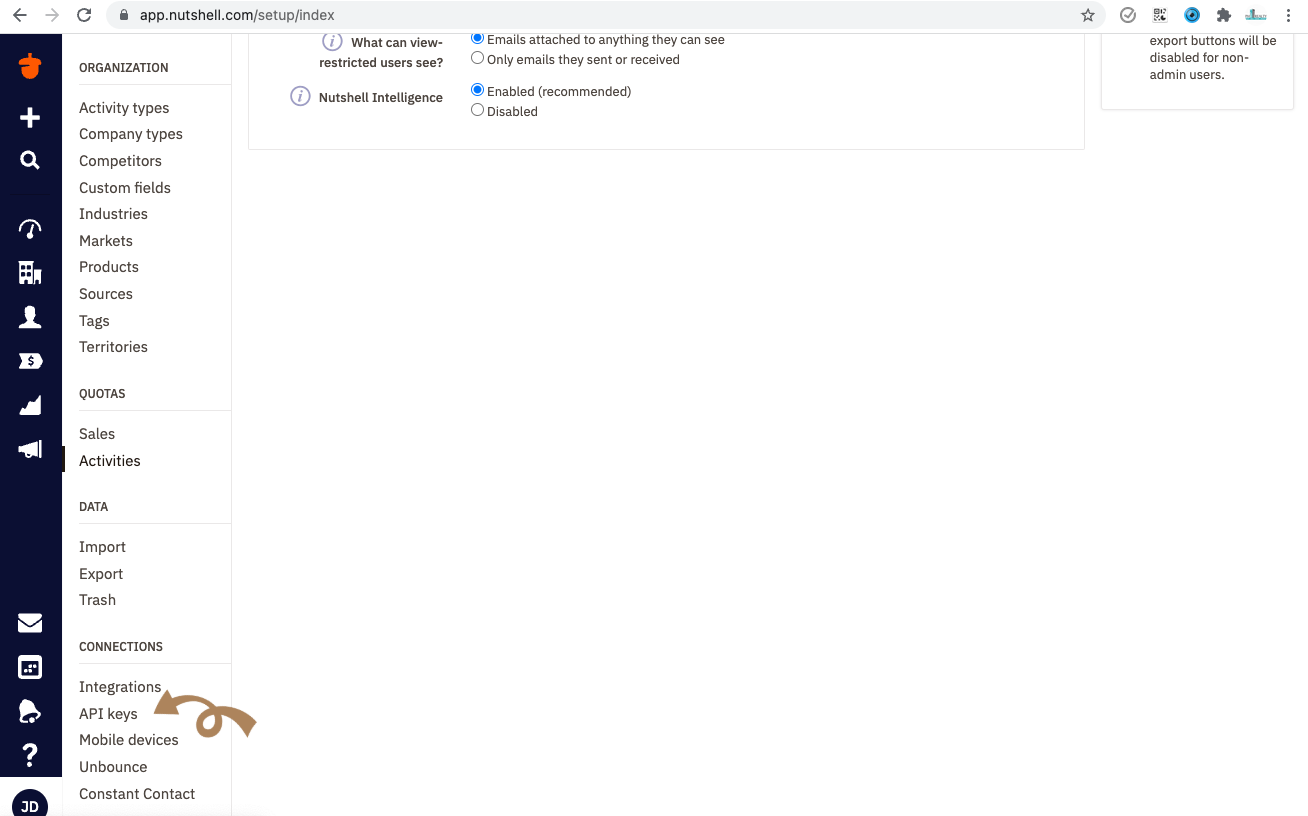 ---
Then click on "Add API Keys".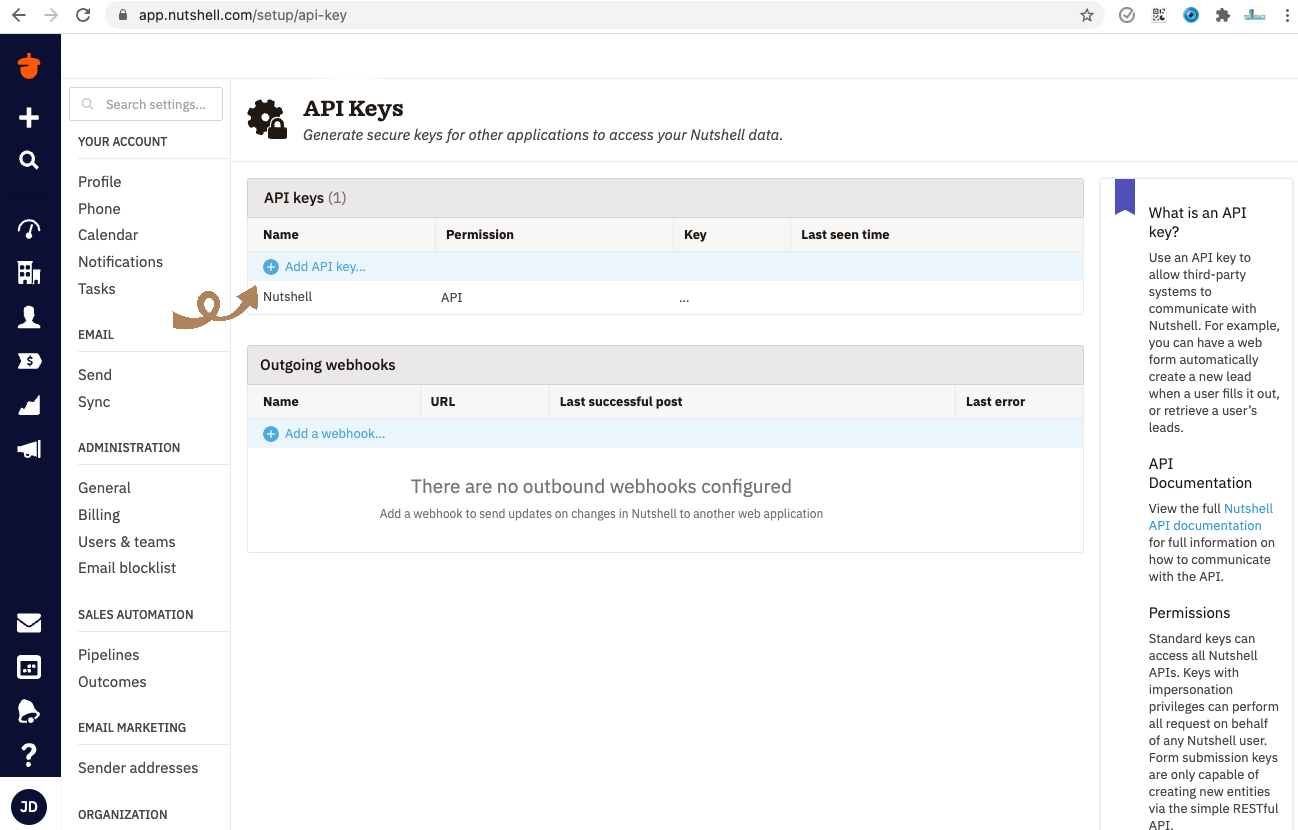 ---
Name the API key with a name you can easily identify, such as My Chat Leads.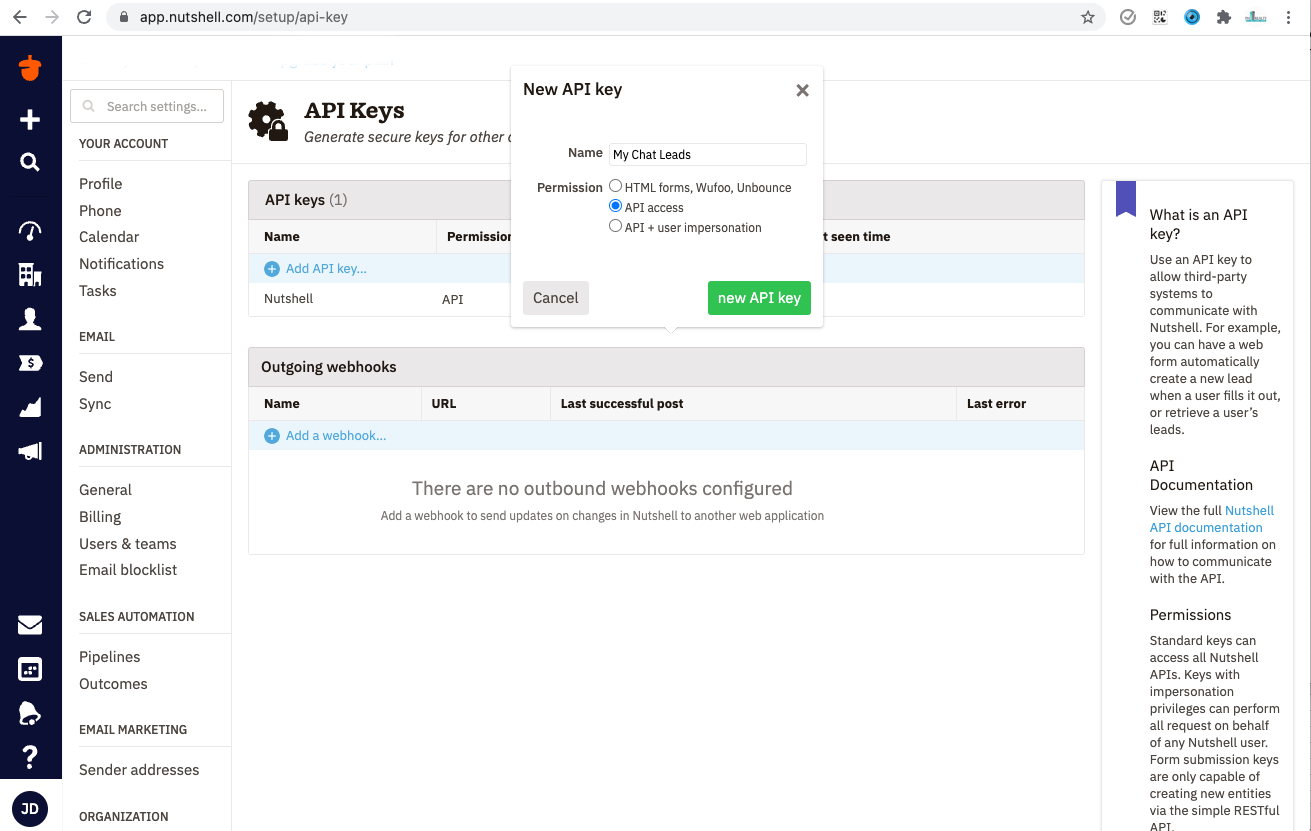 Copy the API KEY you created and save it , it will be used in the next step.
---
Now log in to the integration page of your Chat Agents account.

To do this, go to https://my.chatagents.com/ in your Chat Agents dashboard and go to "Integrations" which should open https://my.chatagents.com/integrations.

Search for Nutshell CRM and enable the "Edit" button on the right hand side.

You will then see the Chat Agents - Nutshell CRM Integration page.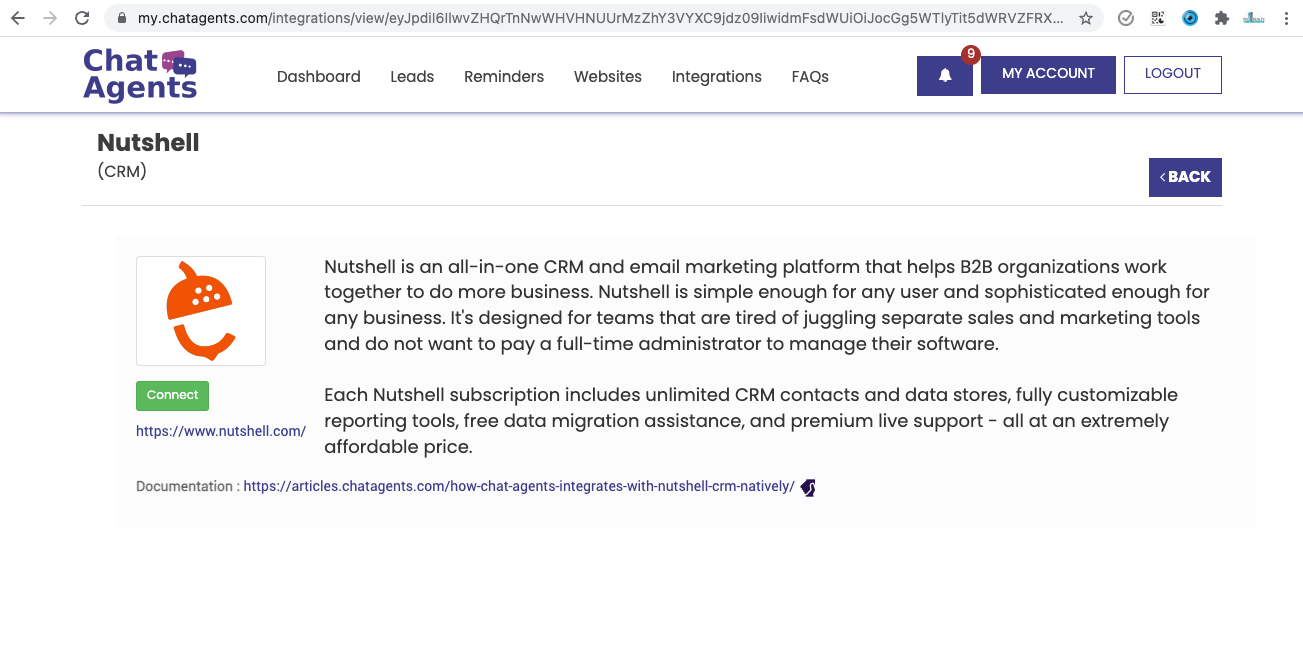 ---
Click on "Connect", which will open a popup modal where you need to paste the API key you copied earlier, from your Nutshell CRM account as well as the email associated with your account .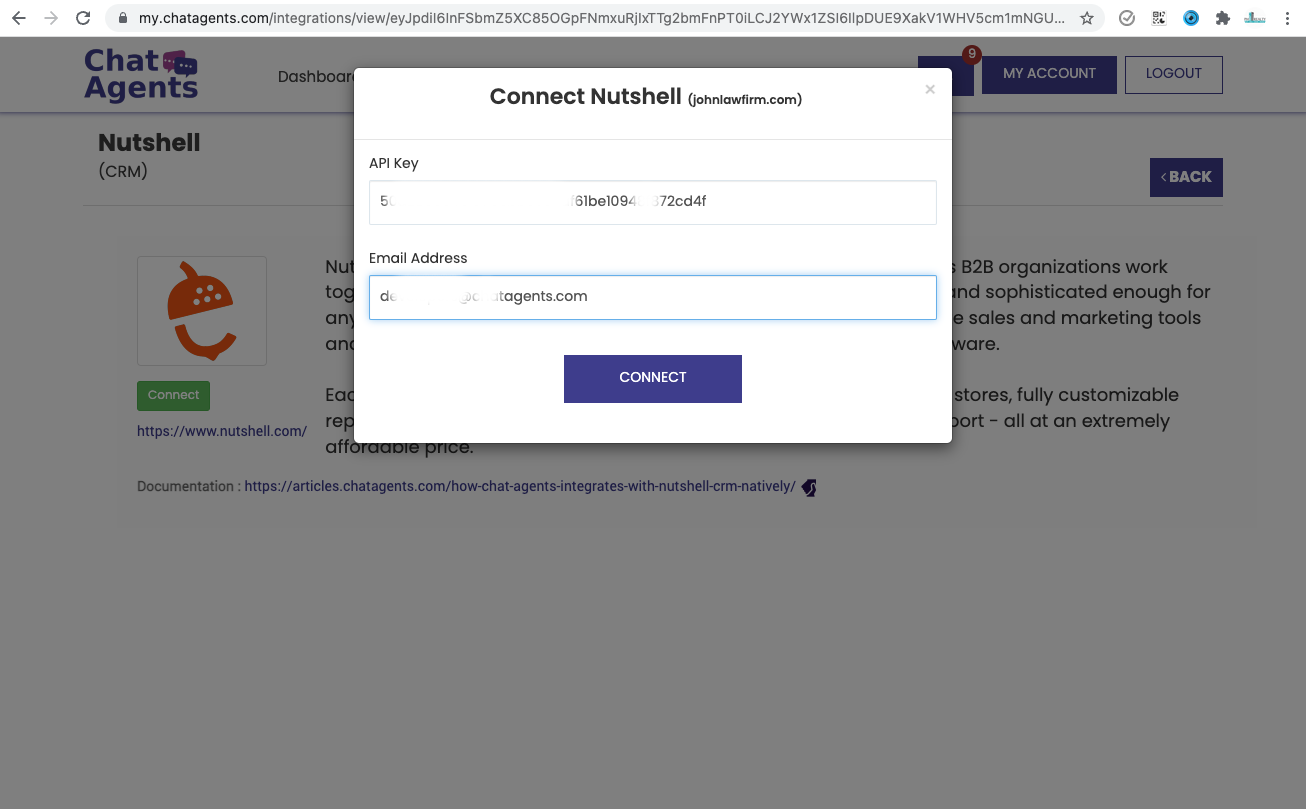 That's it. If everything is correct and no error message is displayed, your Chat Agents and Nutshell CRM are integrated.
---
Whenever our chat agents add new chat leads in our system, you will see it in our CRM and receive a notification via text, email and through our apps.

With this integration, you will also see the same lead details with associated notes and chat transcripts automatically and instantly added to your Nutshell CRM account.

This saves you from manually re-entering all the chat lead details into your Nutshell CRM account.
---
Lead details are added in your Chat Agents CRM.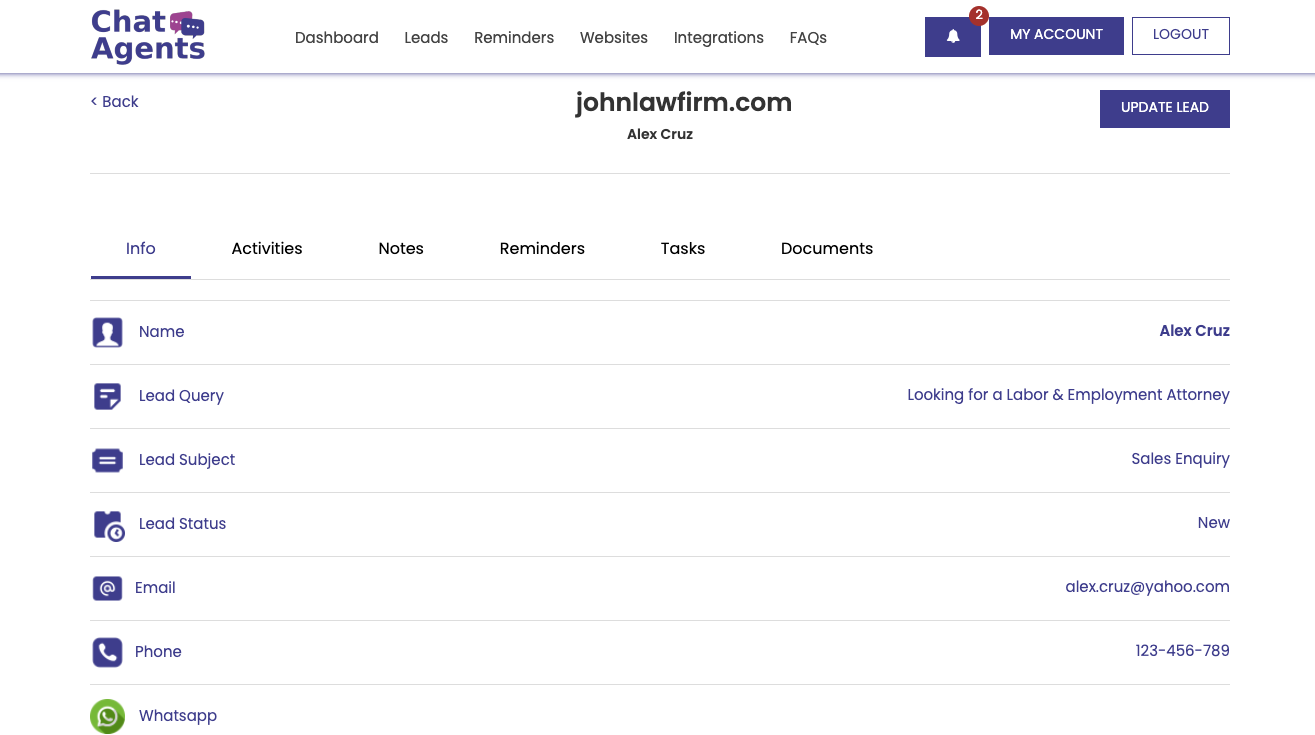 ---
Chat transcripts are also added in your Chat Agents CRM.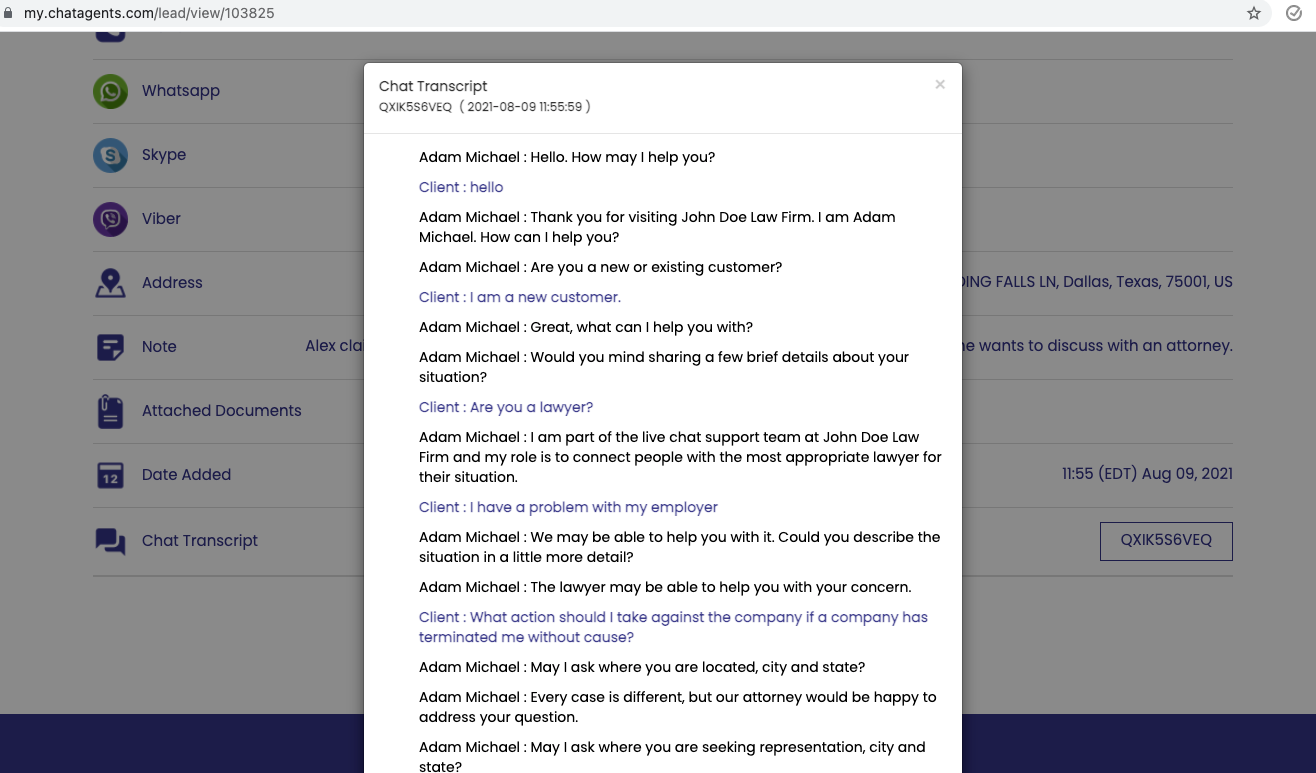 ---
The same lead is also visible in your Nutshell CRM account,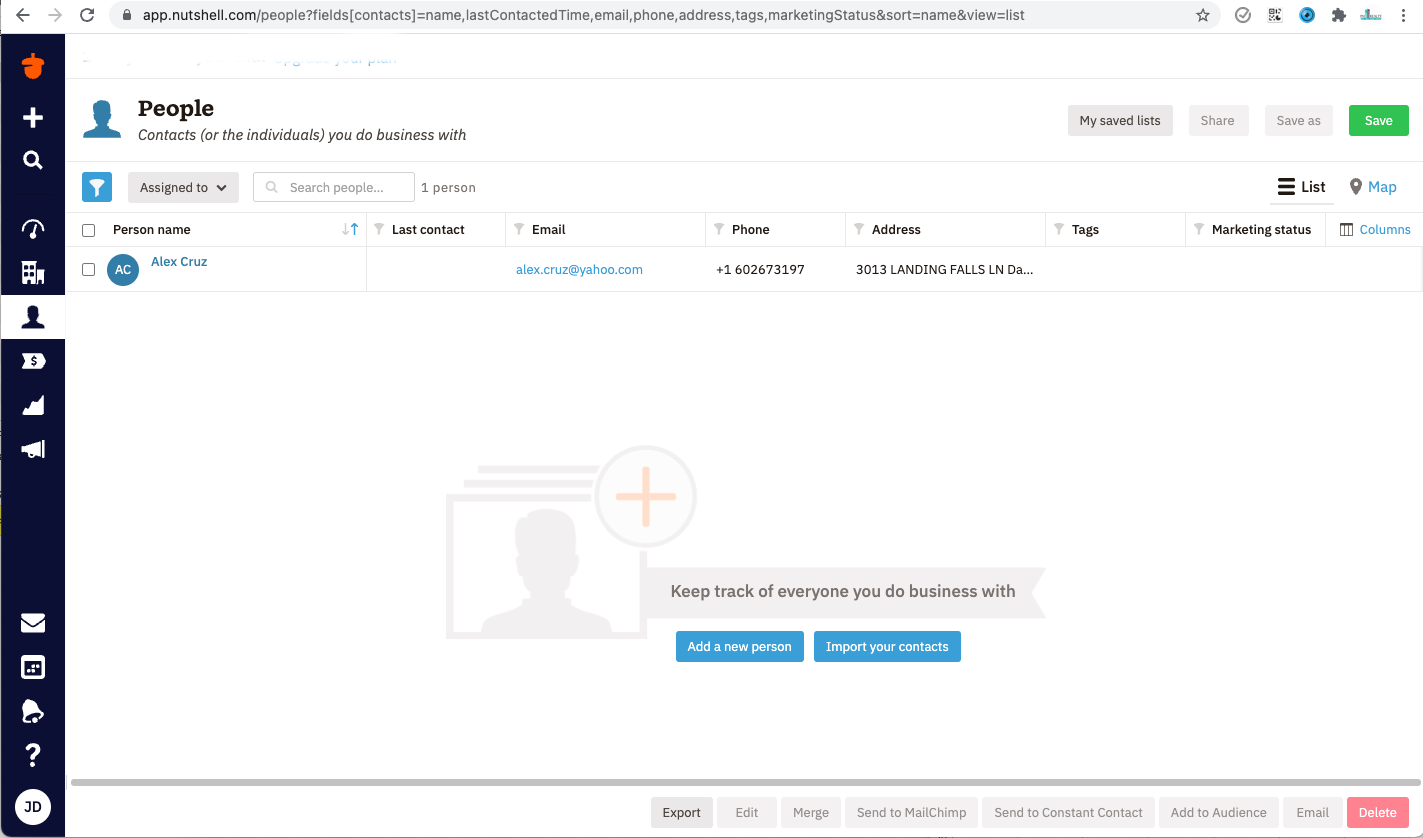 ---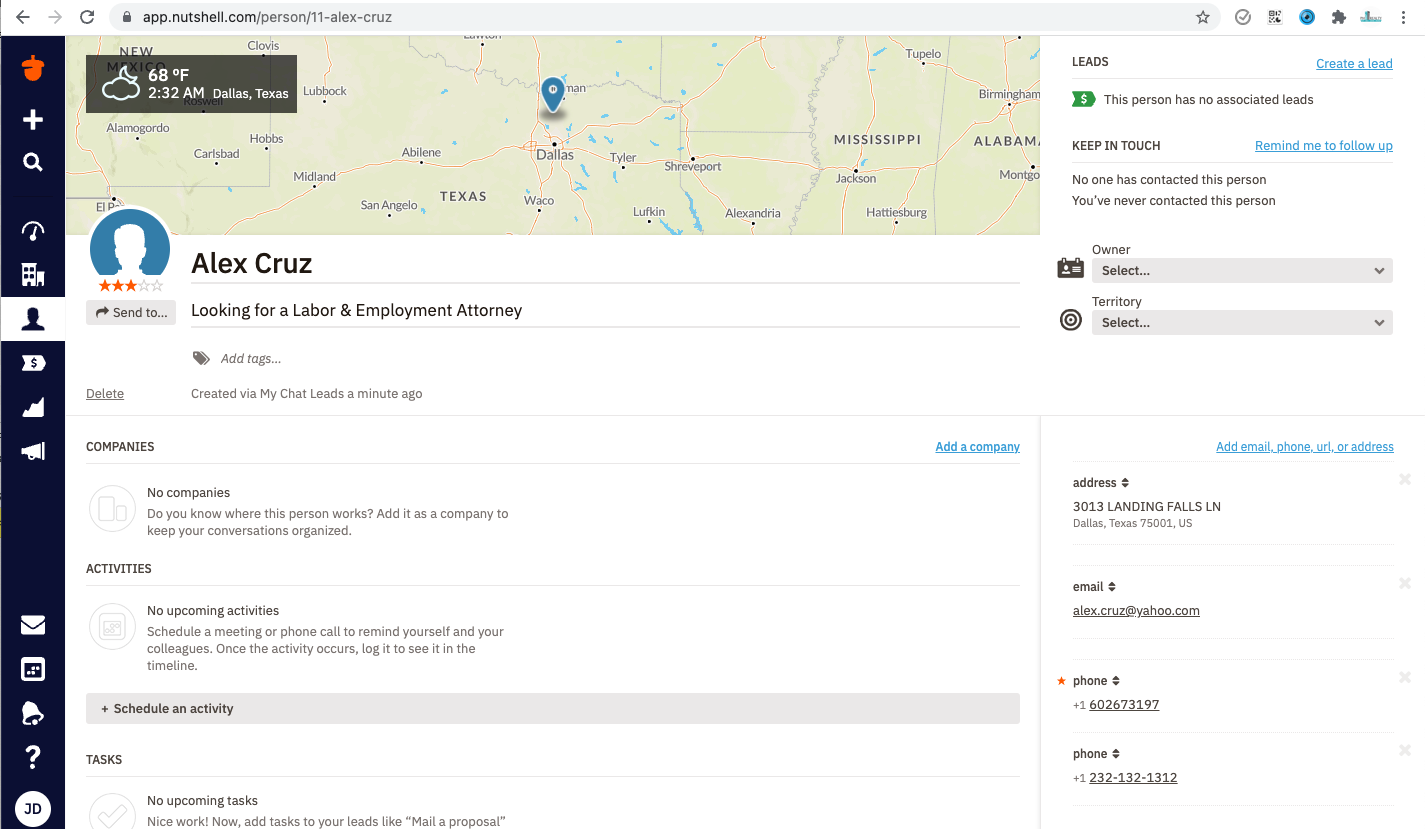 ---
Along with the chat summary and chat transcript, both of which are added as notes to the lead in your Nutshell CRM account.

---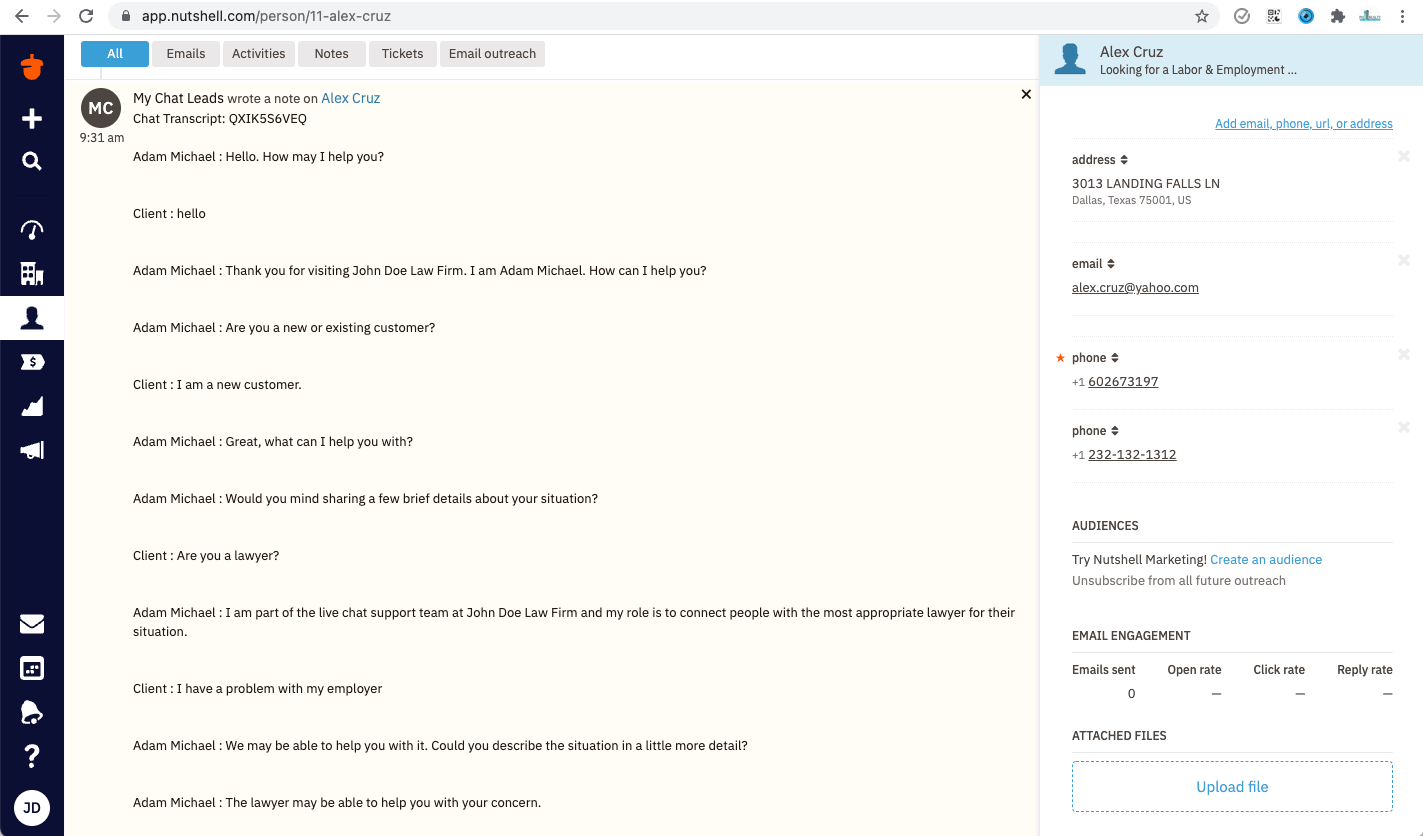 ---
If you have any questions or need help integrating Nutshell CRM or other apps with your Chat Agents account, please contact us through the help section on your Chat Agents dashboard - we will be happy to do it for you, at no additional cost.