noCRM - what is it?
noCRM.io is an easy-to-use lead management solution used by sales teams and sales reps of small and medium businesses. The sales management tool was developed on the premise that standard CRM tends to reduce sales reps' productivity by burdening them with paperwork and non-critical information that prevents them from focusing on winning more customers. With noCRM.io, users can instantly capture leads from multiple sources and follow up with them by tagging, prioritizing and referencing them. This way, the tool ensures that no prospect is overlooked and dropped.

The software also provides features that allow sales teams to get an overview of how leads are being managed by their members. Leads can also be assigned to teams or specific users. noCRM.io offers users the ability to manage their leads on the go and close more deals using the mobile app for Android and iOS. Also, with the import feature, you can quickly upload your contacts from an Excel or .csv file and call them with a single click.
---
How does noCRM works with Chat Agents
Upon completion of a chat on your site, a new chat lead is added by our Chat Agents with all contact information, a brief chat summary, and the chat transcript.

With this noCRM - Chat Agents integration, these lead details are automatically added as a new lead in your noCRM account.
When a chat visitor returns to your site and provides more information, a new chat summary is added along with the new chat transcript from Chat Agents. These lead details are also automatically updated in noCRM account.
---
How to integrate noCRM with Chat Agents
To integrate noCRM with Chat Agents, first, log into your noCRM account at https://nocrm.io/which_host?
If you do not already have a noCRM account, you can create one at https://youdontneedacrm.com/

Once logged in, click on the more icon (with the dots) in the top menu and then click on "Tools".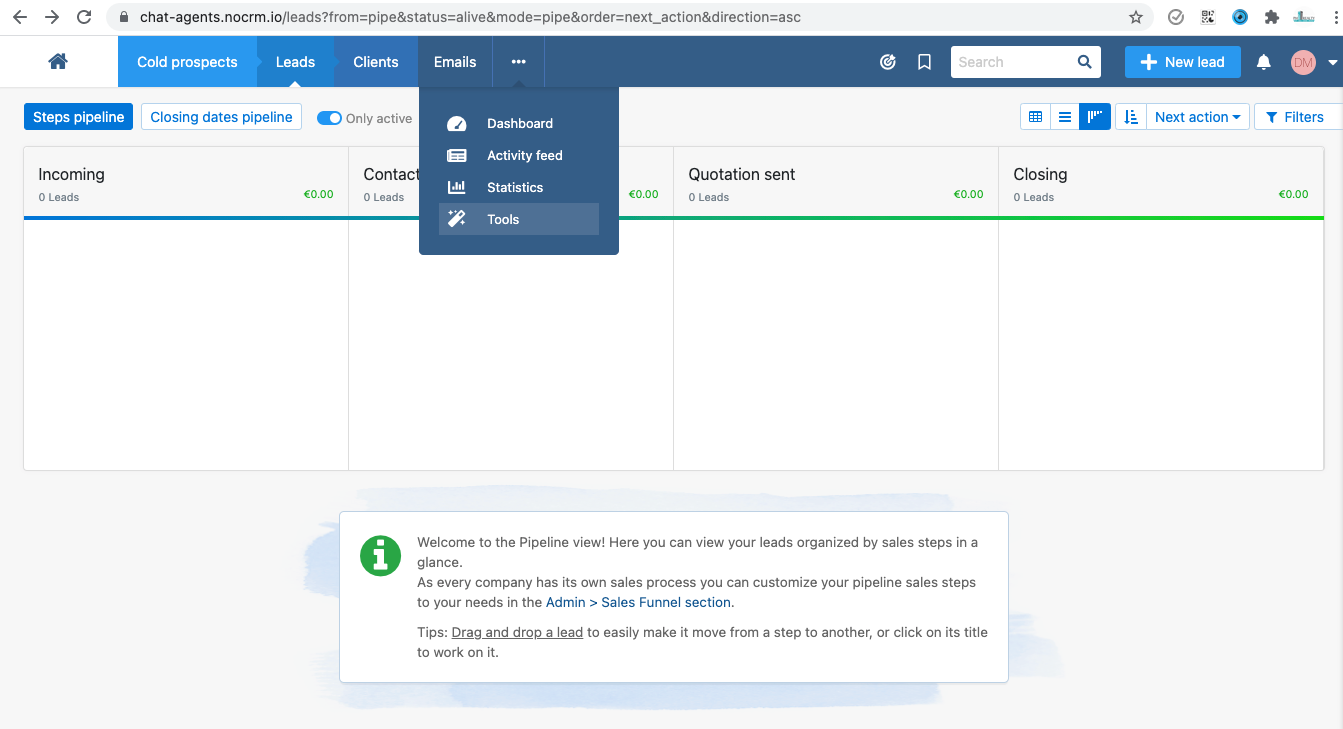 ---
and then "More Integrations"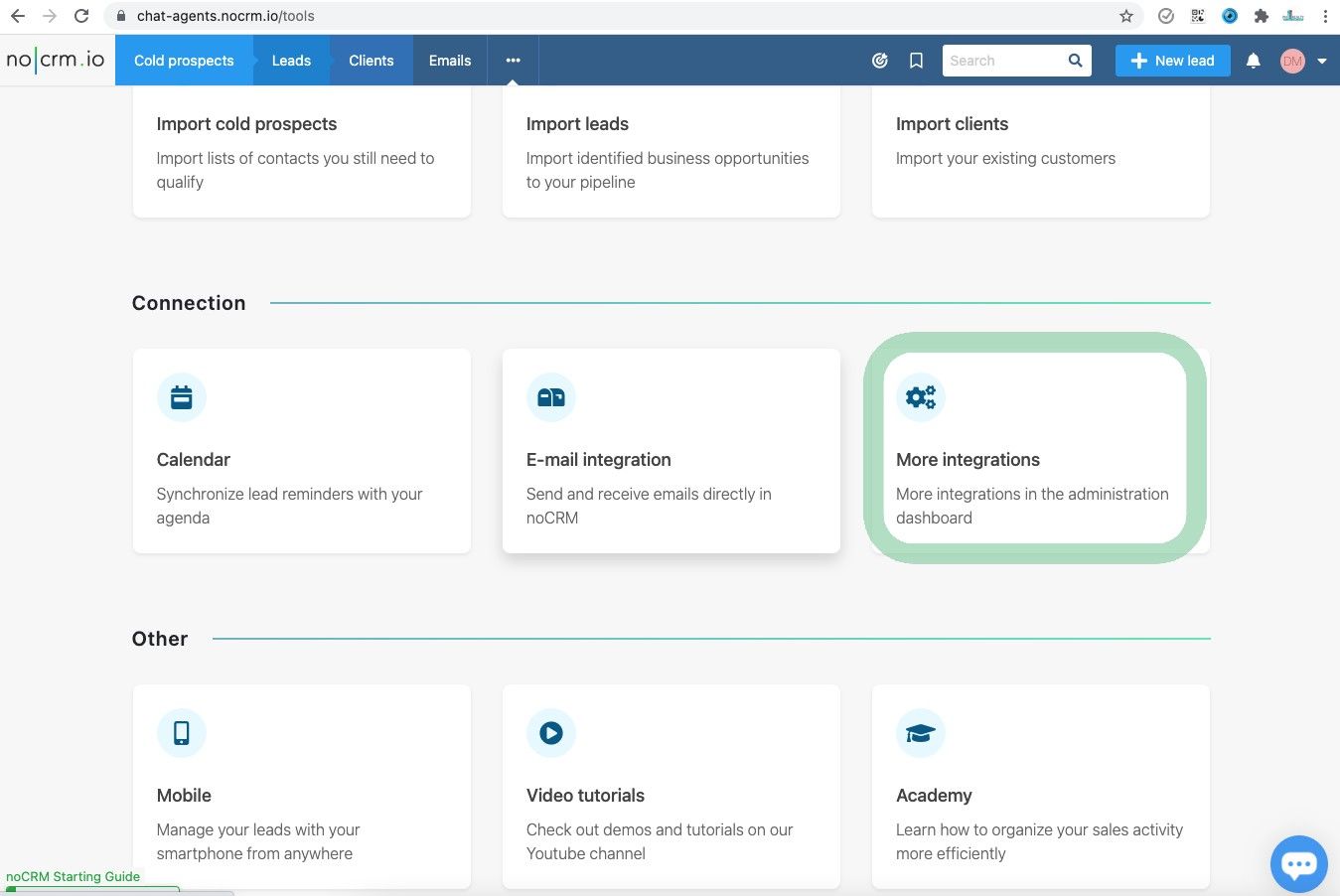 ---
Then click on "API".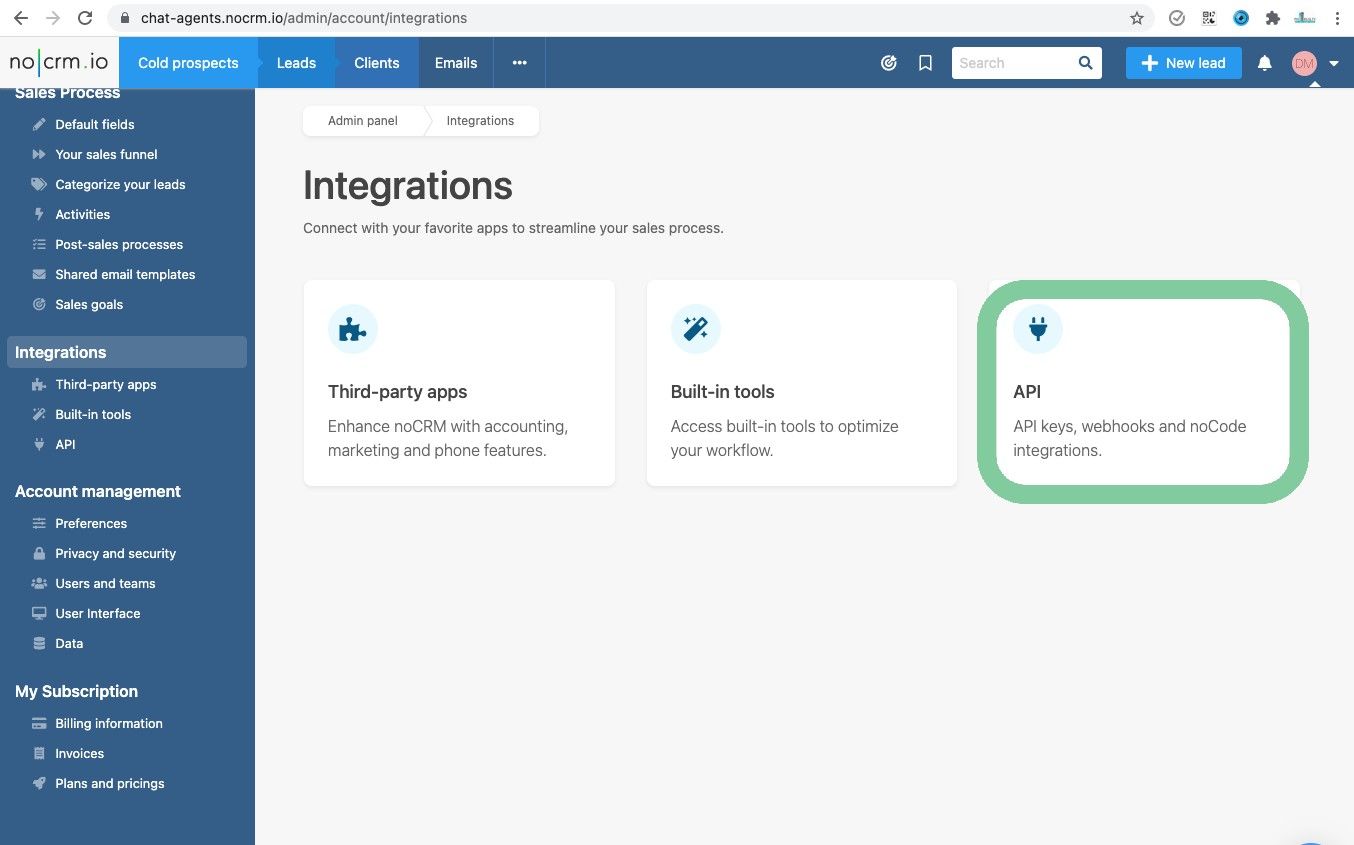 ---
Then click on "API Keys".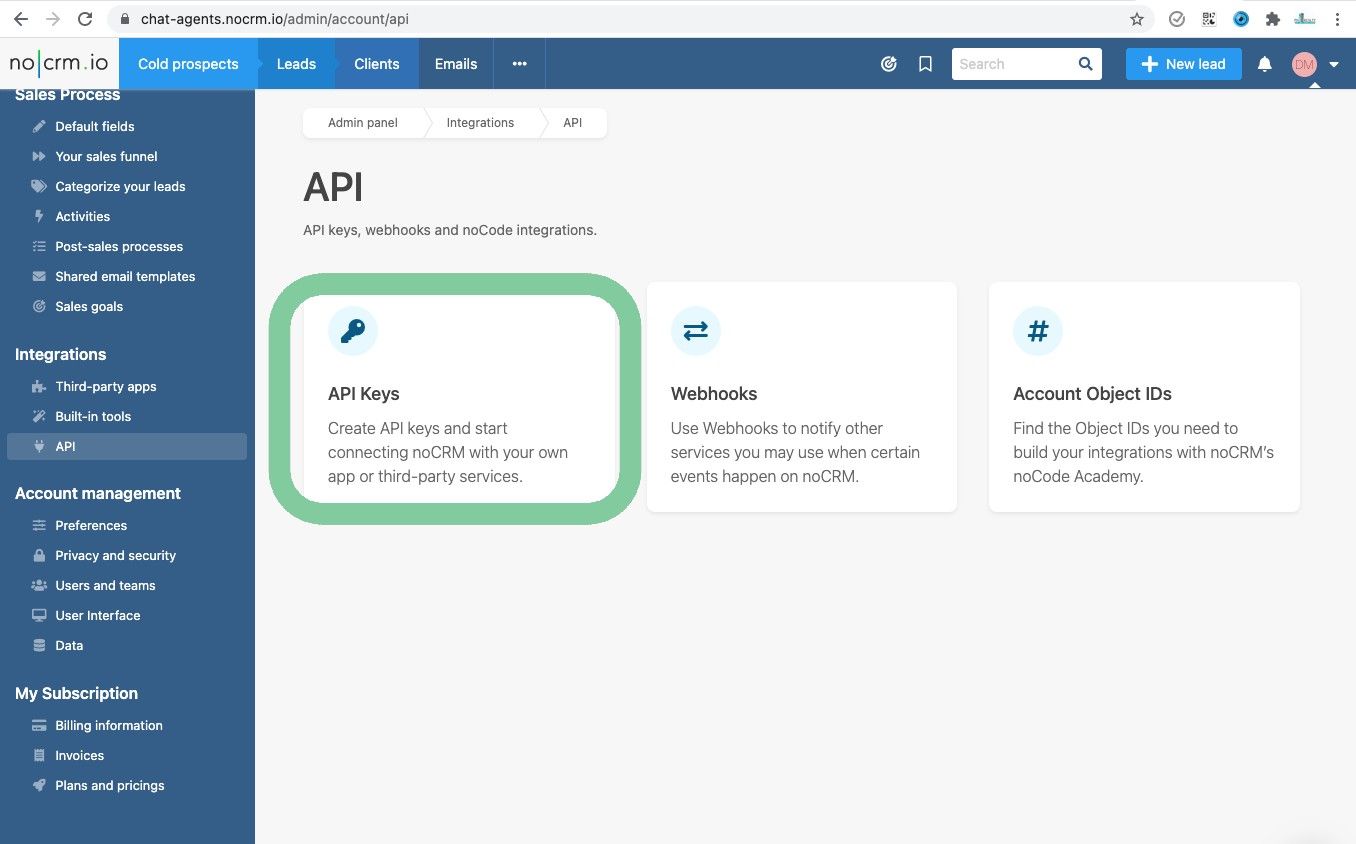 ---
Next click on "Create API Key"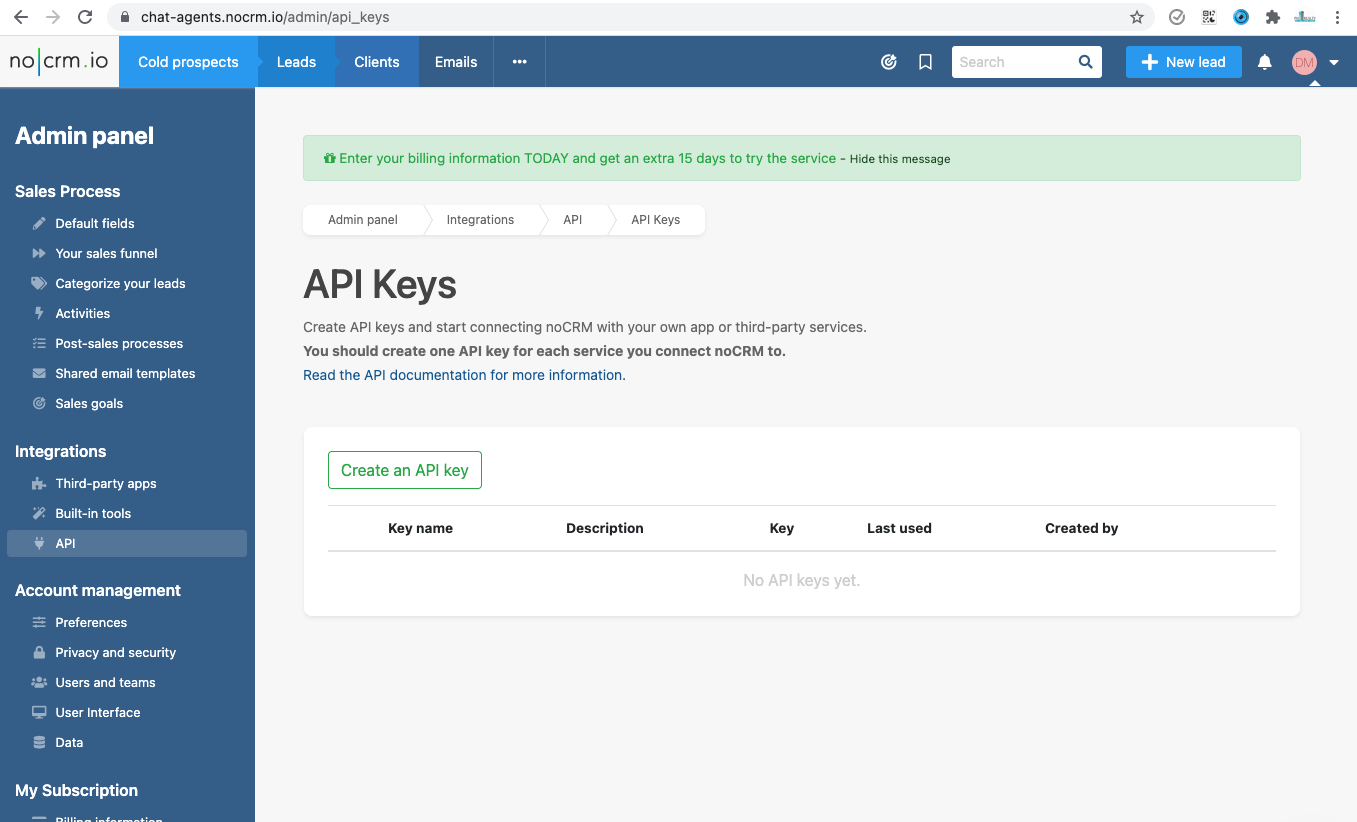 ---
Name the API key with a name you can easily identify, such as My Chat Leads.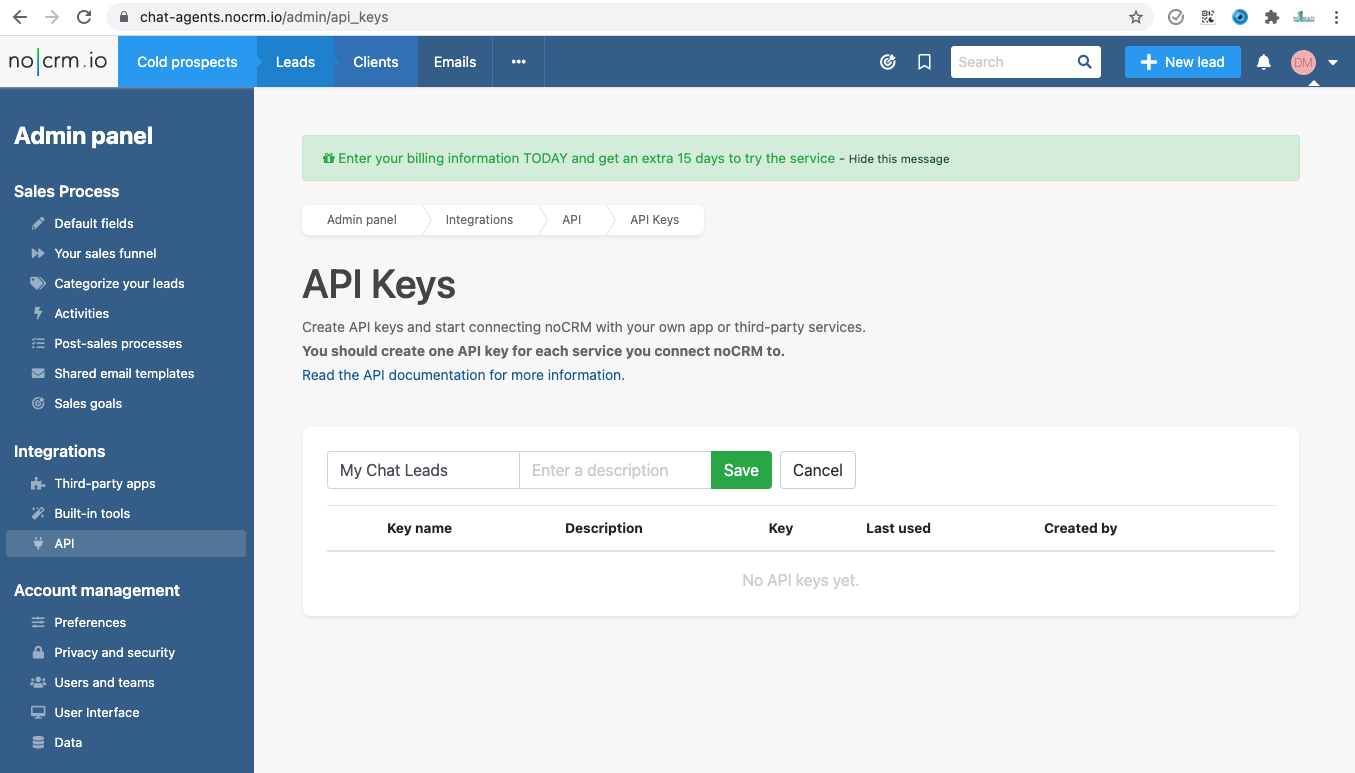 ---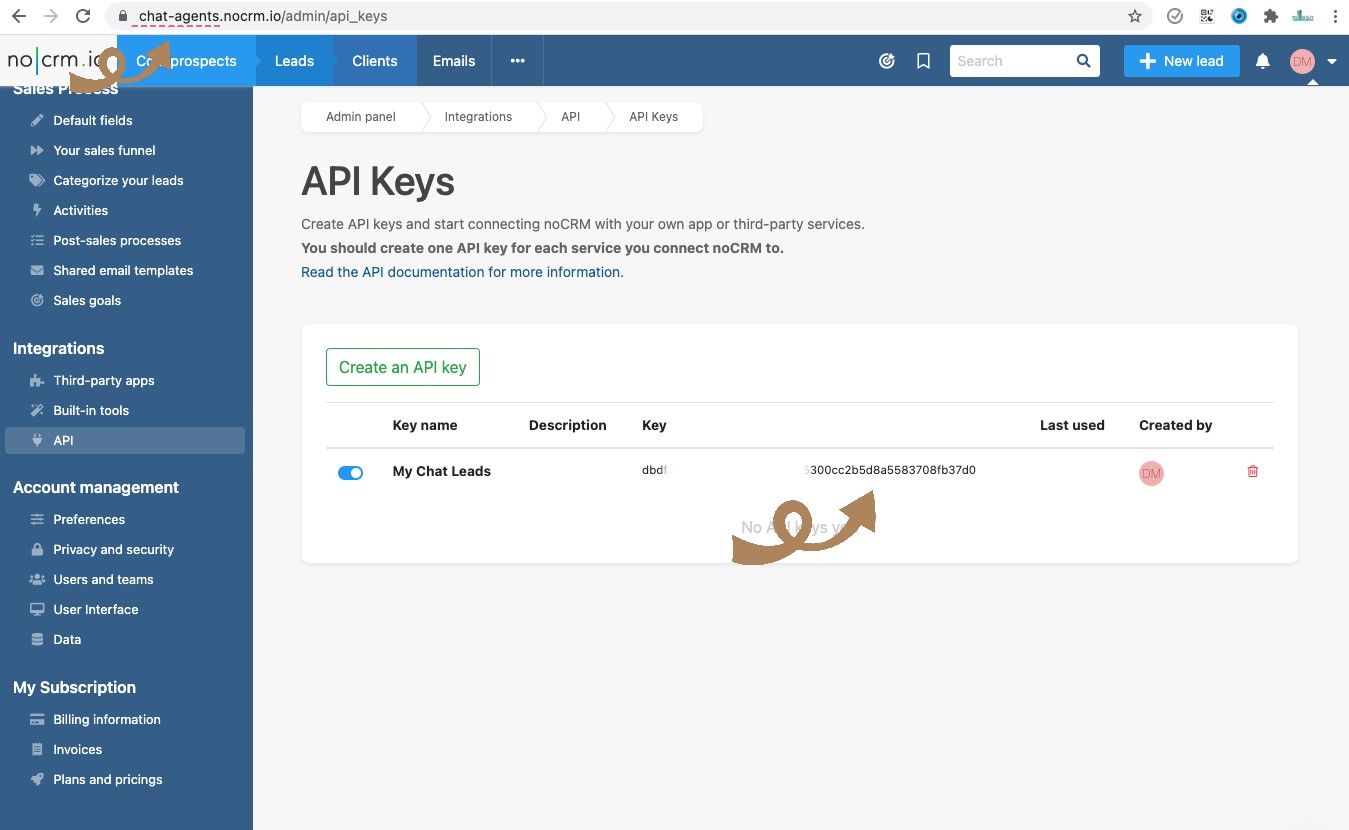 Copy the API KEY you created and save it safely, it will be used in the next step.

Also copy separately  the slug name ( from the top url of your browser, in our case it is chat-agents.
---
Now log in to the integration page of your Chat Agents account.

To do this, go to https://my.chatagents.com/ in your Chat Agents dashboard and go to "Integrations" which should open https://my.chatagents.com/integrations.

Search for noCRM and enable the "Edit" button on the right hand side.

You will then see the Chat Agents - noCRM Integration page.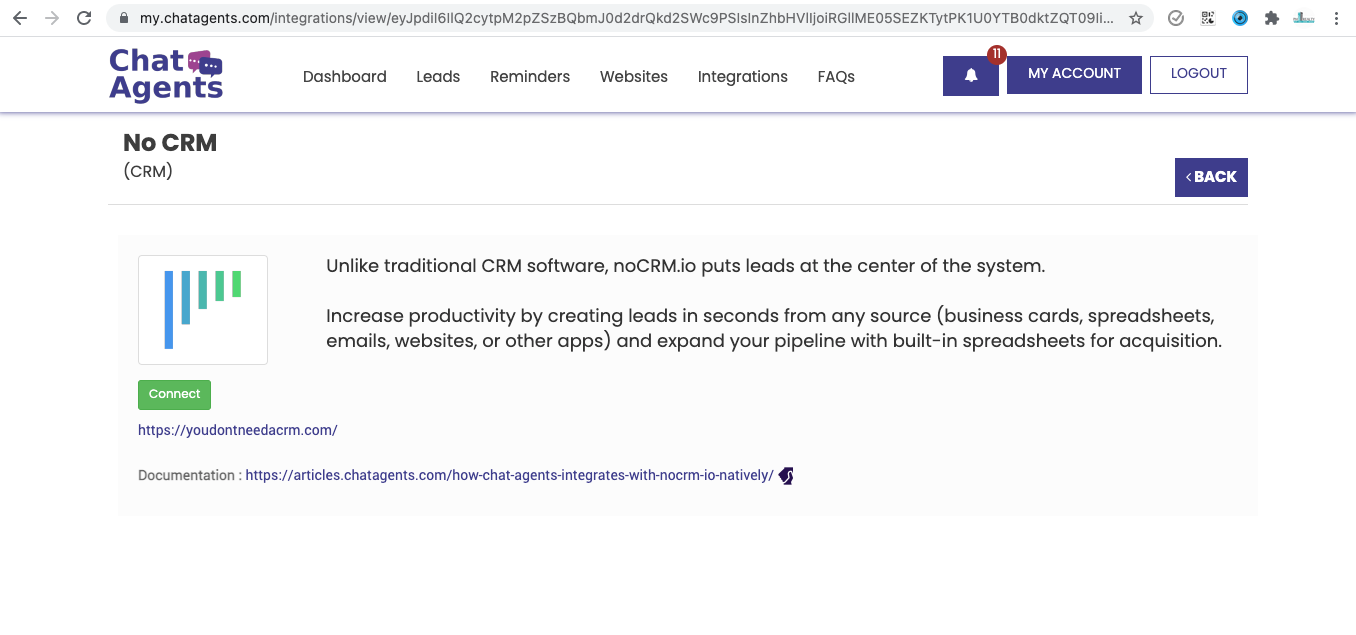 Click on "Connect", which will open a popup modal where you need to paste the API key and the Slug Name you copied earlier, from your noCRM account.
---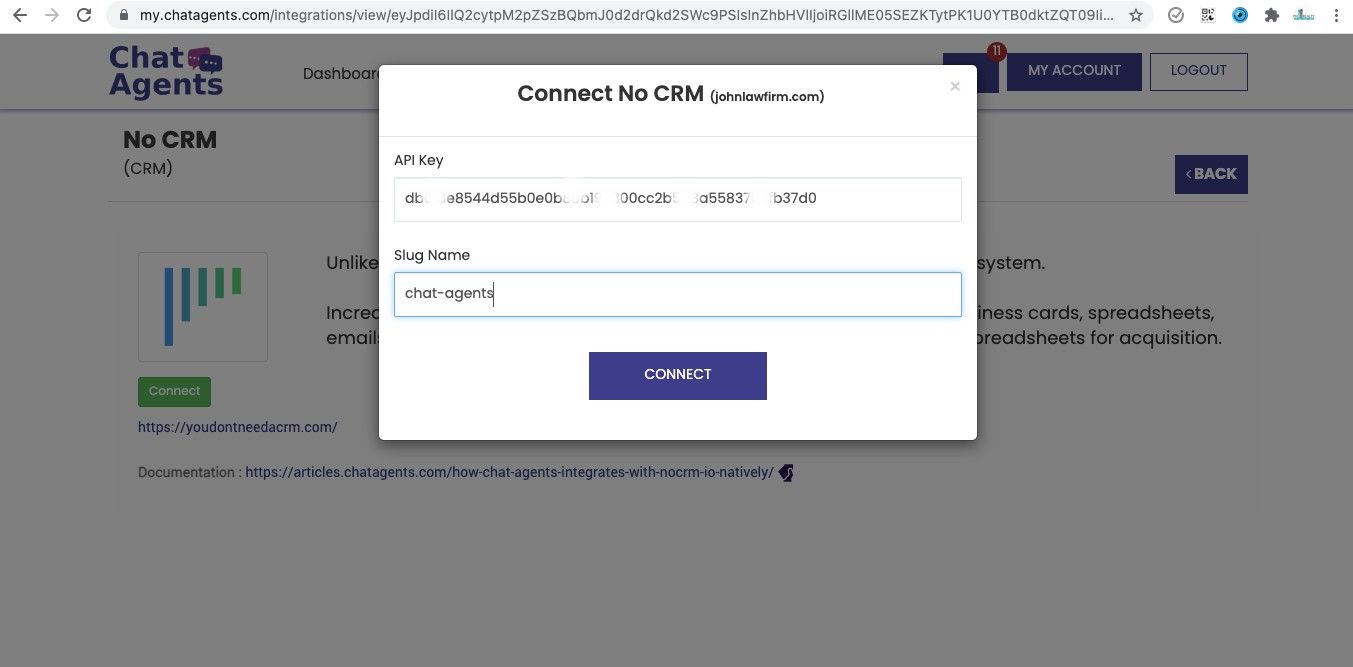 ---
Choose the ¨Lead Owner¨ from the drop down.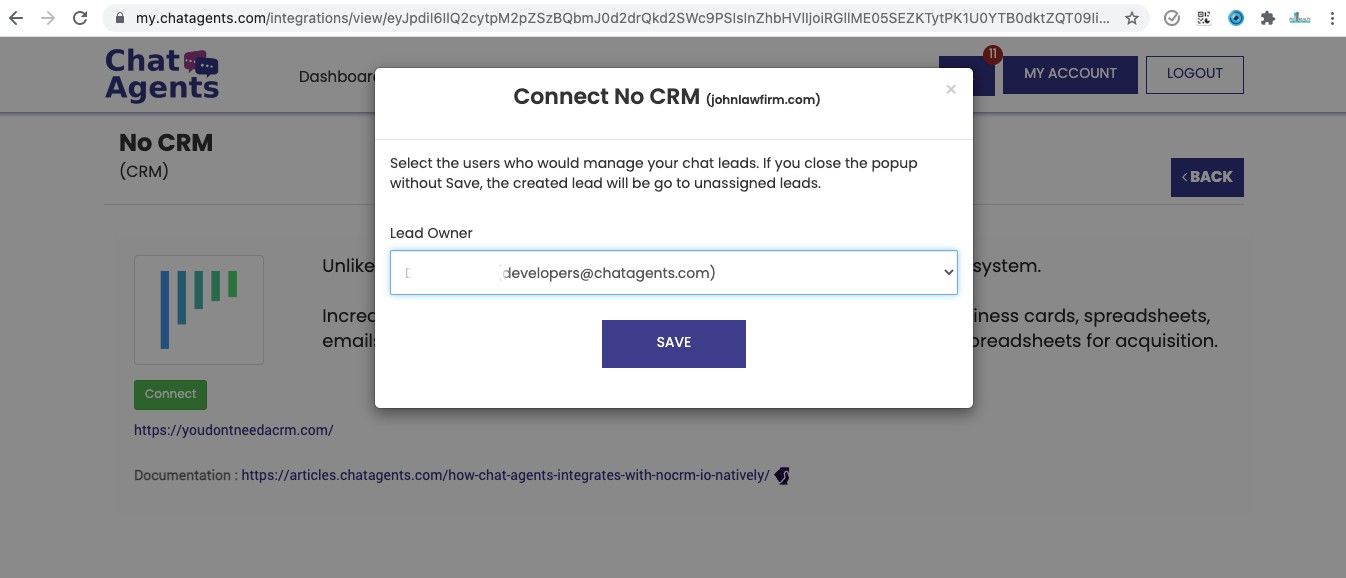 That's it. If everything is correct and no error message is displayed, your Chat Agents and noCRM are integrated.
---
Whenever our chat agents add new chat leads in our system, you will see it in our CRM and receive a notification via text, email and through our apps.

With this integration, you will also see the same lead details with associated notes and chat transcripts automatically and instantly added to your noCRM account.

This saves you from manually re-entering all the chat lead details into your noCRM account.
---
Lead details are added in your Chat Agents CRM.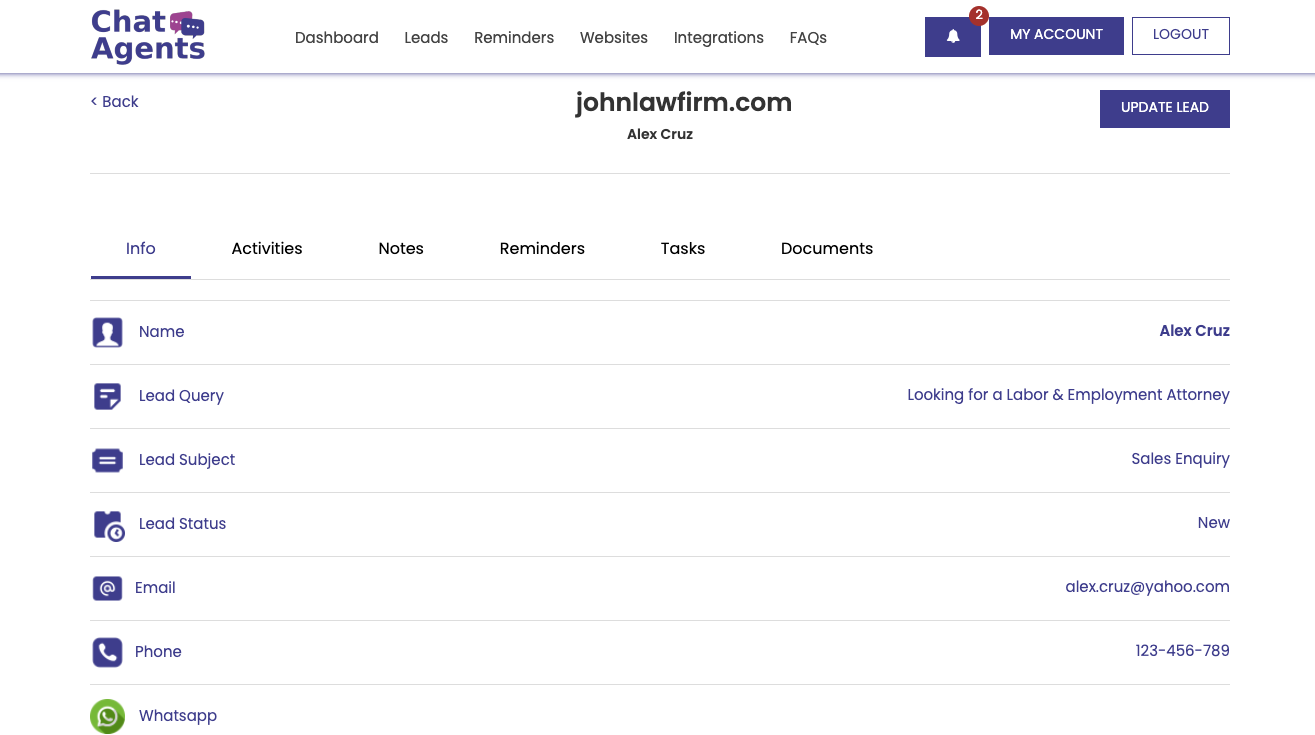 ---
Chat transcripts are also added in your Chat Agents CRM.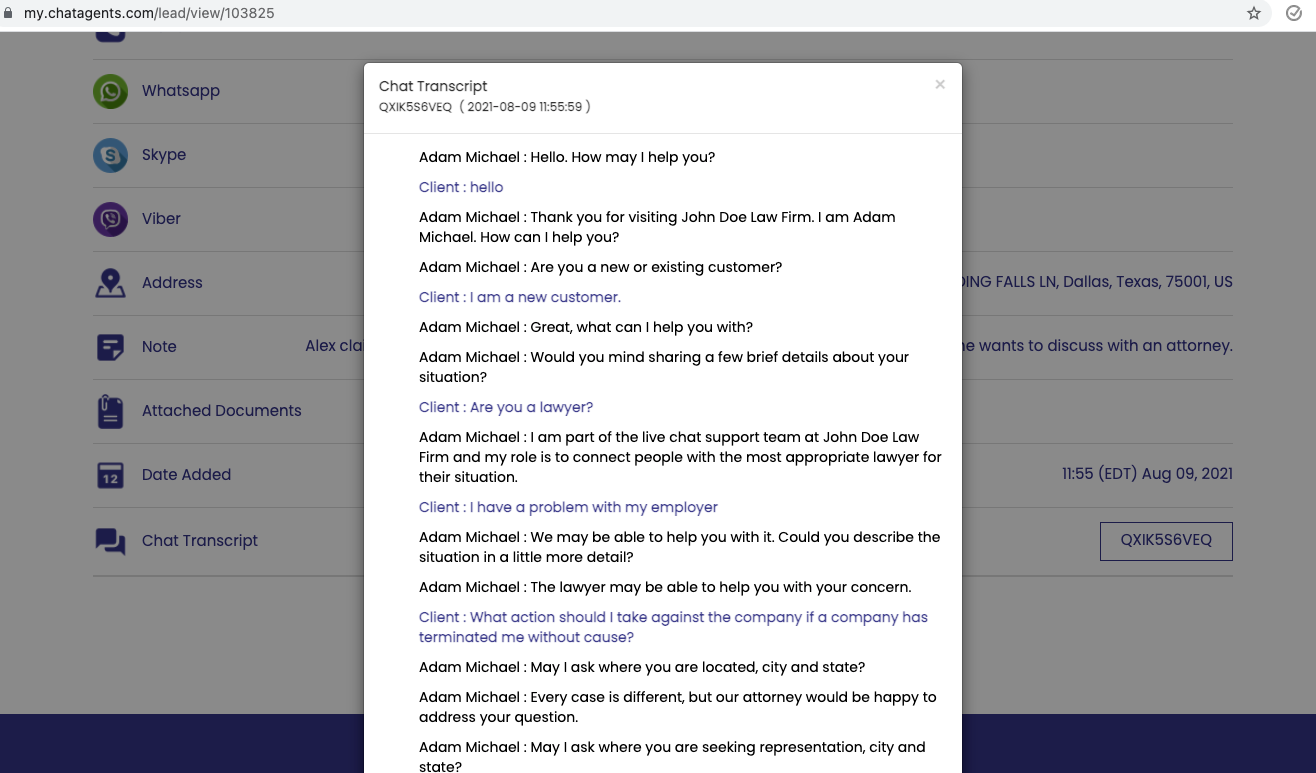 ---
The same lead is also visible in your noCRM account,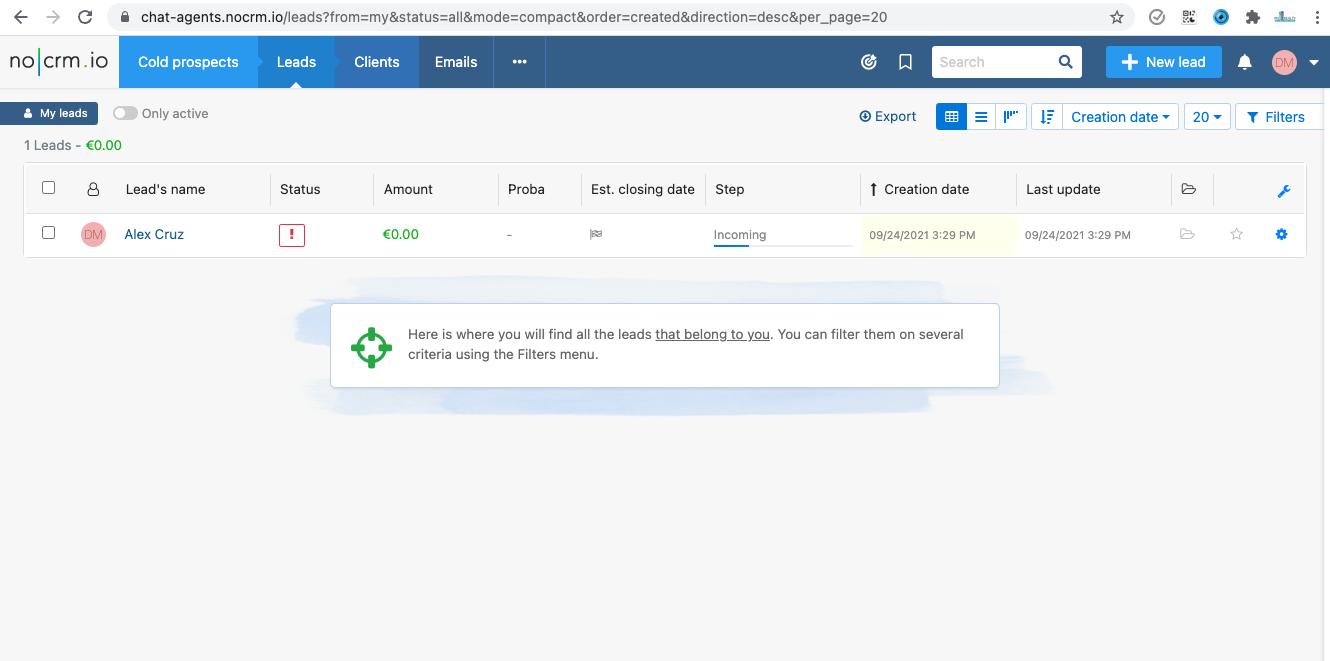 ---
Along with the chat summary and chat transcript, both of which are added as notes to the lead in your noCRM account.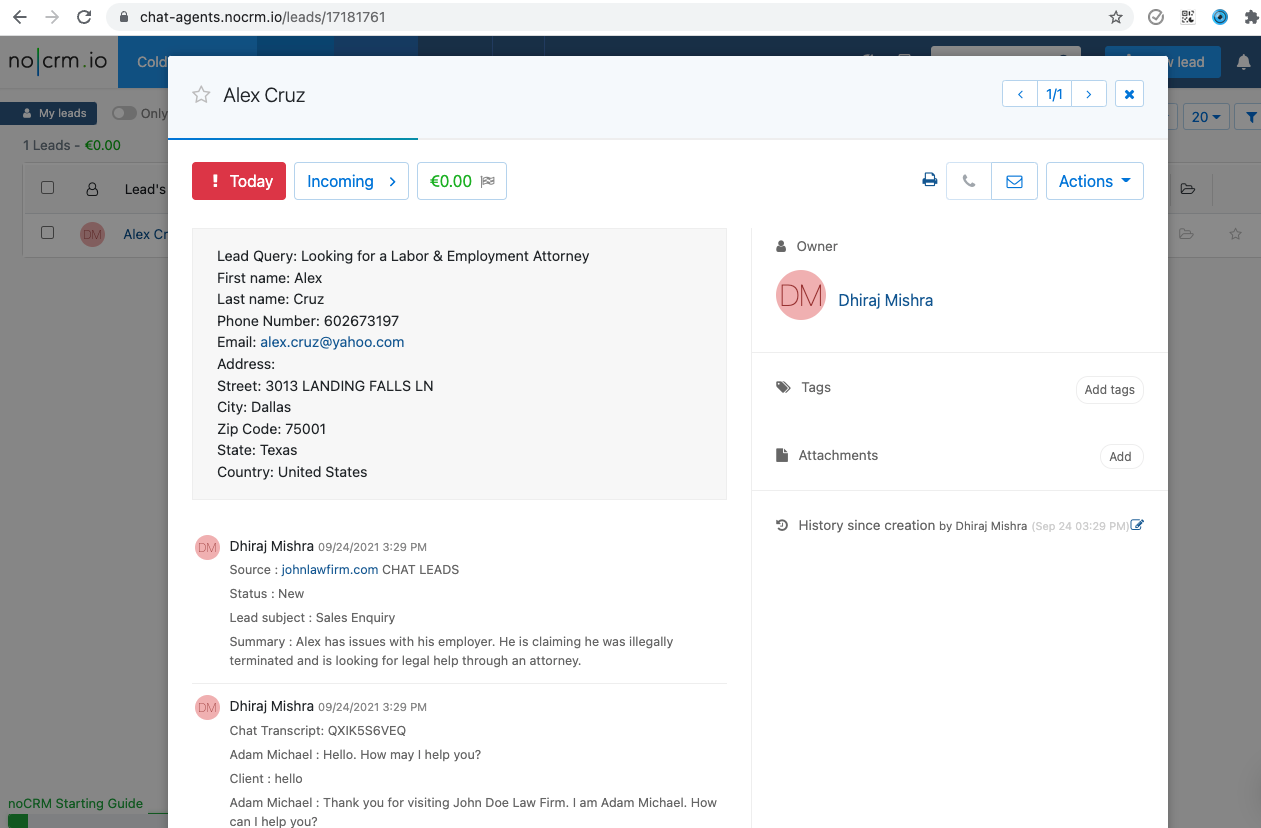 ---
If you have any questions or need help integrating noCRM or other apps with your Chat Agents account, please contact us through the help section on your Chat Agents dashboard - we will be happy to do it for you, at no additional cost.